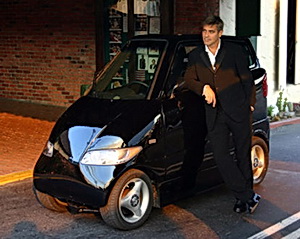 By Harmon Leon
Celebrities love a smooth ride. Where would celebrities be without their wheels? Sure they have the money to be toted around in limos, but a celebrity with an awesome car shows not only their status, but also their sensibilities; be it a massive SUV or fuel efficient electric vehicle—it's their statement to their fans. Celebrities are larger than life, and so should be their vehicles.
Here are a few celebrity cars that really turn heads on the road:
Amongst Shaquille O'Neal's numerous cars is a 2003 Hummer H2 that features 26-inch, chrome wheels with the Superman "S" engraved on each of the five spokes. Just add a cotton candy machine in the trunk and Shaq's vehicle could be on Pimp My Ride.
Arnold Schwarzenegger still refuses to give up driving his trademark Hummer. But these days it's running on cooking oil he buys at Costco. Arnold says that the exhaust from his Hummer smells so much like French fries that his passengers get hunger pangs. So Schwarzenegger still has a little penis syndrome as his Hummer shows, but at least he's being eco-friendly about it.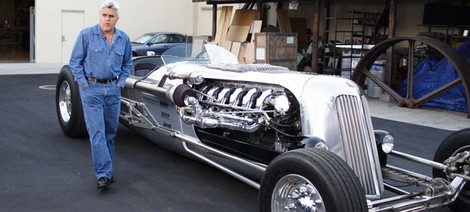 Jay Leno might be the most pandering talk show host in television history, but he's no wimp when it comes to his big passion: car collecting. How's this for an automotive powerhouse posse: a Lamborghini Miura, a 1932 Packard Twin Six 12-cylinder coupe, a 1913 Mercer, several Bugattis including the acclaimed Type 57, Duesenbergs, a 1956 Chrysler Imperial, a 1966 Dodge Coronet Hemi, a Dodge Viper, and a 1955 Buick Roadmaster. The multi-million dollar collection includes several Stanley Steamers from the early 1900s, muscle cars from the 1950s and '60s, an AC 427 Cobra, several Bentleys, a two-cylinder 1916 Auto Car, a 1913 Mercer; a 1909 Baker Electric, a chain-driven, two-cylinder Morgan, a 200-mph McLaren F1 Supercar, a Mercedes SLR McLaren, and several Jaguars. So I guess this guy is "a little" into cars.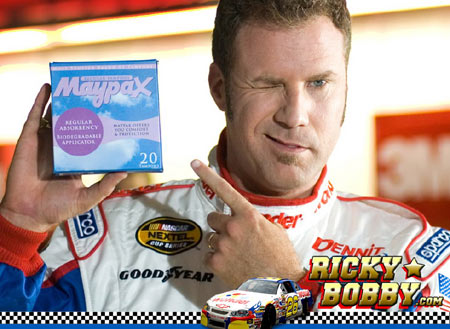 He drove a NASCAR in Talladega Nights, but in real life he's a "Hydrogen Car Guy." Will Ferrell is one of many Hollywood celebrities who drives (and can afford to do so) a BMW Hydrogen 7. The funnyman is being loaned the vehicle as part of the Pioneer Program, to promote public awareness to hydrogen cars.Others that share in Ferrell's hydrogen mobility include, Brad Pitt and Angelina Jolie, Richard Gere and Sharon Stone, Peter Ligouri and Davis Guggenheim.
Rapper/producer Wyclef Jean gets behind the wheel of an ultra-rare, 543-horsepower Pagani Zonda C12-S, an exclusive Italian-built sports car that sells for $350,000. Now that's something to rap about!
Ocean's 11-13 star George Clooney drives the two-seater electric Tango 600. The Tango is a plug-in electric vehicle produced by Commuter Cars Corporation. It may look like a toy, but the Tango is not slow; it can rocket from 0-60 in 4 seconds, while reaching a top speed of 135 mph. It's not cheap either. The Tango runs for $108,000. I'm sure George can afford it.
You would think Verne Troyer, who played Mini-Me in Austin Powers, would drive a Smart Car. But instead, the pint-sized actor drives a specially fitted Mercedes-Benz CLK—a giant in the car industry.
And so you have it; a mere palate taste of celebrities and the vehicles they drive. As long as Hollywood keeps making celebrities, there will be big, fancy, and sometimes tiny and electric, cars for them to drive.
Related posts: