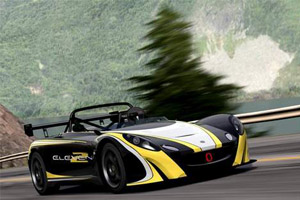 AutoWeek Magazine handpicks 10 new cars for virtual racers.
For those of you that are hopelessly addicted to Forza Motorsport 3, Microsoft is offering an add-on pack with a selection of cars chosen by the staff of AutoWeek magazine. The car pack will feature 10 amazing cars for the price of 400 Microsoft points which is equivalent to $5.
Exclusive to the AutoWeek car pack is the ability to drive a 2010 Aston Martin One-77 before the real car is released to the public. Also included are a number of super cars that are sure to make any enthusiasts mouth water. The only problem is Forza fans are always wanting more.

Forza 3 is still missing a number of cars that enthusiasts have wanted since day one. Where the heck is Mazda's iconic 787b? The 787b has been in several versions of Gran Turismo. Hopefully somebody soon suggests the iconic Le Mans race car should be included. Also it would of been nice if a few more cars were included. We all know the staff of AutoWeek could come up with much more than 10 cars they wanted to see in the game.
The AutoWeek car pack will be available January 12 on Xbox Live.
Complete list of cars in the pack:
– 2010 Aston Martin One-77
– 2009 Audi R8 LMS
– 2009 Audi RS 6
– 2010 BMW Motorsport M6 Coupe
– 2010 Chevrolet Corvette Grand Sport
– 2010 Ford Shelby Mustang GT500
– 2010 Saleen S5S Raptor
– 2009 Lotus 2-Eleven
– 2010 Pagani Zonda R
– 2010 Porsche Boxster S
Related posts: