Hypes: Cool Looks Inside and Out
Gripes: Needs a Turbo
While the Ringling Brothers circus may be dead, there is, as yet, no shortage of clown cars available to purchase. Nissan started the big top proceedings with the polarizing Juke, a car guaranteed to put a smile on your face if not greasepaint on your lips. BMW followed with their all electric I3, which resembles something you might find in the discount bin at Toys R Us. Now, along comes Toyota with their new-for-2018 C-HR, an idiosyncratic car that looks like the love child of a Juke and an I3. This uniquely outrageous looking vehicle, originally intended to be part of Toyota's now defunct Scion product line, is named C-HR because it's a Coupe-High Rider. Thanks to our test model's "Iceberg/Radiant Green" exterior paint, abetted by a $500 optional "R-Code Color Keyed Body with White Roof," this test C-HR pushed the boundaries of good taste to the absolute limit of propriety. In a boring automotive world populated by black, silver and white vehicles, you will never lose sight of this radioactive green C-HR in any parking lot. It put a smile on the face of everyone who saw it, me included, because it provides just the touch of humor you would expect from the best dressed clown at the circus.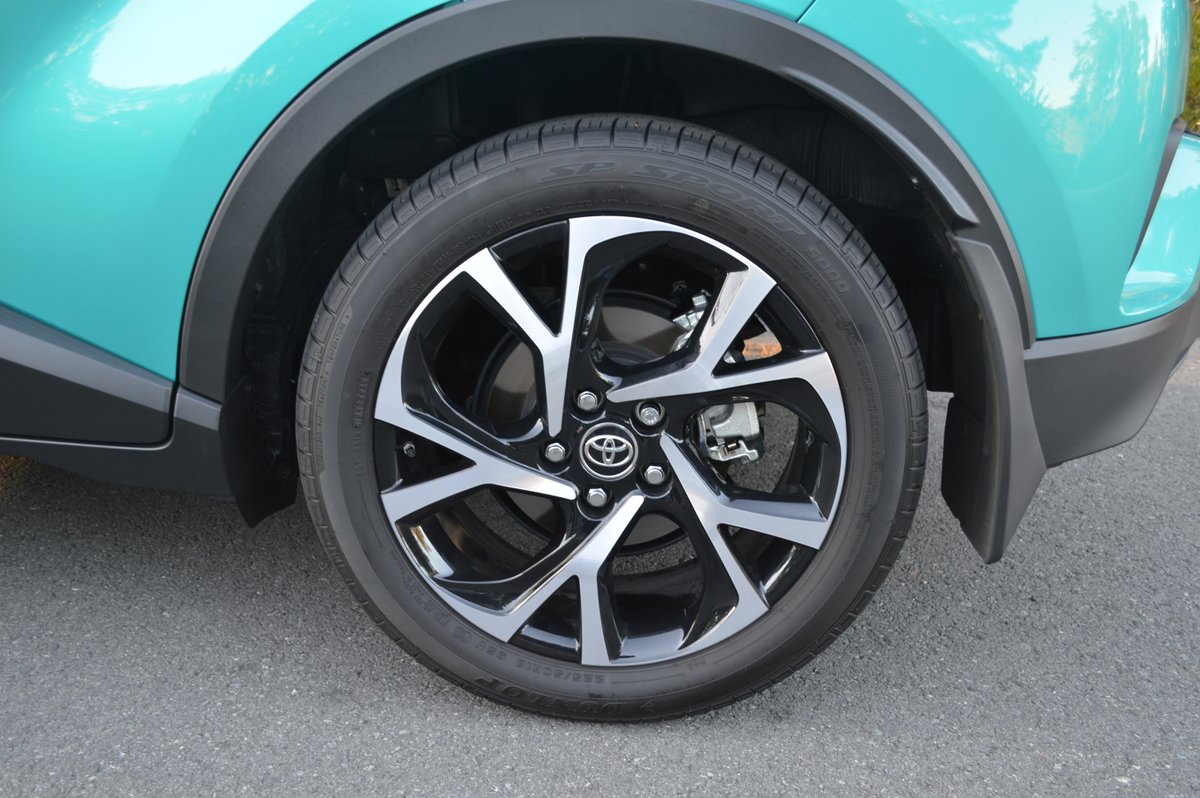 Out on the broken pavement of West Marin County's grievously untended Coast Route 1, the diminutive C-HR tames every bronco bounce and knee jerk recoil with marvelous dexterity. Tall ride height is the order of the day if a vehicle is to pass muster out here, and the C-HR does tall particularly well, with its height of 62 inches. That's 5 full inches taller than Toyota's own Corolla. The C-HR is also short enough, at 171 inches, to maneuver through mogul fields with an adroitness that eludes the much longer, 183 inch Corolla. Contributing an added dash of adhesion are the C-HR's premium grade Dunlop SP Sport 2000 tires (225/50R18), which adhere with resolute grip thanks to their soft Tread Wear rating of 340. This Toyota's advanced fully independent suspension system (MacPherson Strut up front, Double Wishbone in the rear) sucks up bumps and imperfections like an Olympic champion blistering KT-22 at Squaw Valley. The C-HR's relatively light weight (3,290lbs.) also contributes to its handling agility.
Unfortunately, Toyota has burdened this otherwise lively product with an underproductive motor and drive train. Prop the hood up and you'll discover a sideways mounted 2.0 liter inline 4 with double overhead cams, 16 valves and electronic fuel injection. With no boost from turbocharging, however, this unit produces just 144hp which it sends through only the front wheels via a CVT transmission. From zero to 2,000rpm, this unit is dead on its feet. You will quickly reconcile yourself to following even the slowest road blocking traffic without attempting to make a pass. So if speed is on your short list of attributes, look elsewhere for your kicks. On the other hand, if you're looking for decent mileage (29 MPG Overall), and storage room that belies tidy dimensions, you might be willing to forego thrust for practicality. As if to underline the point, out C-HR even sported $299 optional removable cross bars to turn the standard XLE trim level roof rails into a proper rooftop storage platform.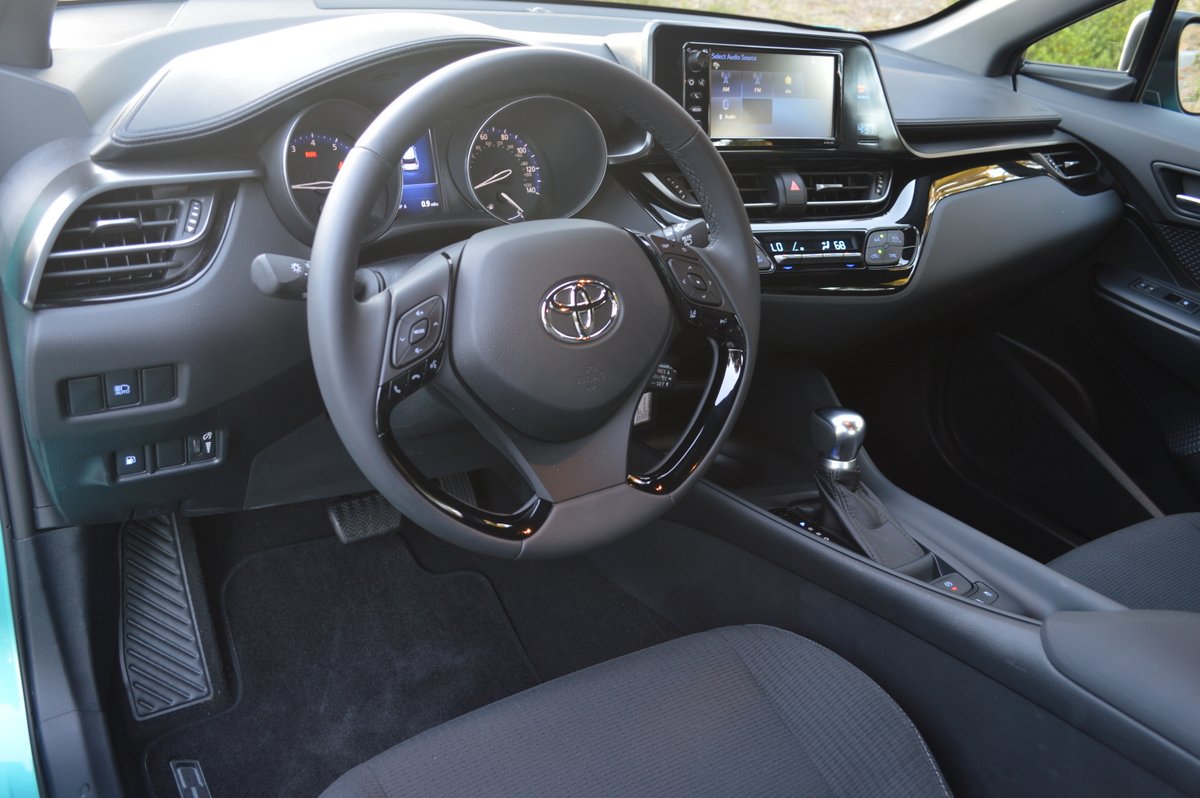 The interior treatment of this Toyota is sportive, comfortable and easy to live with. The supportive seats are upholstered in a durable fabric. The dash utilizes a combination of finishes dominated by piano black trim around the 7 inch touchscreen display. Toyota has provides separate button controls for temperature and fan speed, so you never have to go fishing through menu screens to control the car's basic respiration functions. Back seat legroom is tight, so if you're planning on traveling as a foursome, front seat occupants will need to cooperate in the endeavor by sliding their seats forward.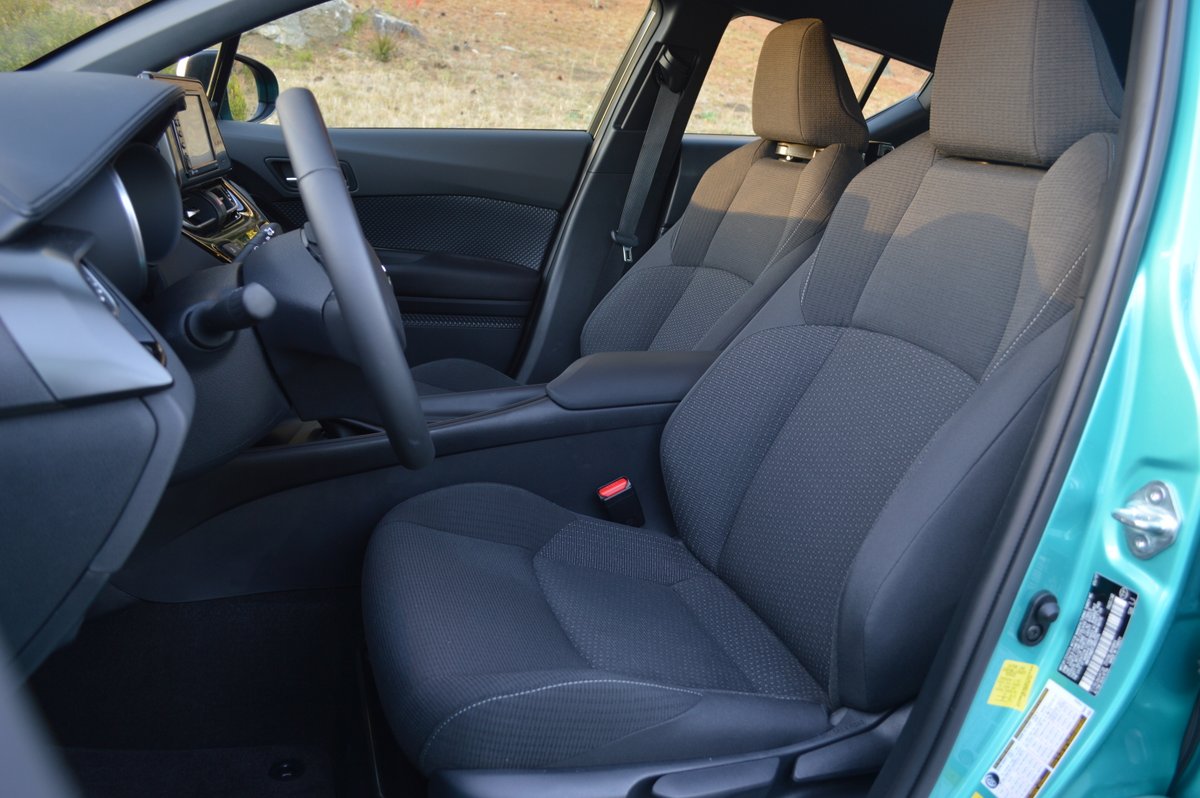 Toyota stylists have tilled some new design soil with their roofliner in this vehicle. Above each front seat passenger, a pyramided tent-like structure gives the headliner a fresh new look. Diamond pleated door panels echo the tidy roof design. Even the instrument pointers for the speedometer and tachometer look distinguished, with delicate cream colored, bifurcated needles pointing the way. The inside of the C-HR is in every way just as inventive and attention getting as the exterior. It's the perfect starter vehicle for the family with a proclivity for extroversion.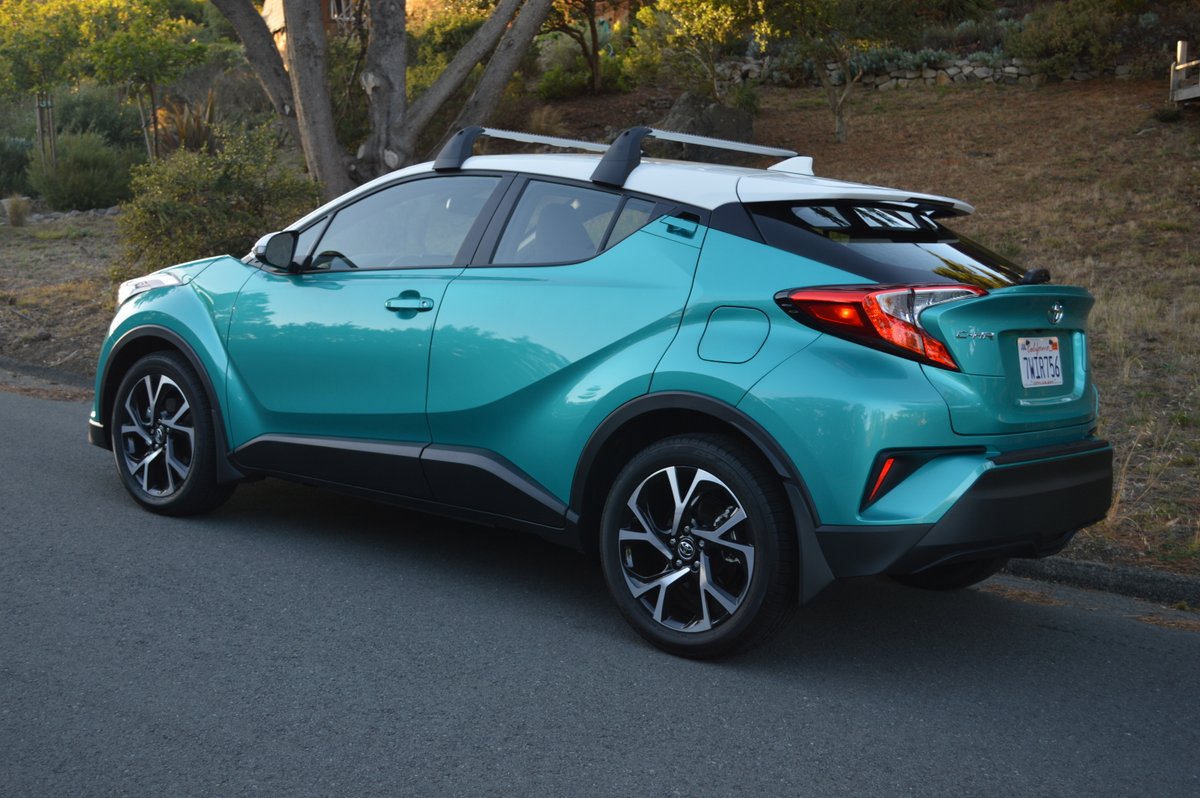 2018 Toyota C-HR XLE
Engine: 2.0 liter inline 4 cylinder, fuel injected, DOHC, 16 valves
Horsepower: 144hp
Torque: 139lb.-ft.
Fuel Consumption: 27MPG City/31MPG Highway
Price as Tested: $24,969
Star Rating: 8 out of 10 Stars
Related posts: