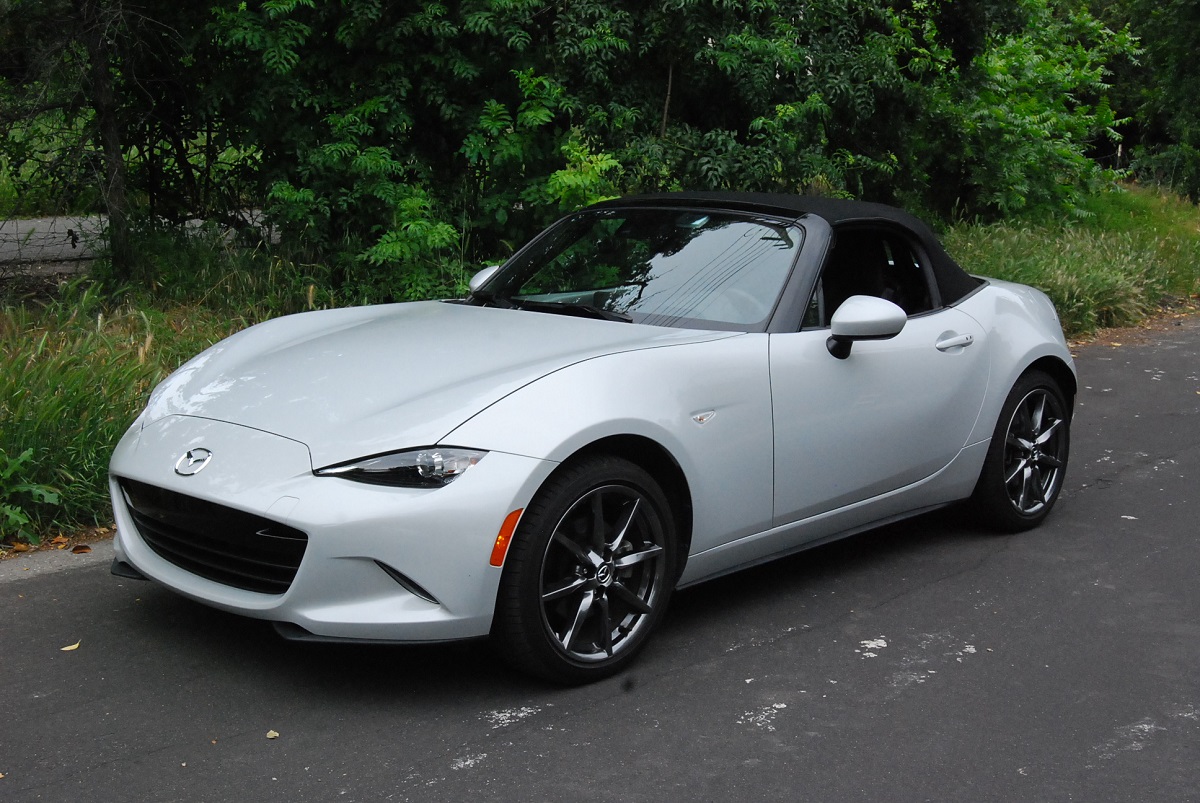 By David Colman
Hypes: The Only Formula Racecar with a Trunk
Gripes: Relocate Infotainment Dial
25 years ago, here's what I had to say about the 1992 Mazda MX-5 Miata in my Edmund's book 20 Best 1992 Cars: "Miata makes blissfully few concessions to practicality because it is designed to do one thing better than anything else. That one thing is to give you a thrill a mile when you drive it." Over the intervening quarter century, the MX-5 has changed substantively. With its current SKYACTIV 4 cylinder engine, horsepower has climbed from 116 to 155hp. Weight has also climbed by 10 percent from 2,189lbs. to 2,335lbs. Despite the gain in girth, the horsepower-to-weight ratio of the original Miata (18.87lb/hp) is significantly better in the current version (15.06lb/hp) That improvement insures that the basic tenet of Miata motoring hasn't changed one iota from 1992. The smile per mile quota is better than ever.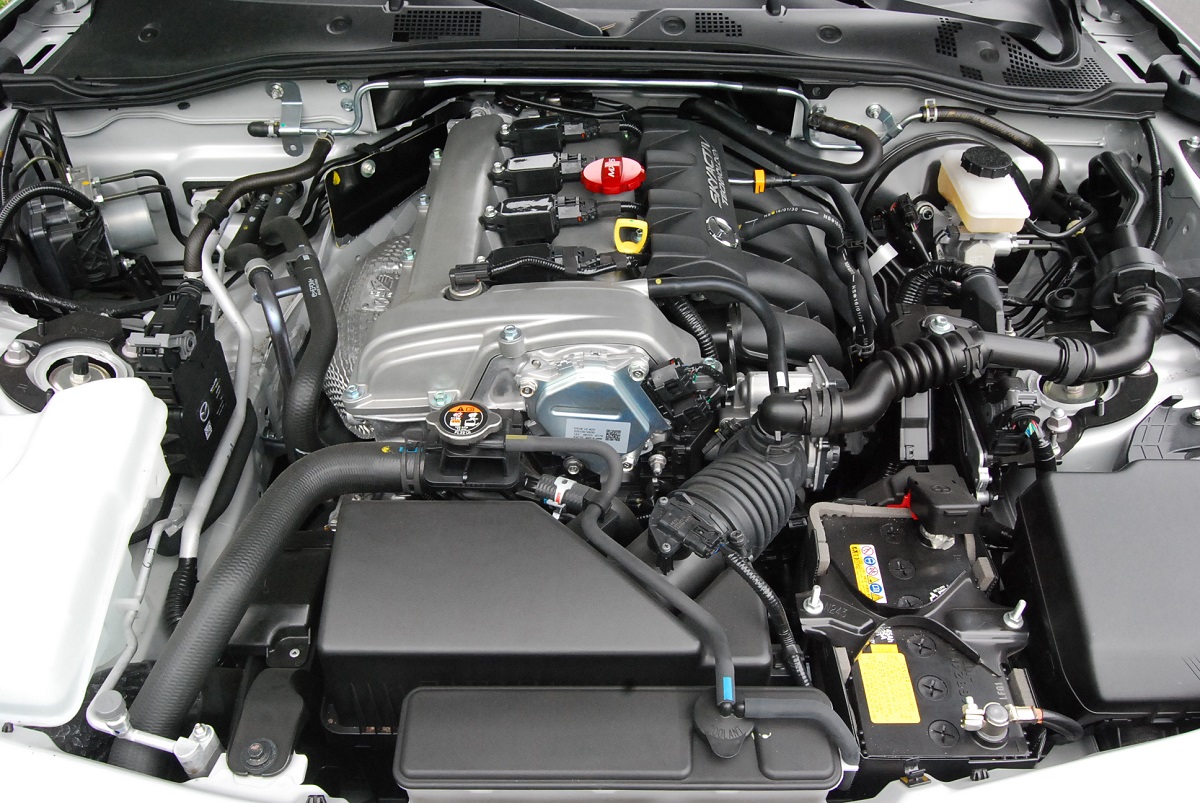 Mazda has introduced a swath of new colors for 2017, including three whiter shades of pale called Ceramic Metallic, Crystal White Pearl and Arctic White. Our test Miata sported an intriguing off white finish (Ceramic Metallic) that brought to mind the Hot Wheels "Color Changers" which respond to different light levels by changing color. In the case of this Mazda, Ceramic Metallic morphed from silver through gray to bright white depending on the light and time of day.
The big news in Miata Land for 2017 is the introduction of the retractable fastback (RF) model. This disappearing hardtop makes the Miata look like an Italian show car from the 1950s when the top is up. With top retracted, its looks mirror the conventional MX-5 roadster we drove. Frankly, I can't see why you'd want to saddle the lightweight MX-5 with a complex, electrically operated top mechanism when the fabric top of the standard Miata is such a pleasure to operate. While seated in the driver's seat, you can detach the top from the header in one second, flip the top back in another second and slam it home into its storage well in a third second. The Miata even facilitates the process by dropping both side windows half way. Top erection is the reverse of this sequence, featuring an easy catch header latch of brilliant design.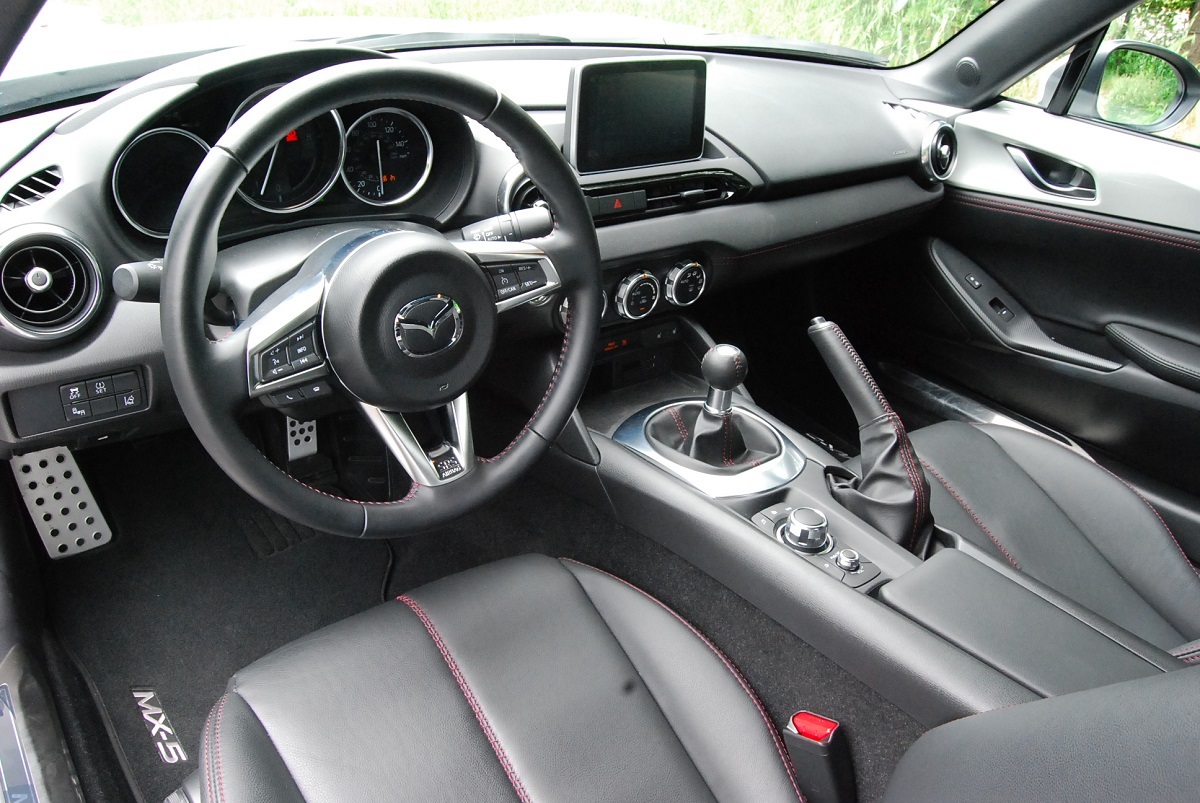 The placement of the Miata's dial control for the infotainment system – just aft of the stick shift on the transmission tunnel – is not quite so brilliant. This dial, which among other chores selects radio stations, constantly fell afoul of my right elbow as I changed gears. I lost count of the number of times I inadvertently swapped bands from XM Satellite to FM or AM. But that concludes my very short complaint list, because the MX-5 is otherwise just as perfect as can be. Its handling, for example, is beyond reproach. Twitch the stubby steering wheel and the Miata instantly twitches in the same direction. No other car responds with the immediacy of the Miata. This immediacy is due largely to the ultra responsive tire patches provided by Bridgestone. The S001 radials (205/45R17) provide enough lateral grip for track duty.
Standard front and rear stabilizer bars, stiff spring rates and well snubbed shock absorbers all conspire to provide a resiliently precise ride that will have you carving apexes with glee. Simply put, this Mazda outdoes a legion of much more expensive offerings from Porsche and Corvette, all the way up to Ferrari, and Lamborghini. None of them can match the MX-5 for unalloyed driving pleasure.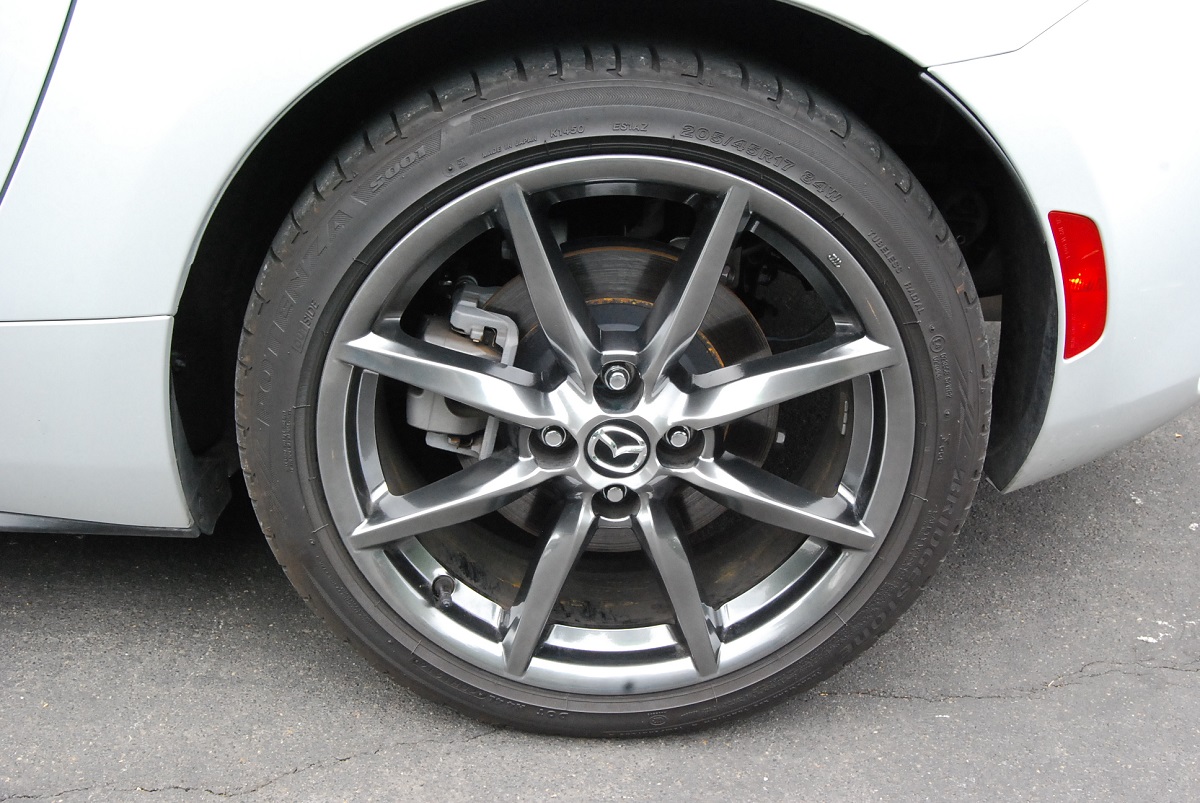 An important part of the Mazda magic formula derives from unimpeded sightlines from the cockpit. Although Miata now offers Blind Spot Monitoring with Rear Cross Traffic Alert and a Lane Departure Warning System, you don't really need them in a car where you can see everything all the time from the driver's seat.
Over the past quarter century, the Miata has matured into a comfortable little grand tourer. Our sample boasted a wonderful sound system with 9 Bose speakers spread through the cockpit, including inside each headrest. Despite its diminutive 5 cubic foot size, the Miata's trunk will swallow an amazing amount of stuff so long as you keep the contents in soft shell bags. You would be hard pressed to find a better sports car today – at any price – than this $31,000 steal of a deal.
2017 Mazda MX-5 Miata GT
Engine: 2.0 liter SKYACTIC in-line 4
Horsepower: 155hp
Torque: 148lb.-ft.
Fuel Consumption: 27MPG City/36 MPG Highway
Price as Tested: $31,325
Star Rating: 10 out of 10 Stars
Related posts: