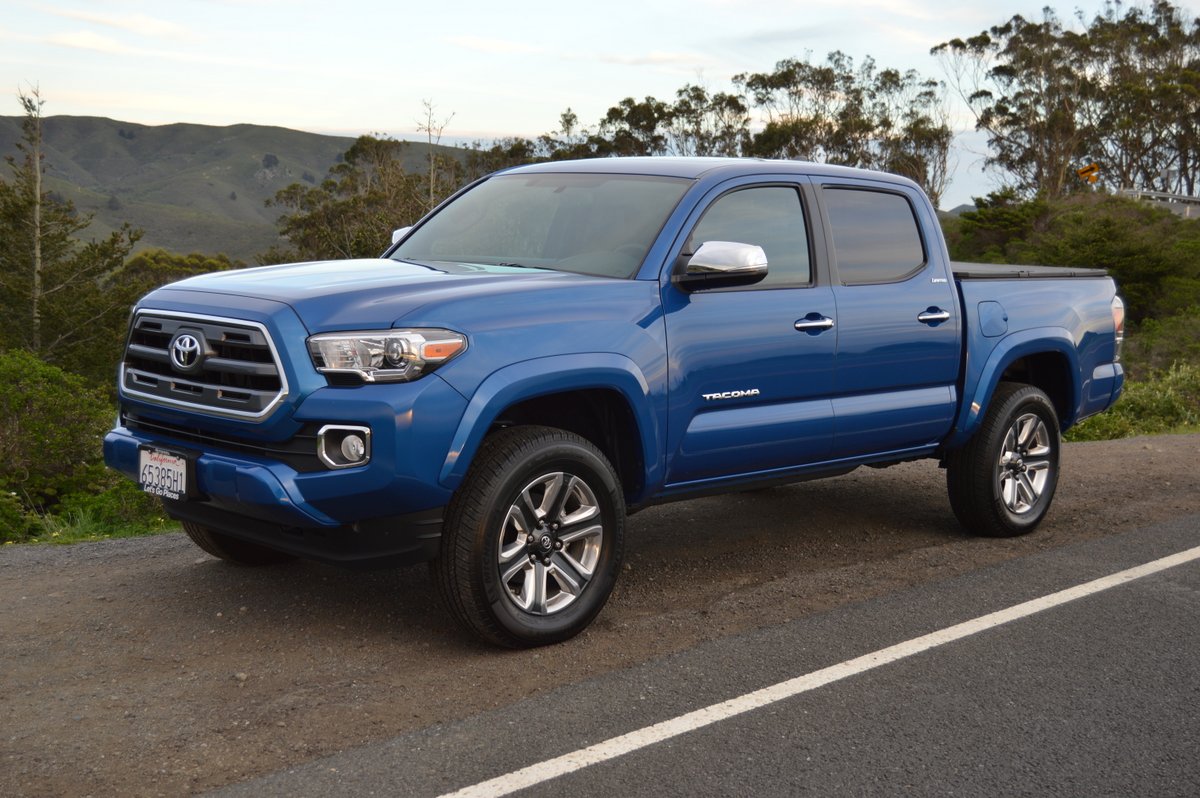 By David Colman
Hypes: Ferocious New Look, Beefy V6 Power
Gripes: Hood Prop Hard To Operate, Unsupportive Seats
The Tacoma's legion of young followers will love the changes Toyota has wrought with the latest version of this sturdy off-road capable sport truck. The Tacoma has come a very long way from its introductory appearance and size. Toyota debuted the Tacoma in February, 1995 as a compact pickup intended for personal rather than business use. Two four cylinder engines (142hp and 150hp) were available at the time, as well as one V6 (190hp). Muted styling and rounded edges keynoted the truck's initial appearance.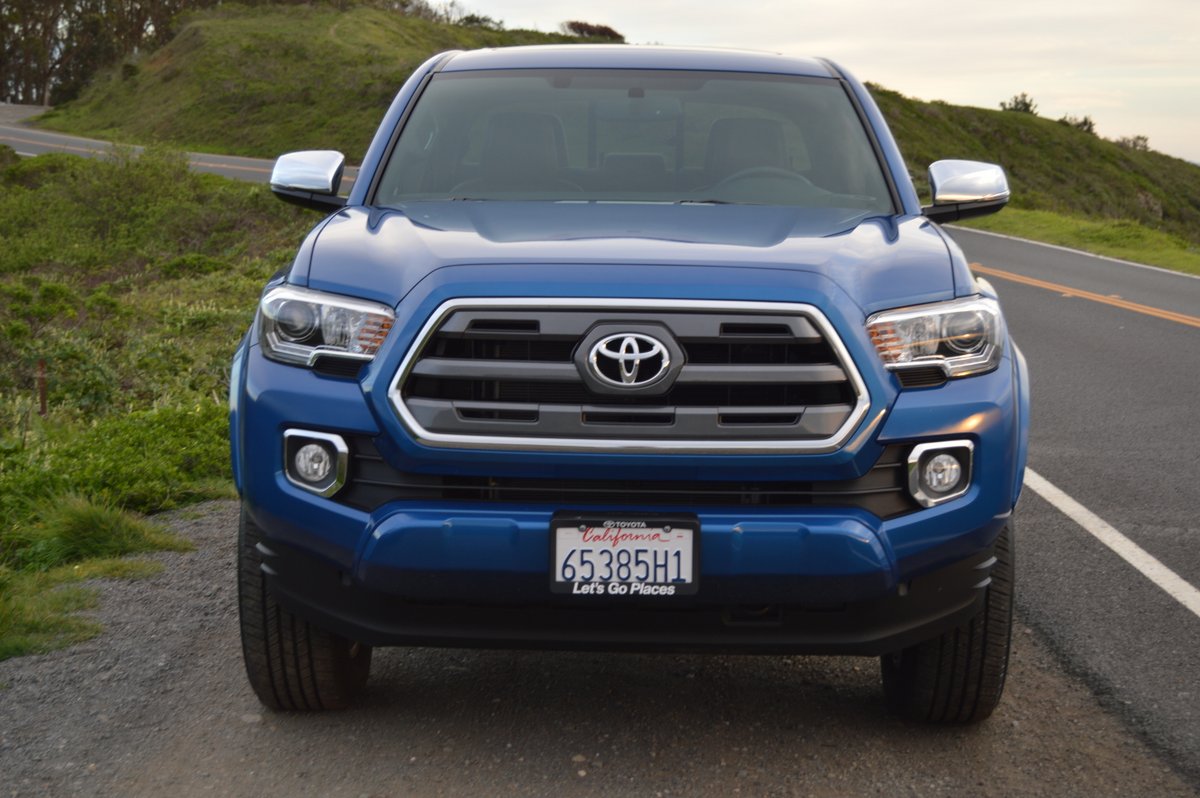 Now shift to 2016. The Tacoma has grown so much in size that when we passed an original version on the highway, I could hardly believe that it too was a Tacoma. The new version absolutely towers over the original in every way. Look at the new sheetmetal for 2016, and you'll see trace design elements from the latest Ram truck, as well as Chevy's Colorado, and GMC's Canyon. The Tacoma's blunt snout looks like it could survive a Monster Truck bash without damage. Beneath the grill lies an ABS skid plate. Driving lights are embedded in protective alcoves, and headlamp jewels stand tall in the blocky fenders.
Side profile reveals that the bodywork of the truck is substantially elevated to allow generous vertical suspension travel at all four corners. This 70.6 inch height, in turn, means climbing into the cab poses something of a chore. But it's a chore eased by a well-placed grab handle on the passenger's side of the cab. Running boards would be useful, though detrimental to off-road clearance.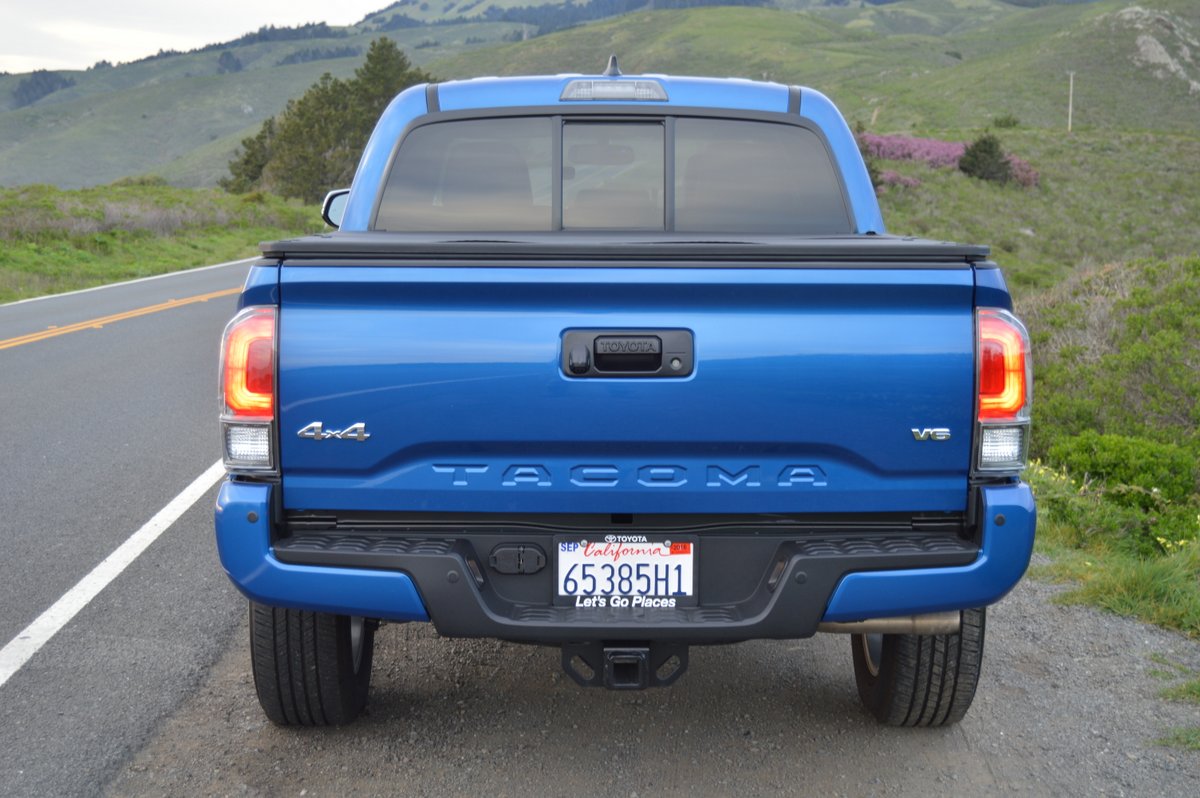 And make no mistake, the prime mission in life of the new Tacoma 4×4 is to promote off-road fun. To start with, Toyota has provided a windshield mount for a Hero G-Pro camera. They've fitted the polished alloy rims with Michelin's best outback rubber, 265/60R18 LTX MS tires. On pavement, these tires provide a springy ride thanks to their tall 60 series sidewalls. But when you tackle unpaved surfaces, they come into their own. In fact, the entire suspension system of this Tacoma is calibrated for unimproved driving conditions. Four wheel drive is available on demand, and offers two different speed ranges. An electrically controlled transfer case and automatic limited slip differential insure that even the most daunting off-road travails will be dealt with successfully. Toyota fitted our test Tacoma with its most powerful available engine, a 3.5 liter V6 which makes 278hp and 265 lb.-ft. of torque. If you don't require this much motor, you can order a 159hp 2.7 liter inline 4. But really, for a Double Cab model weighing in at 4,525 pounds, the V6 is the only way to go. It even posts a respectable EPA fuel economy rating of 20 MPG in overall driving.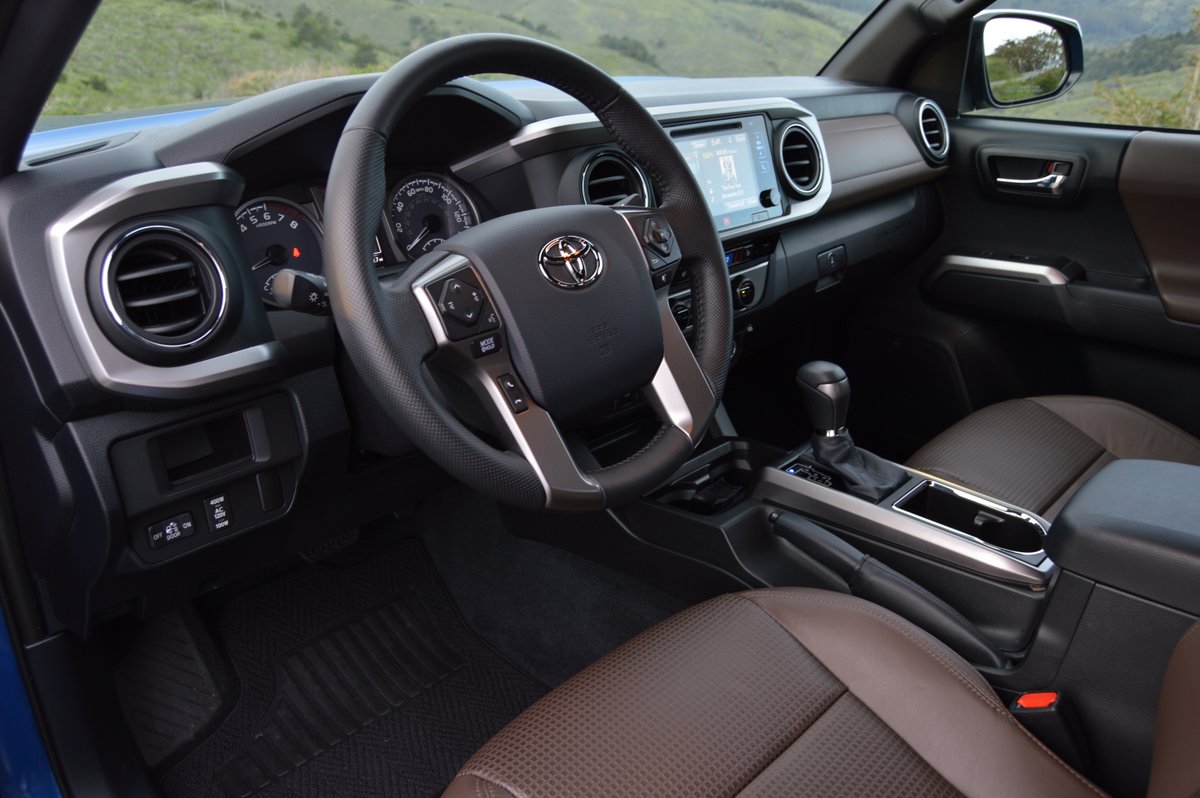 Although the Tacoma's jacked up Hitachi shocks will never let you down, the interior of this truck is a bit disappointing. The front seats, although heated, are flat and hard, fitted with manual adjustment paddles for both fore-aft travel and backrest inclination. The steering wheel lacks telescopic adjustment, and we found the air vents blowing cool air even when the fan was shut off. Our test vehicle included an optional $650 hard plastic folding tonneau cover for the truck bed. Years ago, this was an item I made for myself out of plywood to protect goods stored in the bed of a pickup going cross country. Now all you have to do is pay $650 and Toyota takes care of the rest. The Double Cab's rear seats can be folded up for interior storage, and Toyota provides a couple of side lockers inside the pickup bed. The tailgate of the Tacoma is hydraulically actuated so once you unlatch it, the gate glides open without the usual clatter. However, we found it odd that when you lock the truck with the keyfob remote, the tailgate remains unlocked until you physically turn the key in the lock. Some thefts might occur before owners discover this idiosyncrasy.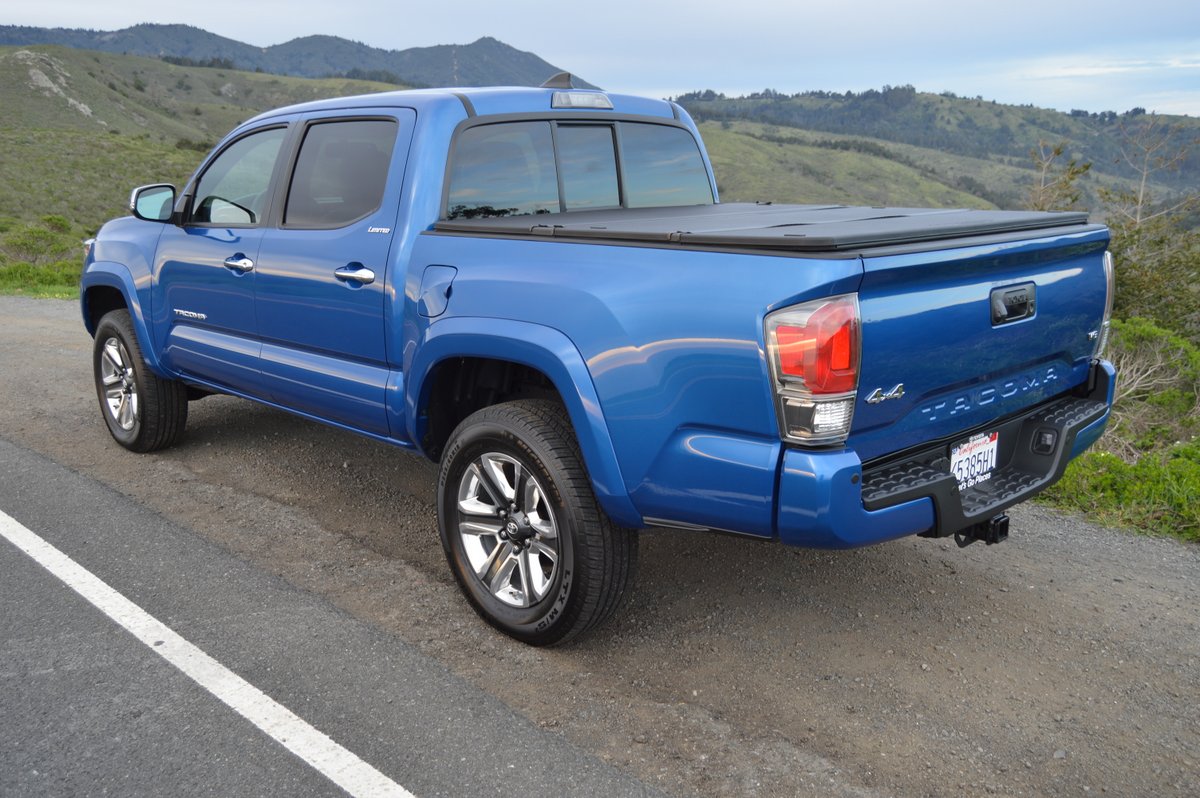 The new Tacoma has strong competition in the marketplace from Chevy's Colorado and GMC's Canyon. Toyota's answer to them is this attractive redo of the Tacoma for 2016. This truck is fast enough to cut a 15.4 second quarter mile at 91mph when equipped with the V6 engine. If you pay an extra $650, Toyota will add a Class IV towing hitch, an engine oil cooler, a power steering cooler, a 130 amp alternator, and 5 and 7 pin connectors for trailer lights and brakes. Even if you don't tow so much as a dinghy, this package is worth its weight in gold. If you do plan to tow a trailer, your weight limit is a whopping 11,330 pounds.
2016 Toyota Tacoma Limited 4×4 Double Cab
Engine: 3.5 liter V6 with Dual VVT-i
Horsepower: 278@6000rpm
Torque: 265lb.-ft.@4600rpm
Fuel Consumption: 18 MPG City/23 MPG Highway
Price as Tested: $40,020
Star Rating: 8.5 out of 10 Stars
Related posts: