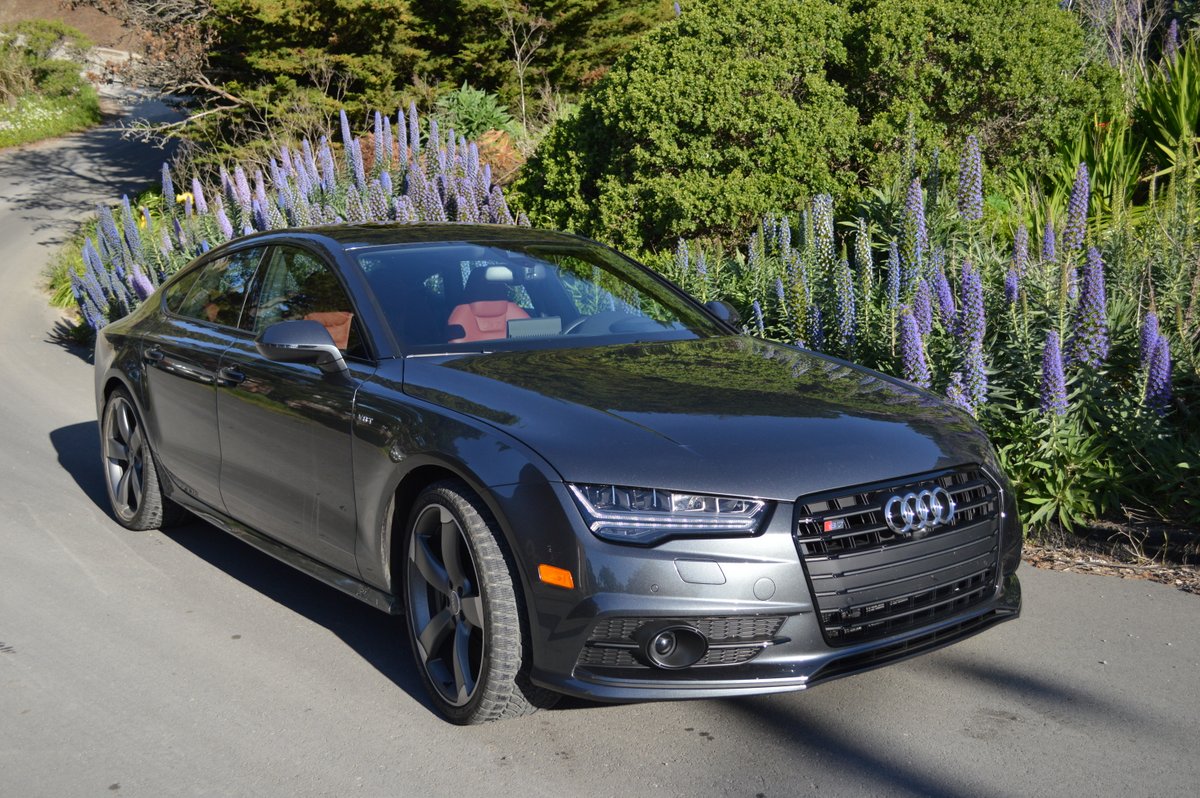 By David Colman
Hypes: The Magic Carpet Ride
Gripes: Heated Steering Wheel and Rear Wiper Should Be Standard
Since its recent introduction, the Audi S7 has quickly matured into one of the most athletic and expensive hatchbacks you can buy today. Normally, hatchbacks fill utilitarian needs in the lower end of the market spectrum. VW started the craze back in the 1970s with the original Rabbit, which allowed you to load all manner of cargo through its huge lift-up rear door. VW also turned the cargo hatch into the hot hatch by introducing the GTI version of the Rabbit. The GTI started other manufacturers on a stampede to emulate its practicality and scintillating performance. In short order, everyone was offering a hot hatch to combat the GTI invasion. It should thus come as no surprise that Audi, a division of VW, has upped the ante in the hot hatch field from the original $10,000 GTI to the current $100,000 Audi S7. Well, okay, the $95,525 Audi S7.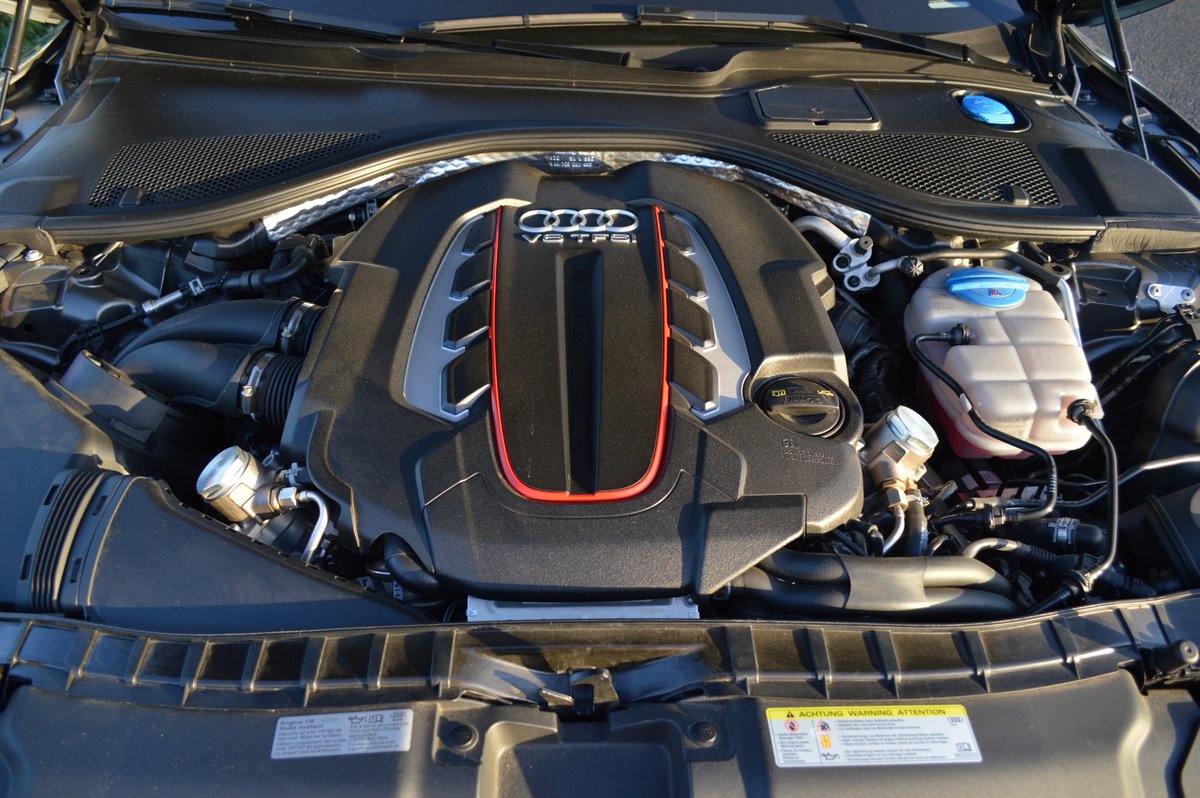 You can chose from 3 different engines for the S7. The base model uses a 3.0 liter V6 making 333hp. Our test quattro-equipped S7, dubbed "4.0T" by Audi, carries a base price of $82,900, and utilizes a 4.0 liter, twin turbo V8 good for 450hp and 406lb.-ft. of torque. If that isn't enough motive power, the $109,825 RS7 bumps engine output to 560hp and torque to 516lb.-ft. Several expensive option packages boosted the final tally of our test car. You'll gladly pay $3,500 for the "S7 Sport Package" which consists of Audi Dynamic Steering, Quattro Sport Rear Differential, and Sport Exhaust With Black Tips. While you don't absolutely need these three additions to enjoy life with this Audi, the adjustable steering calibration adds to your driving precision, the special differential aids all weather traction, and the sport exhaust really enhances the sound of the engine's peak thrust.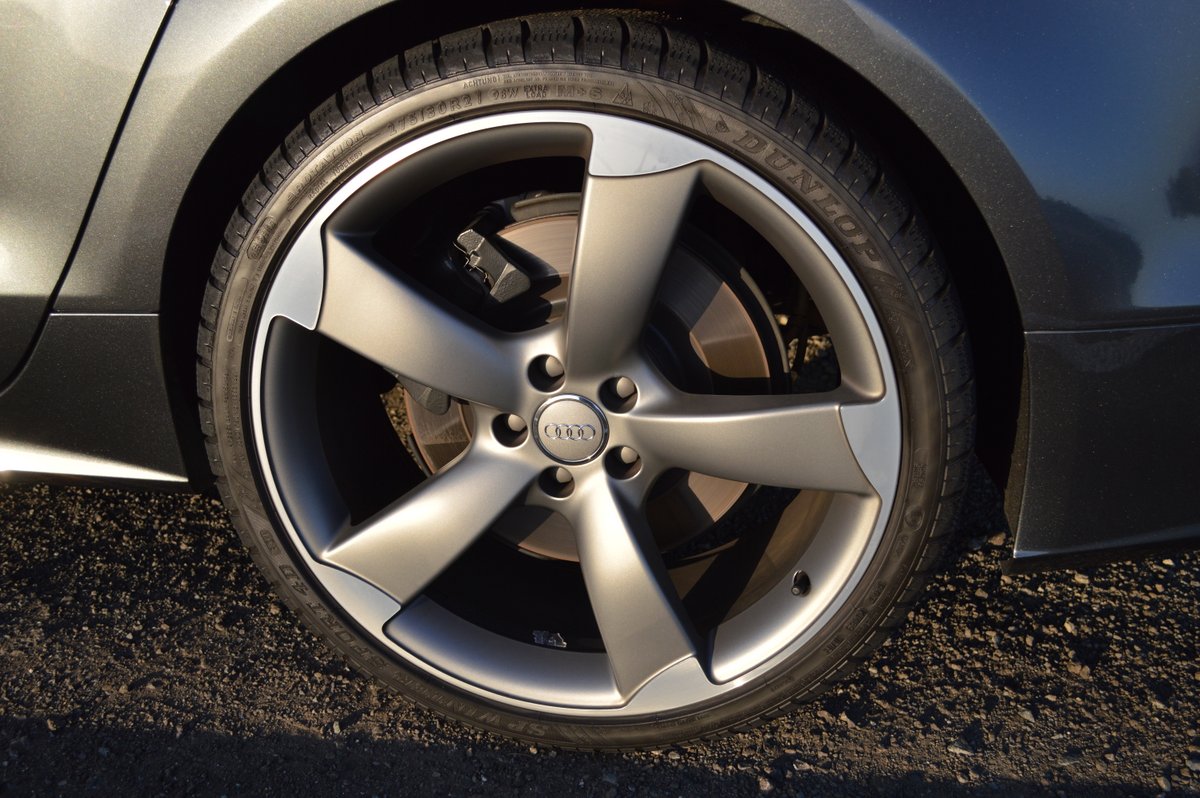 Also elevating the price were a $2,700 optional set of 21 inch "5-Arm Rotor" alloy wheels with 275/30R21 tires that were supposed to be "summer performance" rubber, but were in fact Dunlop Winter Sports 4D snow tires. Since it rained for much of the week we spent with the S7, these massive Dunlops were perfect for exploring the handling limits of the hefty 4,235lb. Audi. Rest assured that those limits are so high in all circumstances that you will never find yourself exceeding them, even in the heaviest rain or snow. This Audi is prepared to transit anything short of the Rubicon Trail with grace, ease and consummate finesse.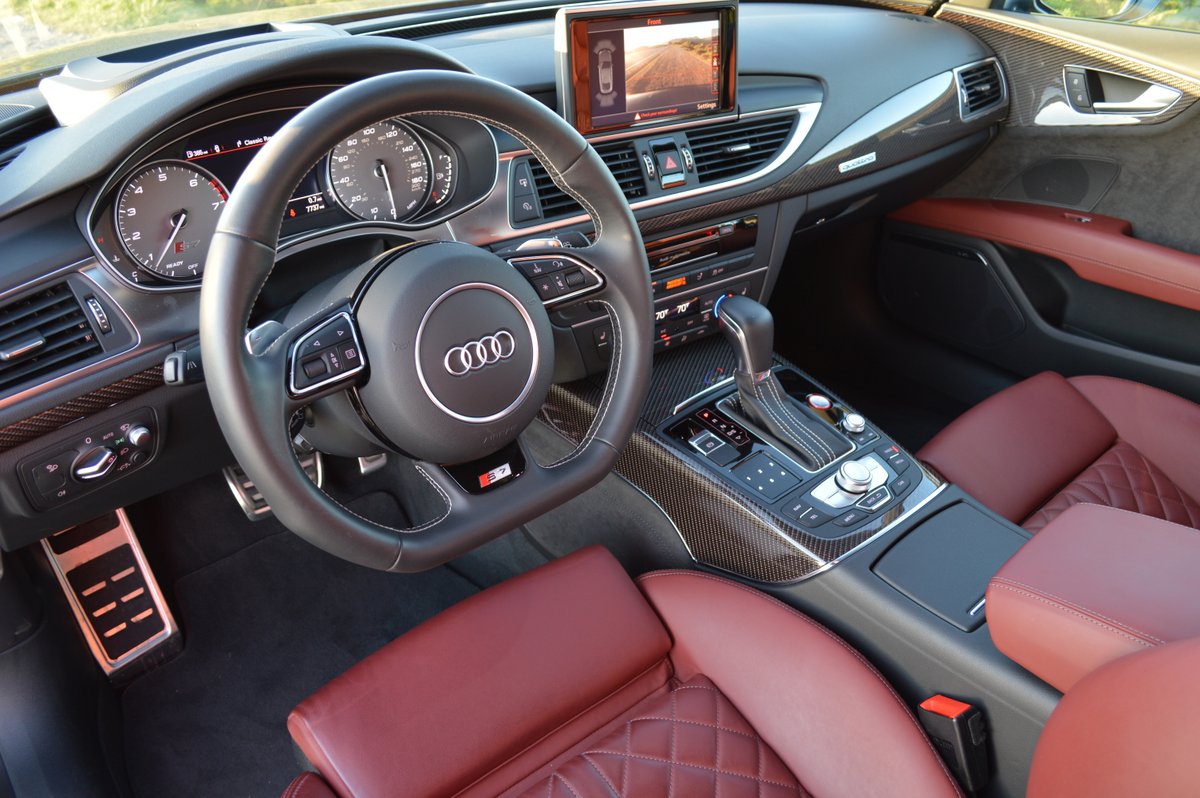 The $2,500 optional "Audi Design Selection" interior upgrade moves the cabin of the S7 into the Rolls Royce/Bentley realm of opulence. Its "Arras Red Interior" converts all Valcona leather seating surfaces to box quilted brick red leather that feels scrumptious and looks palatial. It also includes "Carbon Twill Decorative Inlays" which are so attractive they make common carbon fiber look prosaic. Audi has managed to weave a reddish strand through the carbon nexus that invests the material with a depth and vitality that transforms the look of the entire cabin. In addition, medium gray ultra-suede covers the door panels and roof liner, with discrete matte aluminum tags reading "Design Selection" appended to each door card.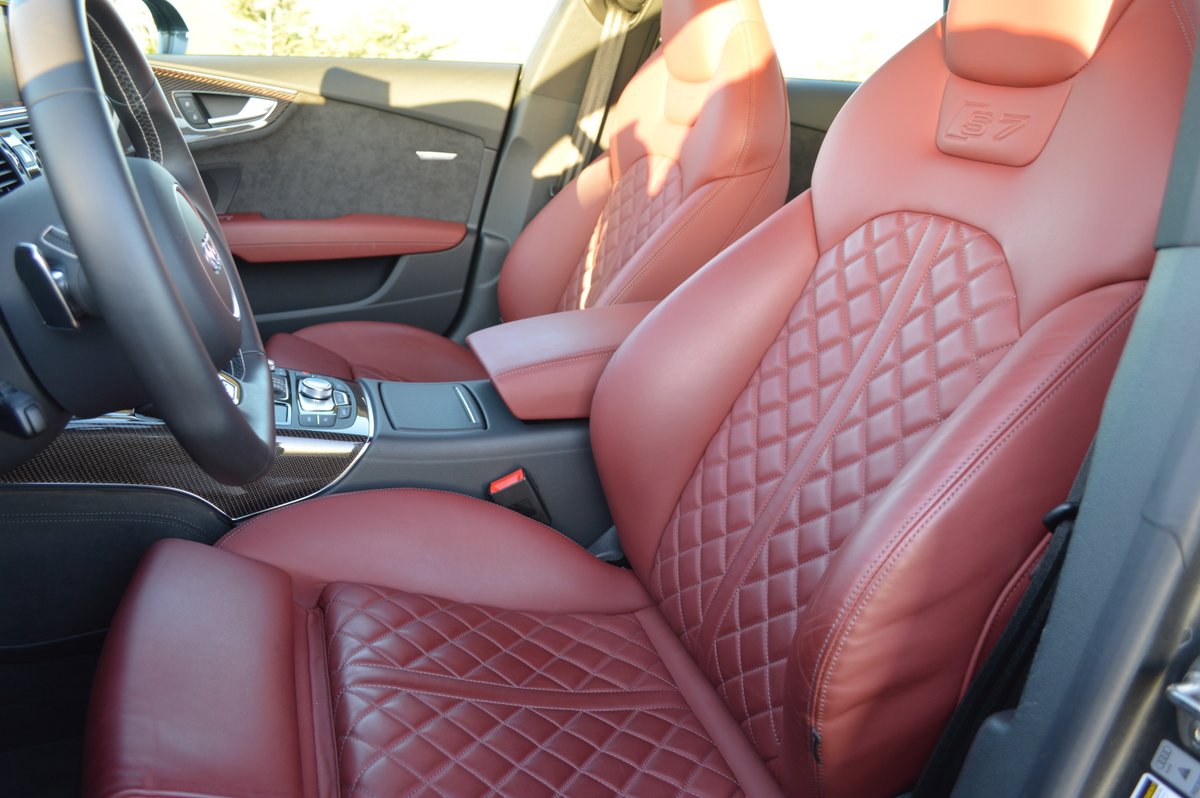 Finally, another $2,450 buys you the "Driver Assistance Package" which includes adaptive cruise control with stop and go, active lane assist, a corner view camera system, and a high beam assistant. We tested the stop and go feature and decided we'd rather trust our instincts than depend on the electronics to keeps us out of trouble. The lane keep flashes a bevy of orange lights under each exterior mirror when proximate traffic is detected. These flashing lights mimic those you might see on an adjacent police cruiser, and proved to be a constant source of irritation. Do yourself a favor and save $2,450 by not ordering this accessory group.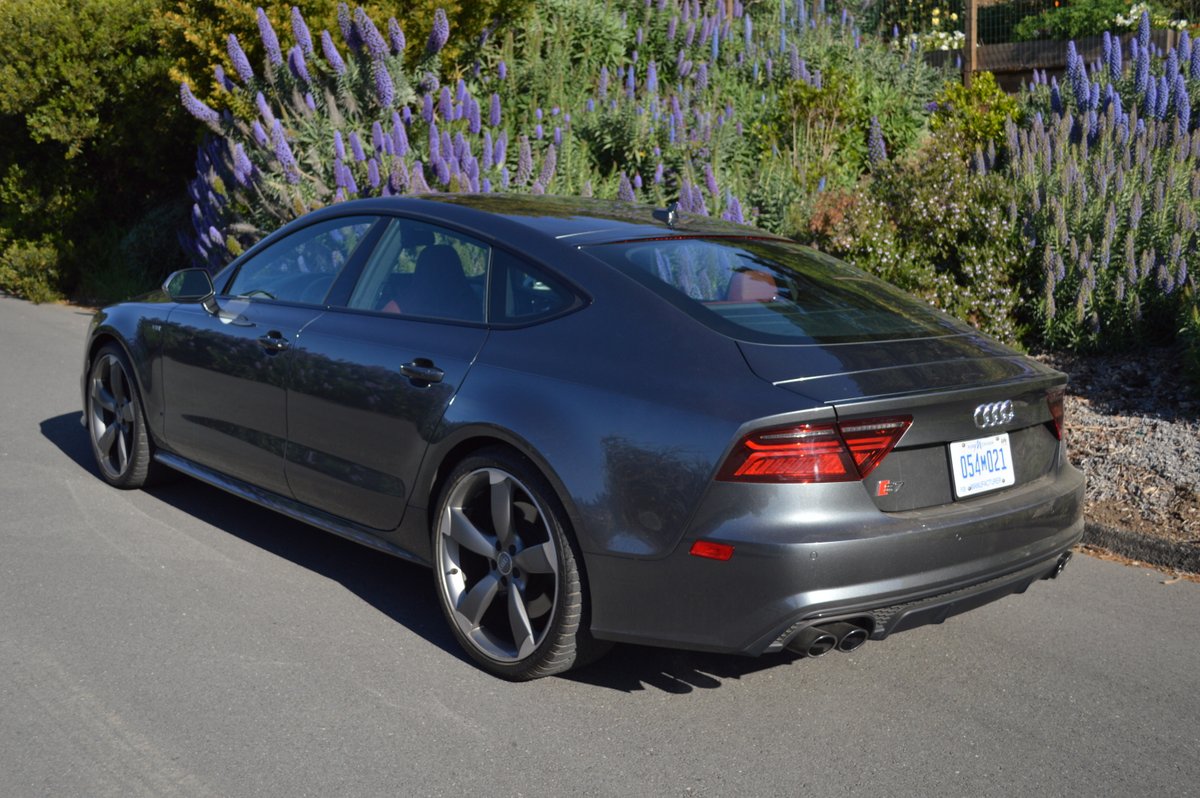 The S7 is a phenomenally fast, handsome and comfortable long distance cruiser. It will cover virtually any terrain in any kind of weather without giving you pause. The interior fitments are so beautifully and elegantly devised that passengers will think they're riding in a car costing $200,000. It's not often that a $100,000 Audi manages to look like a terrific bargain, but this one most certainly does. Hatchback have come a very long way since VW brought that first Disco-era Rabbit to market so many years ago.
2016 Audi S7 4.0T
Engine: 4.0 liter twin turbo V8, TFSI
Horsepower: 450hp
Torque: 406lb.-ft.
Fuel Consumption: 17 MPG City/27 MPG Highway
Price as Tested: $95,525
Star Rating: 10 out of 10 Stars
Related posts: