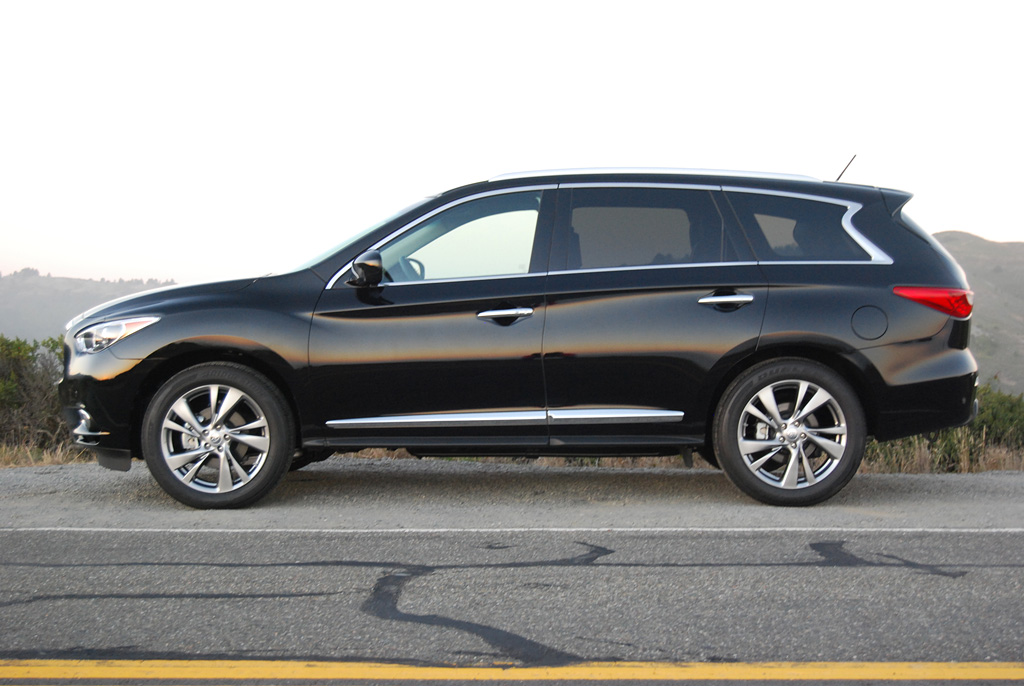 By David Colman
Hypes: Up-market Interior, Command Seating Position
Gripes: Whiny CVT Transmission, Erratic Cruise Control
You could buy a brand new Hyundai Accent for $12,445. Or, you could spend the same amount of money just to add 4 accessory packages to the Infiniti JX35. When you opt for the Technology Package ($3,100), the Theater Package ($1,700), the Deluxe Touring Package ($2,550) and the Premium Package ($4,950), then throw in a pair of Roof Rails ($370), you've added a whopping $12,670 to the $41,550 base price of the JX35. Are all these additions really worth the price of a new Hyundai?
Far from it. In fact, some, like the Technology Package, are enough to drive you to distraction. If you're unable to turn your head, look in the rear view mirror, or pay attention to traffic, you might want to consider investing in this option. But if you have enough breath to fog a mirror, forget it. Does anyone really need "Backup Collision Intervention," "Distance Control Assist" or "Lane Departure Warning and Intervention"? The latter "feature" is remarkably intrusive and annoying, issuing a constant flurry of beeps every time you change lanes. Despite the fact that the Owner's Manual suggests the possibility of over-riding Lane Departure Warning, we were unable to accomplish the reprogramming needed for this task.
All these preventative devices conspire to saddle the JX with the jerkiest cruise control imaginable. I always thought that my Uncle Joe, who lived in NYC, was the worst driver in the world, stopping and starting so often that you wanted to upchuck after 2 blocks in the passenger seat. Well, the JX' "Intelligent Cruise Control" is so dumb that it puts Uncle Joe to shame. Set your desired speed, and the JX35 accelerates and brakes with mind-numbing frequency. After a few minutes of this bizarre ritual, we deselected cruise control and took care of the throttle our self.
Aside from technology run amok, the JX35 is a decently presented SUV, with enough thump from its 265hp V6, and enough stick from its 20 inch Bridgestone Dueler H/P radials (235/55R20), to motor smartly down a winding road. Steering is unusually communicative for an SUV that weighs 5,000 pounds. The CVT transmission, however, is disconcerting in a vehicle of this price range. As you may know, constantly variable transmissions depend on belts rather than gears for motivation. When you perform a "downshift" in the JX35, you're really asking the CVT transmission to alter belt length to increase rpm. Even when shifted manually, this mechanism responds slowly to downshift and upshift commands. A real 6 or 8 speed gearbox is the accepted norm for an SUV in this price range.
From a functional standpoint, the JX35 offers the utility of 3 seating rows. With all seats erect, you're limited to just 11 cubic feet of tailgate accessible storage. If you drop the seatbacks flat in the back rows, cargo space jumps to 85 cubic feet, while rear vision improves markedly because the back headrests are no longer blocking your line of sight.
If you option the JX35 judiciously, you'll bring home an eminently practical and affordable SUV with the proven 3.5 liter Nissan/Infiniti V6 under the hood, lots of luxury trimmings inside, and enough seats to transport the soccer team to games. Just stay away from that Hal 9000 "Technology Package."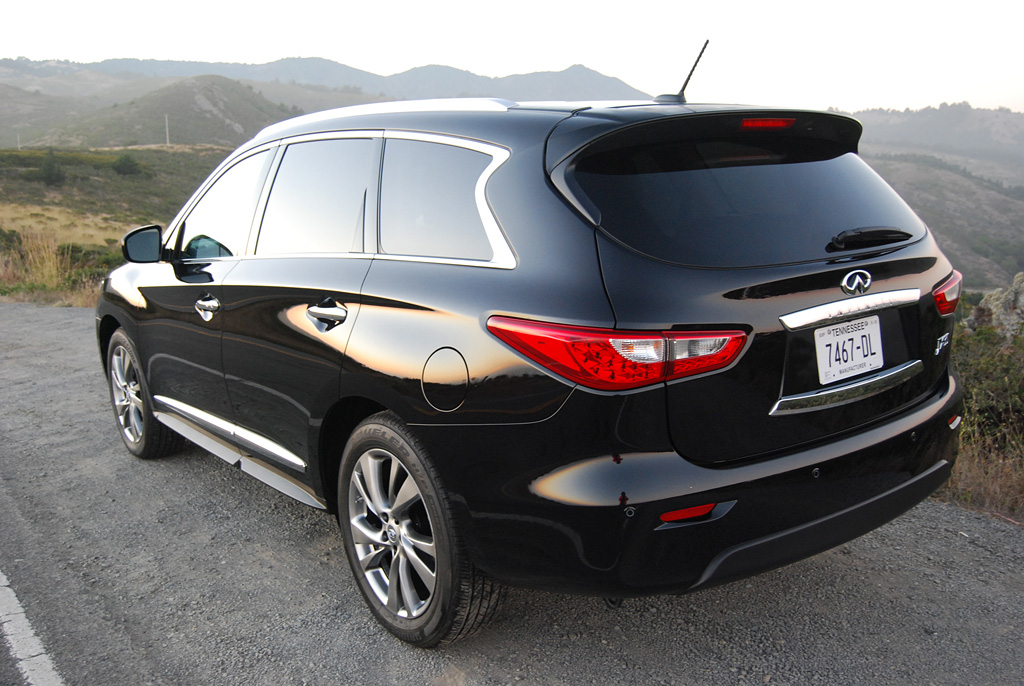 2013 Infiniti JX35 AWD
Engine: 3.5 liter DOHC, 24 Valve V-6
Horsepower: 265hp
Torque: 248 lb.-ft.
Fuel Consumption: 18 City MPG/23 Highway MPG
Price as Tested: $55,170
Star Rating: 6.5 out of 10 Stars
Related posts: