Dan's 2012 Hyundai Veloster Review and Video

Hyundai Veloster: Eco Hatch with Style
It wasn't until Hyundai released the Genesis Coupe that I started to look sideways in their direction. A sporty car allows a company to show off a bit – perhaps breathe new life into a known brand. Technical know-how? New design language? Hyundai has been making a push to go from a car that you lose in the parking lot to one your stare at for a minute before heading inside. Are they succeeding?
Design
There's a lot going on with all of the curves, notches and flares on the Veloster. The overall shape is aggressive and gives the impression of a true hot hatch. The low, squat look is enhanced by four substantial wheel wells and a raked hatch that ends in a subtle rear wing. The bumper is broken up with a big, black skirt that surrounds the integrated dual-tipped exhaust. There are even faux black hood inlets. In design school, I would have called it "busy", and said it has a lot of superfluous information – but we're not in a senior critique, so let's just say it's aggressive without being gaudy.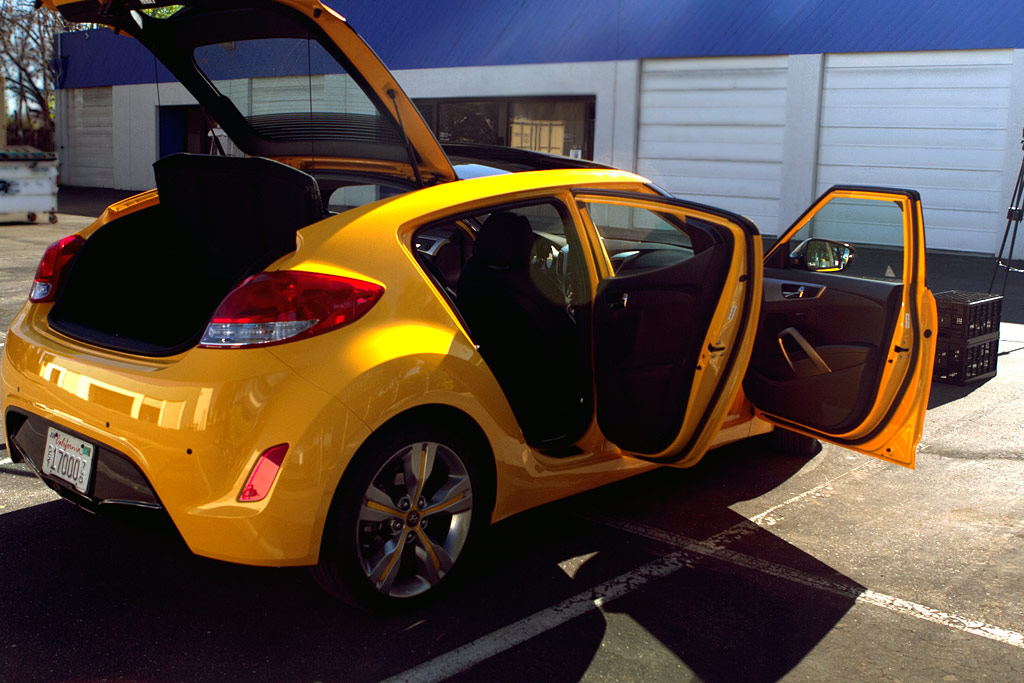 What really gets a second glance is the driver's side "Third Door". You won't be getting your six-foot friends into the back seats of this car, but for the added convenience of groceries, kids or the occasional adult who doesn't like to complain you'll find it a nice convenience feature. Is the third door a plus? Personal preference will dictate, but the design was done well in that the door's handle is tucked in and doesn't disrupt the lines of the car.
Popping the rear seats down provides ample room for carrying all sorts of payloads, and I was impressed that it swallowed two full sized travel suitcases without so much as a burp.
Feel
If design and aesthetics are subjective, "feel" follows suit. However, I'm disappointed when I read a review and don't come away with an idea for the solidity of the materials or how touch plays a factor in a buying decision. In a stick shift car, the first thing I want to know is: how does the shifter feel? Notchy and firm? Smooth but vague? Most people see a smooth shifting car as easier to drive – in that case, you'll find the Veloster extremely comfortable to move through it's six speeds. There's little or no "notch" to the shifting and the clutch has a smooth and effortless action. Some feel that a sporty car should have a definitive engagement and a stiffer clutch feel – if that's what you like, the Veloster will disappoint.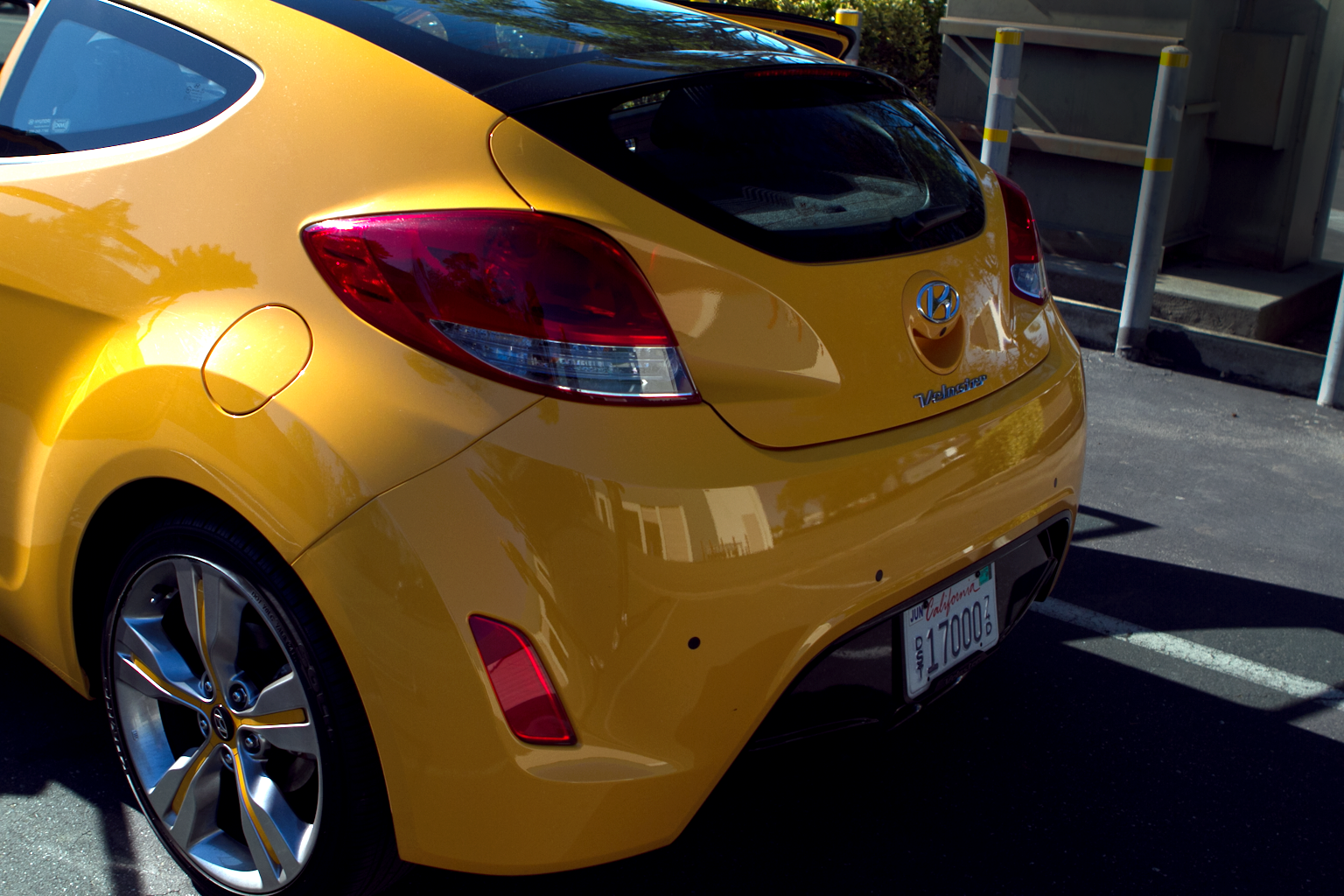 Conclusion
The Veloster is a very well built, boldly designed eco hatch that is easy to drive, carries a respectable payload that looks like it could be a Rally platform. It handles well, has a number of well thought out interior features and would make an ideal commute car for those looking to feel sporty while driving tame. The lack of grunt makes it all show, no go – but perhaps someday soon we'll see lower cost technology that renders the need to choose between performance and economy a thing of the past. If you want speed from your hatch, look at a Subaru STI. If you want a higher performance three door, the Mazda RX8 is a choice sans the sticker price and voluminous hatch. But in it's eco-hatch zone, the Veloster is hard to beat.
About the Author: Dan is a Designer, Rally and Formula One lover and general gadget freak.
Related posts: