Hype: Stellar Cosmetics, GT Grunt
Gripes: Clunky Door Slam, Distracting Wide View Ext. Mirrors
Front to back, here are the significant features of the "base" Boss 302:
New aero package to reduce lift
A completely revised 444-horsepower engine with unique head castings, different exhaust valves and exhaust-side cams, upgraded internal materials in the valvetrain and pistons, and a long-tube custom runner intake drawing on Ford's Daytona Prototype experience
The "Brembo package" found as an option on the 5.0 and supplied standard on the GT500 is here as well, upgraded with specific brake pads by Performance Friction and special brake lines for improved pedal feel
Stiffer springs surrounding five-position adjustable shock absorbers, and a bigger rear swaybar
Three-way adjustable electric power steering
A second set of exhaust pipes exiting to the sides to reduce backpressure and terrify anybody who happens to be in the same tunnel as a Boss 302
Nineteen-inch wheels with Pirelli P-Zero tires
That's a long list of revisions, and they're all important to the Boss mission of "balanced performance." But as we climb the sixteen-percent grade of a Monterey canyon road, it's the monstrous engine that makes its presence most immediately known. This car is too fast for all but the most gnarled back roads, reaching effortlessly into the triple digits between corners and pulling relentlessly from three grand all the way to the 7,500 rpm soft rev limiter. No factory ponycar has ever offered this kind of pace in these conditions — only Ford's own 2011 aluminum-block GT500 can even mount a challenge.
After just a few miles of observing this car's ability to warp time and space, we back off the throttle and relax. As good as the brakes are, they really aren't up to the challenge of endless ABS-cycling high-speed entries down long, steep hills. It would take Corvette-ZR1-sized platters to dissipate that kind of heat, but this is a car that costs less than a base 'Vette. Time to back off — and we've made the right choice, as the local police have woken up to the fact that there are a dozen Mustangs with side-facing exhausts racing around the area. We'd better find a place where this kind of power can be safely uncorked.
Compared to the Sibling: The Ford Mustang GT
Mustang enthusiasts have had more special editions to choose from than Baskin Robbins has flavors. Every year Ford or Shelby float new and tasty variations of this quintessential ponycar. One of the best packages in the car's 49 year history is the California Special version of the Mustang GT. This package, which carries a surcharge of $1,995, substantially changes the look of the GT by adding faux side scoops behind the doors, a pair of working black air vents atop the hood, a pedestal rear spoiler, and ever-so-subtly faded hood stripes which match equally unobtrusive "GT/CS" side stripes. This economic package also includes unique black billet upper and lower grill bars highlighted by a tri-star pony badge, special front splitter with fog lights, and unique rear diffuser and badging.
Ford continues the custom motif inside, with model specific lettered floor mats, special front seats with Miko suede inserts and logo-embossed head rests, and a distinctive silver "GT/CS" inscription on the faux carbon fiber dash board. In the Sterling Gray Metallic shade of our test vehicle, these filigrees looked distinctive without being garish. A final pedigree is provided by black enameled, silver machined "GT" inscribed alloy rims (19" x 8.5") bearing beefy Pirelli P Zero Nero competition tires measuring 245/45ZR19. The rims and rubber did wonders for both the looks and the handling.
This test GT/CS harnessed the 5.0 liter V-8's 412hp to a 6-speed automatic ($1,195 extra) which includes, for the first time, a SelectShift Manual Mode. To engage this feature, you must first move the floor-mounted stick fully rearward into the Manual gate, then make your up and downshifts using a rocker switch appended to the left side of the shift knob. Due to the small size and remote placement of this switch, manual selections are difficult to make. This super sporty Mustang deserves paddles on the steering column, or at the very least, a bump stick for manual shifts. Given that the standard 6-speed manual is such a pleasure to operate, you'd be well advised to save the grand plus you'll spend for the SelectShift automatic.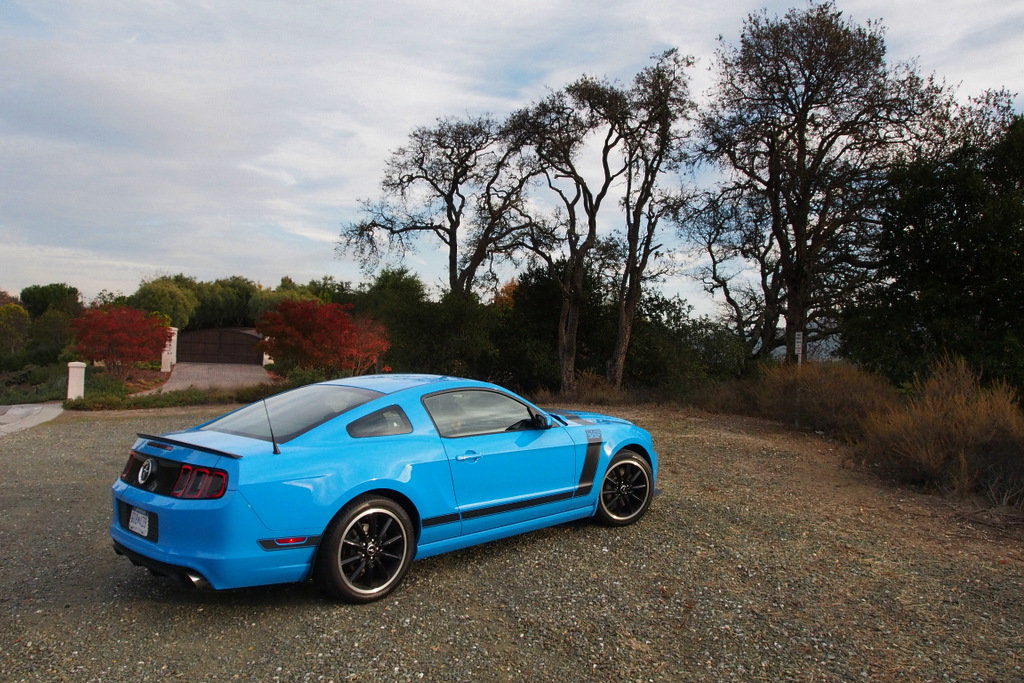 Because Ford equipped this particular GT with a 3.15:1 rear axle ratio, it returned 20 MPG in mixed driving. This is excellent mileage for such a powerful V-8, but I would have gladly forsaken a couple of MPG for better low end performance, by equipping the GT with a 3.37, 3.55 or 3.73 limited slip rear end ratio. All of these are available at no extra cost, and with any of them, the improvement in acceleration is remarkable.
Even with its gearbox and rear end limitations, the GT/CS Mustang is still a total blast to drive. You can hang the rear end out like a NASCAR star, because the sticky Pirellis always save the day. The fat rimmed steering wheel's electric power assist provides accurate information about tire placement and adhesion. Although you can deselect traction control at will, the system is so well engineered that you never need to override this safety net to enjoy maximum performance. Above all else, the Mustang GT is a driver's car. With GT/CS enhancements, it looks enough like a Kal Kustom to make you George Barris. In reality, though, this GT costs just $40,230.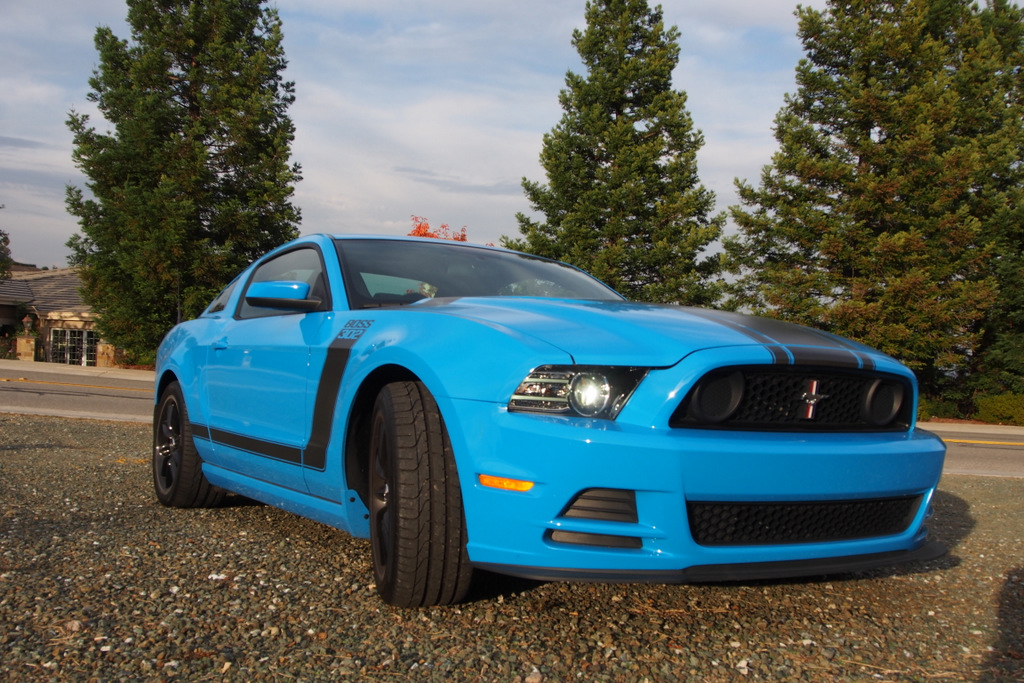 43 years ago, Ford produced a limited run of 1968 California Special Mustangs (complete with faux side scoops) that have become cult cars in the collector market. There's absolutely every reason to believe the exact same fate awaits this excellent reincarnation.
2013 Ford Mustang Boss 302
Standard Engine 5.0L V8
Standard Transmission 6 Speed Manual
Cylinders 8
Horsepower @RPM 444@7400
Fuel Economy Cty/Hwy 15/26
Combined Fuel Economy 19
Engine and Transmission: 5.0 V-8/6M
skidpad 0.89 g.
1/4 mile 12.92 sec.
0-60 4.7 sec.
1/4 mile 112.47 mph.
Star Rating: 9 Stars out of 10
Related posts: