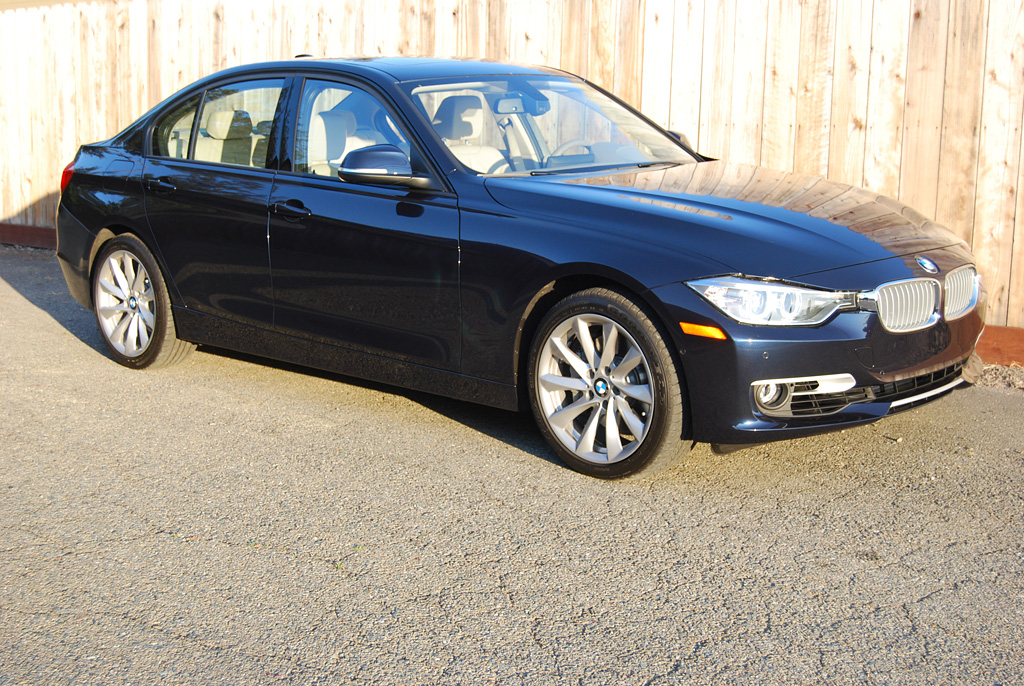 By David Colman
For: 306hp, 8-speed Tranny, Turbine Wheels
Against: Stop/Start Nonsense, Neolithic Dash Slab
BMW has just introduced its latest interpretation of the 3 Series sedan. It's still fast, nimble, handsome and expensive. You can order the base model 328i (base price: $35,795) which depends on a 4 cylinder turbo to make 240hp, or you can up the ante to the 306hp, 6 cylinder twin turbo 335i which we tested (Base price: $42,400). Let's start with fast. The silky six makes peak torque of 295 lb.-ft from just off idle (1,200rpm) all the to 5,000rpm. Its Steptronic automatic transmission offers 8 gears to harness that endless torque, meaning that the 335i rockets you from 0 to 60mph in under 5 seconds, and tops out at an electronically controlled 155mph. If serious squirt is high on your purchase list, the new 335i fits the bill and then some.
Even though BMW has increased the wheelbase of the 3 Series by 1.9 inches, this sedan retains its close-coupled feel and quick reflexes. Curb weight of 3,500 pounds and an overall length of 182.5 inches indicate that BMW has worked hard to provide more interior space without resorting to increases in overall weight or size. The engine block, for example, is cast in aluminum. As a result, when you crank the wheel of the 335i into a sharp bend, you'll be pleasantly surprised by the responsiveness and balance of the chassis, steering and motor. Without question, the latest 3 is still one of the world's best sports sedans.
Shortly after I had parked the new 3 in front of an REI store, a gent and his wife greeted me with an enthusiastic "I love those wheels!" Frankly, until that point, I hadn't given them that much love, but he informed me that this new 18 inch "Turbine" wheel was only available as part of the Modern Line package ($1,400) and could not be ordered separately as a stand alone optional wheel. That's when I took a closer look at the contents of the Modern Line package, which includes, in addition to the Turbine wheels, spectacular looking eroded driftwood trim on the dash and center console. BMW calls this product "Fineline Pure" fine wood trim, and pairs it with "highlight Trim Finishers Pearl." Order this extra cost option, and your new 3 will never be confused with any lesser Bimmer.
Although the 335i's window sticker does not list automatic Engine Start/Stop as standard fare on this sedan, unfortunately it is. This fuel-saving annoyance automatically turns your engine off when idling at traffic lights, or otherwise stopped for any reason. In theory, this device isn't a bad idea, but in practice it's poorly implemented on the 3. When the engine switches off, the 335i does so with a disconcerting shudder. When it switches back on, there's a millisecond delay before you can actually drive off. Worse yet, the reactivation is accompanied by a noisy shake reminiscent of the clumsy way Hybrids used to switch function ten years ago. As currently implemented, Start/Stop is unready for Prime Time, and unworthy of the otherwise well designed 335i.
Over the past decade, BMW has managed to tame and perfect iDrive to the point where it is now comprehensible if not universally loved. Almost all functions must be micromanaged through this computer GUI. The dashtop screen which displays iDrive commands allows you to control everything from radio channel to head-up windshield displays. The system has gained beneficial flexibility with the inclusion of a "Back" button next to the master controller between the front seats, a feature missing from early versions of iDrive. The sizeable black screen which looms over the center of the dash looks like the slab that captivates the chimps in Kubrick's movie, 2001. Although you can turn the info source off, unfortunately you can't make the screen slide into the dash. So you're always stuck looking at its blackness, just like one of Kubrick's chimps.
The recast 335i groups euphoric highs (zinger motor, sweet sequential gearbox, driftwood dash) with inexplicable lows (Auto Stop/Start, lack of paddle shifters, clunky run-flat Goodyear tires). In the final tally, though, the highs outweigh the lows, making the 335i still the car to beat in the compact sports sedan class.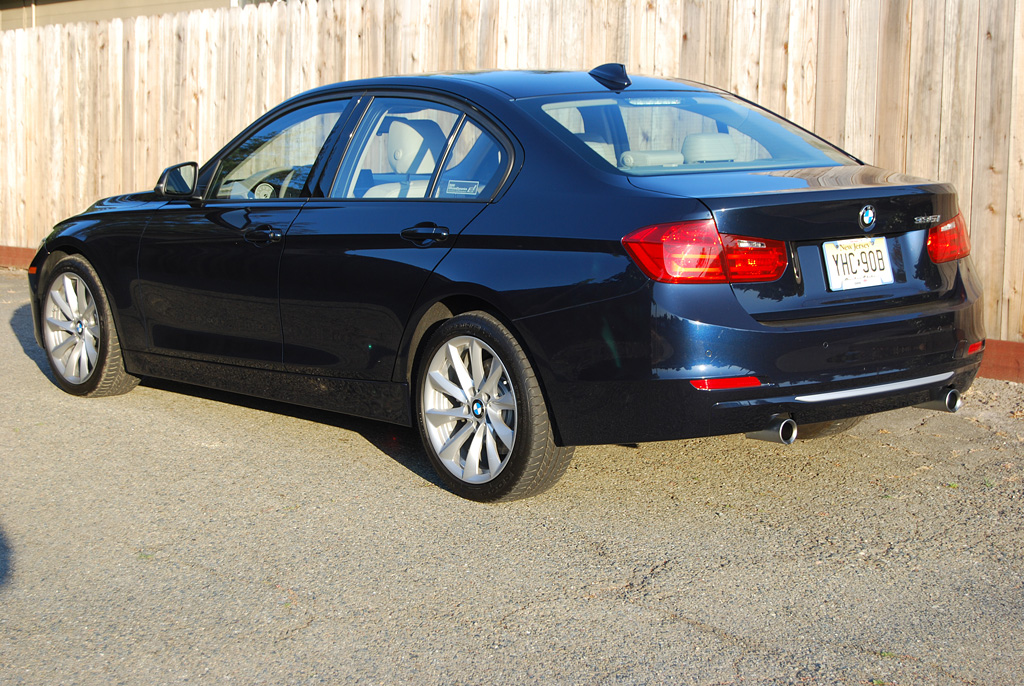 2012 BMW 335i
Engine: Twin Turbocharged 3.0 liter DOHC, 24 valve inline 6 with double-VANOS steplessly variable valve timing
Horsepower: 306hp at 5,800-6,000rpm
Torque: 295 lb.-ft. at 1,200 – 5,000rpm
Fuel Consumption: 23 MPG City/33 MPG Highway
Price as Tested: $54,070
Star Rating: 8 out of 10 Stars
Related posts: