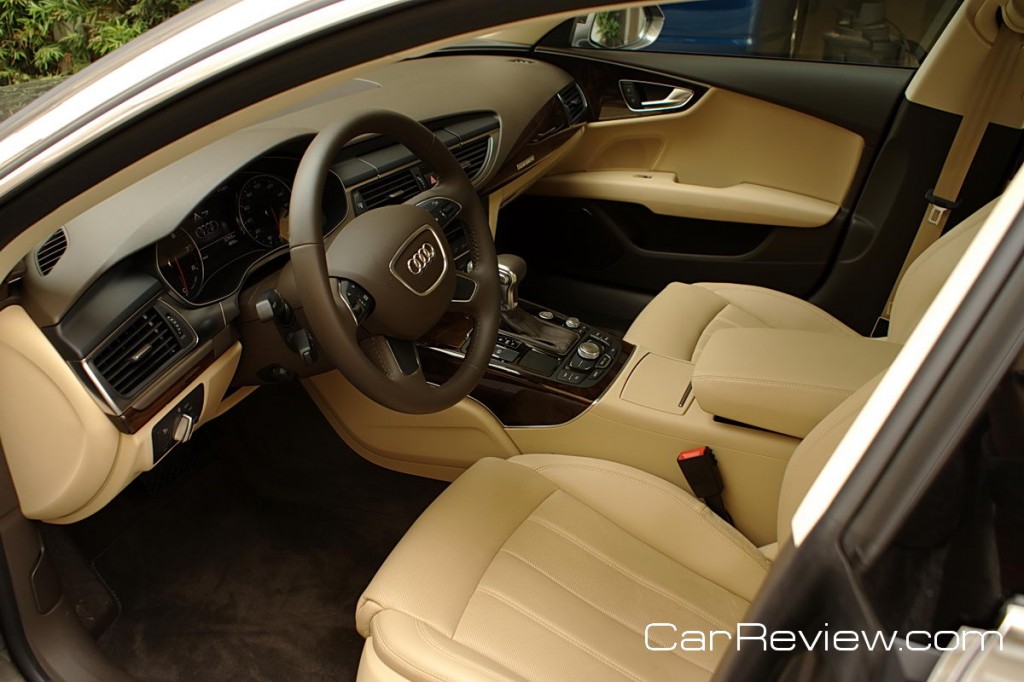 While Audi tends to offer more understated designs, and the A7 definitely doesn't scream or shout, this is one car in which you will get noticed. We received multiple compliments from people in parking lots or other places where folks could take a nice long look at the car.
The interior of the A7 is typical Audi, meaning class leading and hard to fault. The quality of materials is generally excellent, although we did notice an annoying squeaking noise that seemed to emanate from one of the speaker grills in the dash near the windshield. The interior design is first rate and we especially like the wood trim that wraps around the dash, which makes for a more warm, inviting space.
The fastback design means that the A7 has more cargo room than most mid-size sedans, especially if you fold down the rear seats. Although not tall like an SUV or traditional hatchback, the rear cargo area is quite long and should allow for easy storage of most items. Unfortunately, rear legroom is less than generous, and the sloping roofline also cuts into headroom a bit.
Interior amenities are typical for a modern luxury car, which means a host of standard features and an options list half a mile long. Leather heated seats, keyless start, sunroof, and 3-zone climate control are standard, and there are literally over half a dozen packages you can order to fully kit-out your A7.
Our test car featured the Prestige Package which gives you S-line exterior trim, Navigation with MMI touch, front and rear parking sensors with rearview camera, 4-zone climate control, front seat ventilation, Bose surround sound system, and a 7-inch color screen. The navigation system features Google Earth software that receives live updates through a 3G connection. You need to experience this technology to really appreciate how cool it is, but the basic effect is like what you might see if you were in a helicopter following the car as it goes down the road.
To help with safety, you can also order the Innovation Package, which provides a host of electronic helpers, including adaptive cruise control, Audi Side Assist, Audi Pre Sense, and a heads up display, which also features night vision assistance. How much of this technology one really needs is a fair question to ask, but given the pace of automotive technological development, we commend Audi for staying ahead of the curve.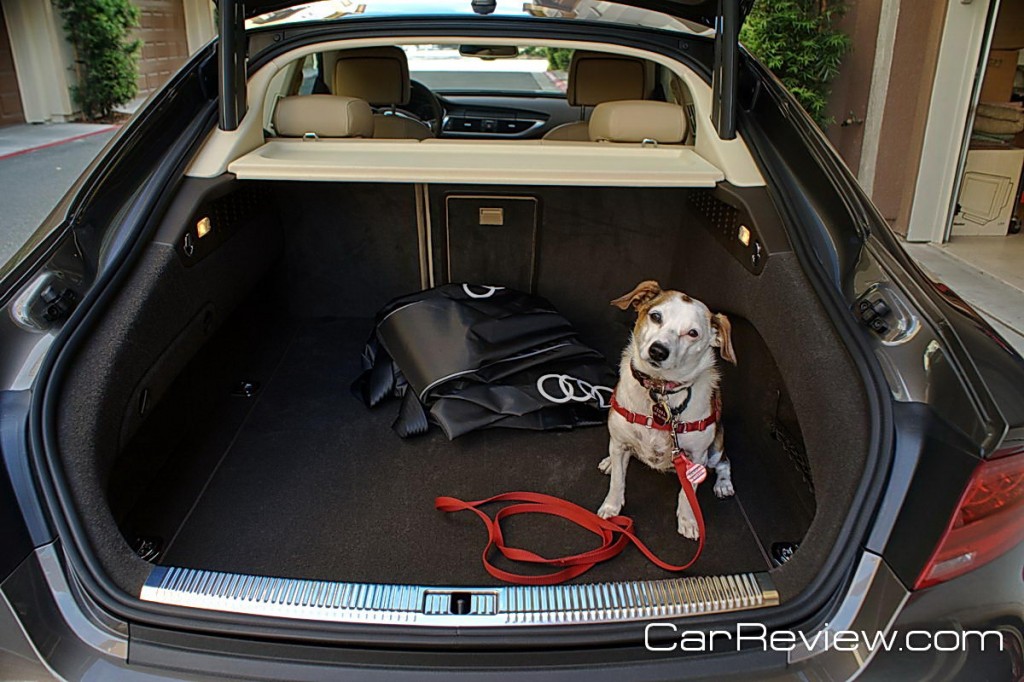 Verdict
Perhaps the most difficult part of evaluating the A7 is trying to figure out what it competes against. Although the 4-door coupe design has become a bit of a fad lately, models like the Mercedes CLS are still sedans with a conventional trunk. Perhaps the closest direct competitor is the new BMW 5 series GT, which also features a hatchback design, although its taller profile makes it look more like a wagon.
Most likely the A7 will compete against other mid-size luxury sedans, against which it should compare very well. With a base price of just over $60k the A7 isn't exactly cheap, and for that amount of money you can get a well appointed E class or Jaguar XF, each of which comes with a more powerful V8 engine. Still, the A7 offers more practicality, better fuel efficiency, cutting edge technology, and exquisite exterior design. In a crowded field of excellent but rather similar luxury sedans, that makes the A7 uniquely brilliant.
| | | | | | | | |
| --- | --- | --- | --- | --- | --- | --- | --- |
| | Build | Interior | Performance | Handling | Styling | Value | Overall |
| Rating | 4.5 | 4.75 | 5.0 | 4.75 | 5.0 | 4.5 | 4.75 |
###

Related posts: