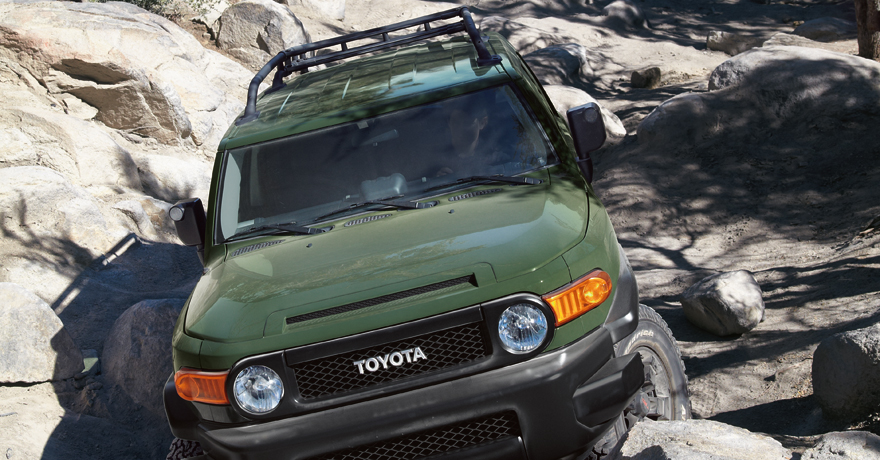 Yet the camouflage Cruiser also works well as a means of everyday civilian transport. Its 260hp V6 is sophisticated enough to produce a welcome wallop of power when called on to dart through holes in traffic. Since it displaces a hefty 4 liters, the 24 valve engine also makes 271 lb.-ft. of torque, more than enough to tow 5,000 pounds of trailer. The optional, $349 tow hitch and wiring harness thus make good sense. The downside of asking a V6 to power a 4,350 pound SUV is middling fuel mileage of 17/21 MPG. The good news is that the FJ's sizeable 20 gallon tank will take you 340-420 miles between refills.
In a pinch, the FJ will carry 4 adults, with decent access to the rear seats through a pair of small suicide back doors that swing out via fat latches located on the inside of the B pillars. If you flip the 60/40 fold down rear seats flat, you've got 34 cubic feet of storage space to fill. The thoughtful addition of no less than 7 tie-down eyelets allows you to secure any cargo with certainty.
The hatchback door opens to one side, so access to the cargo bed is unimpeded, although the bed floor itself is not flat. The FJ's full size spare (265/70R17 Bridgestone Dueler) is appended to the swinging back door. The tire mount contains a waterproof back-up camera, so you'll want to be careful to protect it when reversing. Provision of a bottle jack in a side panel near the tailgate is poorly thought out. I was unable to remove the jack or toolkit after several minutes of fiddling – not the experience you need when changing tires in an emergency. It's a curious failing in a vehicle that is otherwise as practical as a GI-issue knife.
The FJ is an iconic vehicle that looks like nothing else on the road. Dressing it in military fatigues just heightens the visual drama. If you need practical, stable transport that seats four, the FJ fills the bill at a reasonable base price of $26,880. Add $3,650 for the Upgrade Package 3 and you've still got a bottom line that would make the Pentagon military green with envy. Unlike more pedestrian forms of daily transit, the Cruiser will take you into the harshest outback with nary a care. Please do not attempt such forays in your economy sedan.
2011 TOYOTA FJ CRUISER
ENGINE: 4.0 Liter DOHC, 24 valve V-6 with VVT-i
HORSEPOWER: 260 hp @ 5600 rpm
TORQUE: 271 lb.-ft. @ 4400 rpm
TRANSMISSION: 5-speed Electronically Controlled automatic Transmission (ECT)
TOWING CAPACITY: 5,000 lbs
FUEL CONSUMPTION: 17 City MPG/21 Highway MPG
PRICE AS TESTED: $31,775
Related posts: