Hypes: IMSA Race Car for the Street
Gripes: Needs a Nose Job
Lexus has been nibbling around the edges of the ultra high performance market for more than a decade without much to show for it in terms of sales or showroom rub-off. Their first efforts in this field were timid indeed, with Lexus "F-Sport" options that were more cosmetic than operational. Several years ago, they sold a few hundred of their remarkable LF A two seat rocket ships for about $350,000 each. But in order to buy one, you not only had to have the necessary cash, but also submit to a vetting process stricter than a TSA strip search.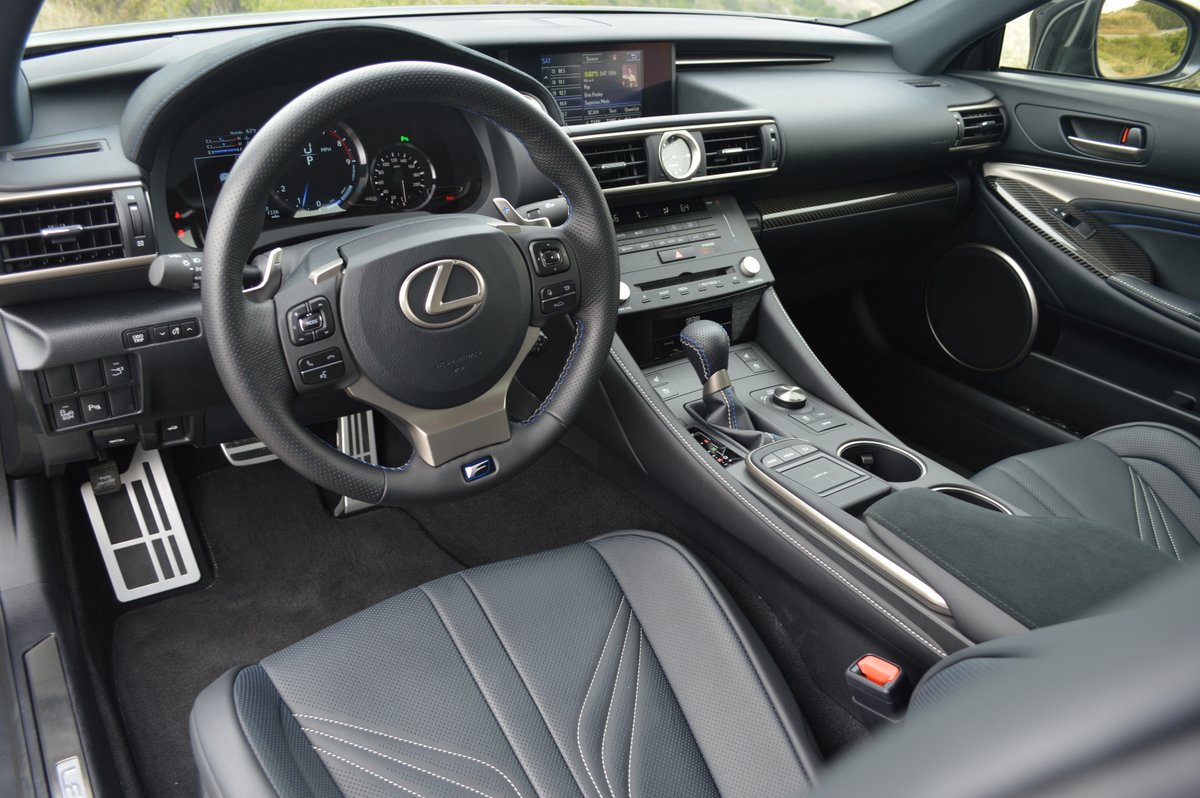 But Lexus has finally seen the light this year with the introduction of the RC F, an eminently affordable supercar that requires no background check or half million dollar investment for purchase. Just regular car money will do. $64,165 buys you the base car. If you want to duplicate the one we drove, however, you will end up paying $80,314 because our test car was equipped with the following improvements: Premium Triple Beam LED Headlights ($1,160), Leather Trimmed Seats ($800), Navigation System with Mark Levinson Audio ($2,550), Performance Package with carbon fiber roof, rear wing and torque-vectoring differential ($5,500), and Premium Package with heated/ventilated front seats, carbon fiber interior trim, and a suite of safety information devices ($3,240). If you think the bottom line here is expensive, you have not priced comparable products from BMW, Mercedes Benz or Audi. In fact, the fully loaded RC F we drove comes off looking like a real bargain compared to the pricier competition from Germany.
This year, for the first time since Lexus dabbled in sedan racing more than a decade ago with their IS 250, the company has launched a full race campaign in IMSA's incredibly competitive GT Daytona race series with a two-car team of RC Fs. These Lexus coupes, race prepared by Paul Gentilozzi' Rocket Sports Racing, are battling on even terms with 911 Porsches, NSX Acuras, and M635 BMWs. Though they have yet to score their first win, the Lexus coupes are getting closer to the top rung with each passing event. The reason for their imminent success lies in the beautiful bones of the RC F we drove for a week. In terms of high performance acceleration and handling this car wants for absolutely nothing.
Under the long and chiseled hood lies a monster V8 displacing 5 liters and producing 467hp and 389 lb.-ft. of torque. It's coupled to an 8-speed automatic gearbox with big aluminum "F Spec" paddle shifts for quick manual ratio changes. A Torsen (torque sensing) differential is further refined by the addition of torque vectoring thanks to that Performance Package. In best race car practice, the suspension of the RC F is fully independent with double wishbones up front and multiple links in back. The prodigious power of the V8 is regulated by a supremely competent braking system. Brembo-sourced, ventilated front rotors measure 14.9 inches in diameter, with slots for water dispersion, and 6 piston calipers for immediate deceleration. Rear Brembo brakes measure 13.5 inches, with slotting and 4 piston calipers. Capping off the techno extravaganza are forged 19 inch alloy rims (9″ wide front, 10″ wide rear) planting 255/35R19 front and 275/35R19 rear Michelin Pilot Super Sport tires. Despite the prodigious output of the V8, it's almost impossible to get the RC F to break traction with these large sticky Michelins hanging on well past all logic. The RC F is one of the quickest, best handling cars from any manufacturer that I have ever had the pleasure of driving hard.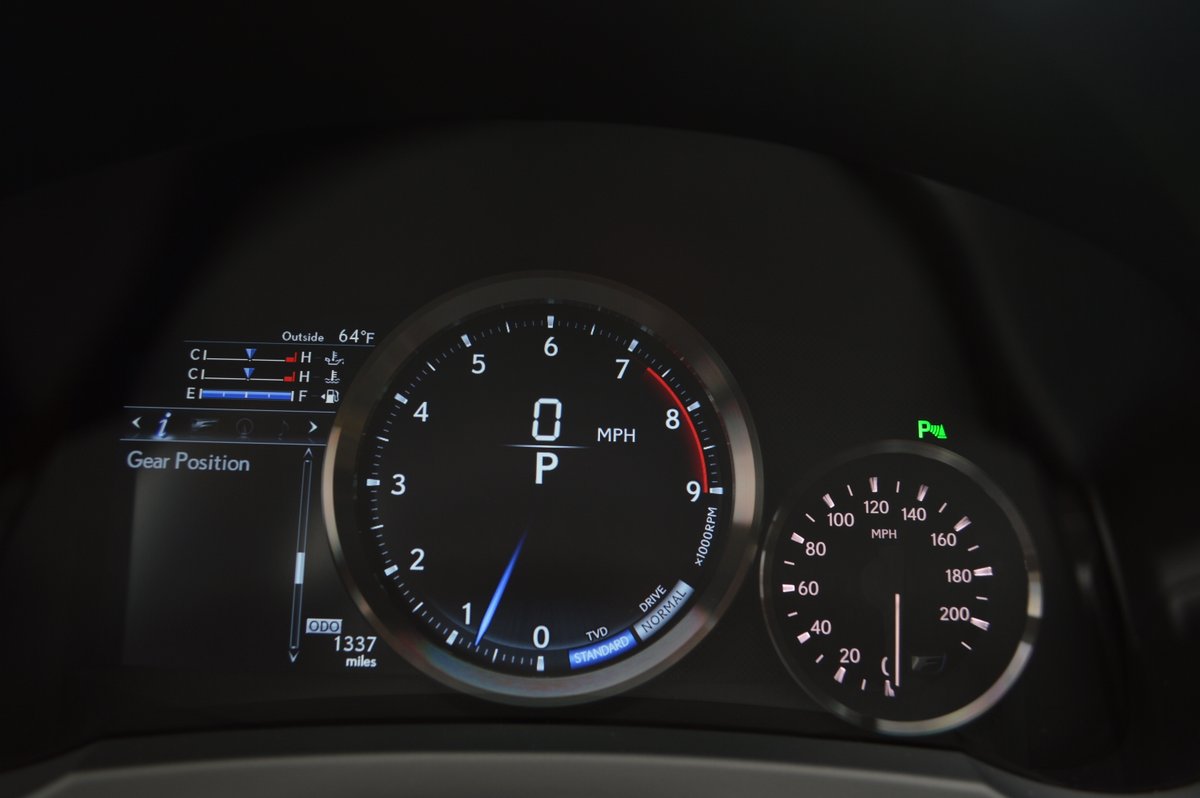 Yet despite all its techno refinement and race breeding, the RC F is a marvelously comfortable street car. We ran it down to Car Week in Monterey from the Bay Area, and found it to be comfortable, and quiet, with good visibility in all directions, and informative, clear instrumentation. The only problem you will encounter with the RC F on long trips is its tendency to sneak over 80mph when it feels like you're travelling 60mph. To drive this car on the freeway without hazarding a speeding ticket, you need to recalibrate your seat of the pants speed meter.
Granted, the frontal appearance of the RC F can be off-putting. I would not place it among my own top ten in terms of appearance. But when you set the RC F next to its progenitor, the LF A, you realize just how many advance design features both cars share, from their slotted intakes to their bulging tail light clusters. It's amazing that Lexus has been able to tame the RF A into such a fully domesticated but still vicious street car as the RC F.
2017 Lexus RC F 2-DR Coupe
Engine: 5.0 liter DOHC 32 Valve V8 Direct and Port Injection, VVT Intake and Exhaust
Horsepower: 467hp
Torque: 389lb.-ft.
Fuel Consumption: 16MPG City/25 MPG Highway
Price as Tested: $80,314
Star Rating: 10 out of 10 Stars
Related posts: