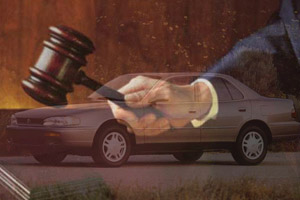 Who is at fault, the driver or Toyota?
In a bizarre turn of events, Toyota's recent recall problems may free an imprisoned man. Koua Fong Lee, a Hmong immigrant with only a year of driving experience, was involved in a fatal accident in June 2006. Lee claimed his 1996 Toyota Camry would not stop. The alleged out of control Camry struck an Oldsmobile parked at a red light at a speed of approximately 70 to 90 mph. The accident resulted in the death of three people.
A jury did not believe that Lee attempted to stop his vehicle and as a result he was sentenced to eight years in prison. Lee contested he attempted to stop the car, but was unable too. A city mechanic inspected the brakes and testified that they appeared fine. The prosecutor during the trial argued that Lee must of hit the gas by mistake.
Lee is now hoping to get his case reopened and is now claiming that his vehicle must of suffered from the same acceleration problems several Toyota models are being recalled for. Surprisingly, both the prosecutor and the family of the victims are interested in freeing Lee if the Camry was to blame.

Looking at the facts that are available, Toyota may not be responsible. The car Lee drove, a 1996 Camry, is currently not included in Toyota's recall. There was an acceleration problem related to the cruise control system that year, but that system is disabled when hitting the brakes.
Also considering the high rate of speed Lee struck the Oldsmobile, he likely did not apply the brakes. One would think if his car was suffering from out-of-control acceleration he would begin to apply the brakes, especially with a red light up ahead.
Car and Driver Magazine tested a V6 Camry's 70-0 foot stopping distance with the throttle stuck fully open. Even with the throttle stuck wide open, the Camry stopped in 190 feet, a distance that is only 16 feet longer than normal. Sure the stopping distance is increased, but if Lee kept on the brakes he would of been able to slow down. The rate of speed he struck the other car was well above the legal speed limit.
Even if Lee's Camry was truly defective, it does appear that perhaps more than Toyota was at fault in this tragic accident. Even if the throttle was stuck, Lee still should have applied the brakes. As the Toyota recall debacle continues, expect more court cases to turn up blaming defective Toyota's.
Related posts: