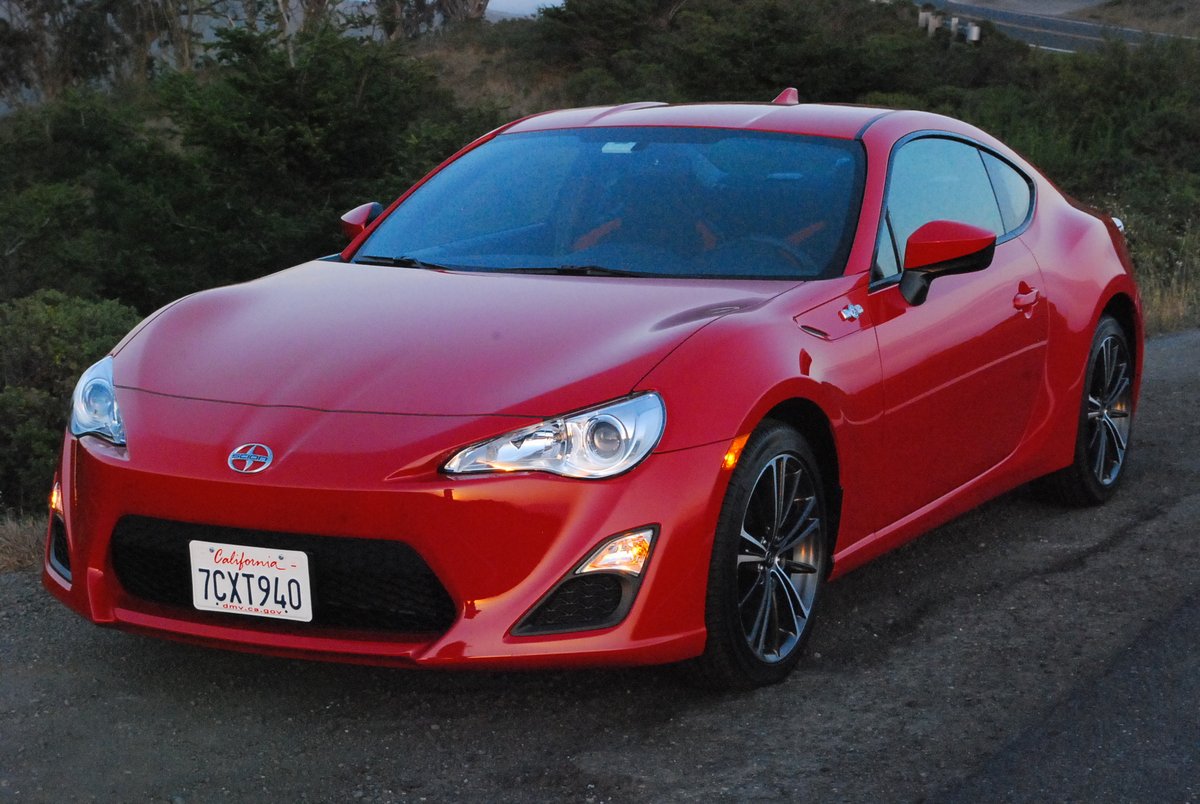 By David Colman
Hypes: More Fun per Buck Than Anything Else
Gripes: Needs Rear Wiper, Extra 50HP
Every year since its introduction as a 2013 model, the tack sharp 2-seat FR-S has improved incrementally without significant price rise. For 2015, Scion stiffened the front suspension and retuned the rear shocks for less body roll and more communicative handling. For 2016, upgrades include a 7 inch touch screen on the dash face, voice command, and a standard rearview camera. Yet the initial 2013 base price of $24,200 has risen just $1,105 over the intervening three years to $25,305. Without question, the FR-S remains one of the best bargains in the sports coupe market. The FR-S shares all major components with Subaru's BRZ. Both cars are virtual twins, produced by a collaboration between Toyota (Scion) and Subaru. The BRZ, however, is slightly more expensive than the FR-S, with a base price of $26,500 for 2016.
If you seek the response of a sports car, the FR-S will fulfill your quest admirably. This petite, 2,758lb. three-door stands just 50.1 inches high, and 166.7 inches long. When you park it at the mall, a wall of SUVs will instantly block it from view as you walk away. Several times during my week with the FR-S, I had trouble locating it because it was hidden from view. The FR-S is so small that it shares stature with cars from the 1960s rather than the 2016s. But if you salivate at the prospect of a twisty road, the FR-S' small stature, rock hard springing, and pugnacious 2 liter Boxer motor represent the perfect equation for brisk motoring in vintage sports car style.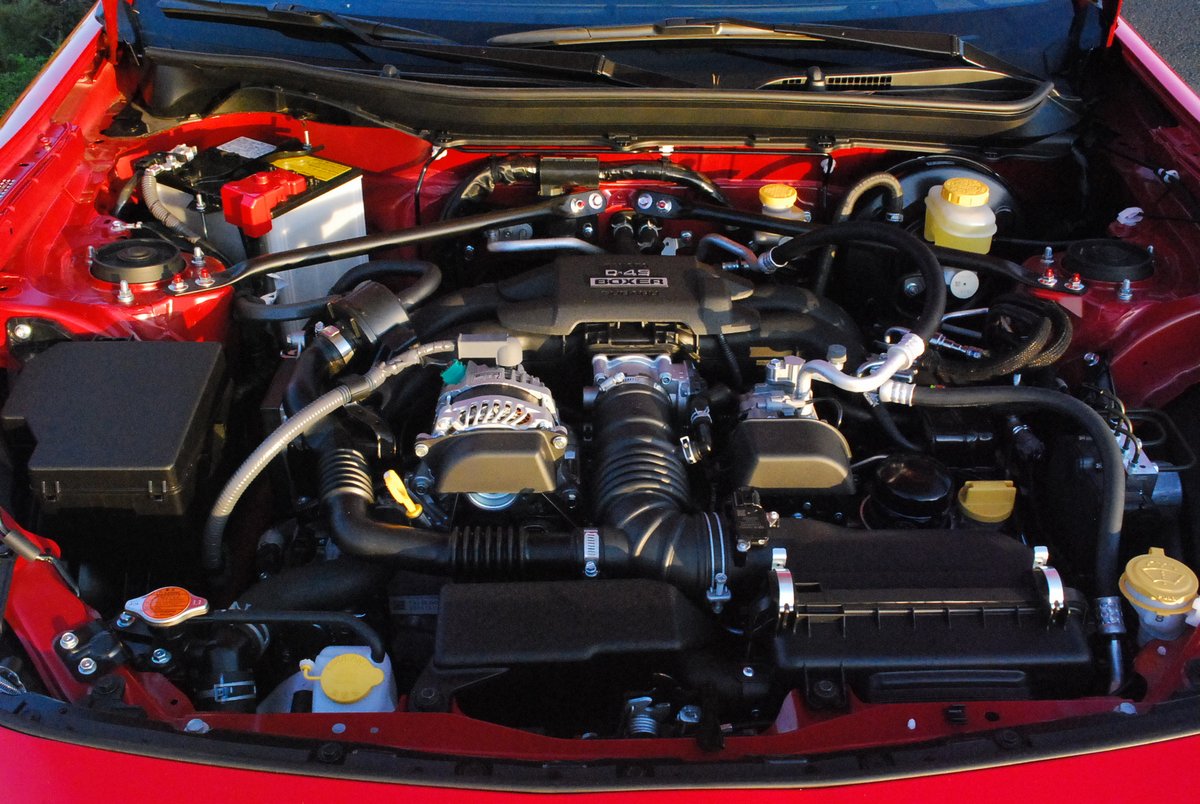 The 4 cylinder, 200hp flat four, supplied by Subaru, provides adequate motivation. But the chassis is so stiff, the steering so precise, the springing so resilient that the FR-S platform could easily cope with an extra 50hp. As it stands now, the 16 valve engine, with both direct and port fuel injection, and variable valve timing, will easily spin past 7,000rpm when given its head. But the driver must be vigilant to select the correct gear ratio for each expedition to the redline. Scion supplies 6 gears, well-spaced for performance work, along with a very precise linkage that encourages you to swap cogs with brevity and diligence. In fact, the FR-S driving experience is so dependent on the joy of shifting manually that I would dissuade potential owners from selecting the automatic gearbox, an $1,100 option, because it's such a buzz-kill.
The Scion FR-S handles with acuity because its engine is up front but its driven wheels are out back. This configuration, increasingly rare in a world of front wheel drive (FWD) machines, is the ticket to handling prowess that no FWD combo can ever match. To gild the lily, Scion has made sure to include a proper Torsen limited slip differential (LSD) as standard equipment. This is an expensive supplement to the drive train that insure both rear wheels carry their share of the traction load regardless of pavement irregularities. Mazda's MX-5, the only comparable sports car in price and performance to the FR-S, charges $558 extra for an LSD plus up-rated shocks. The only drawback to the FR-S spec sheet is Scion's continued inclusion of Michelin Primacy tires (215/45R17) as standard fare. These middling all- season rollers belong on a family sedan, not a potent sports coupe with g-Force aspirations.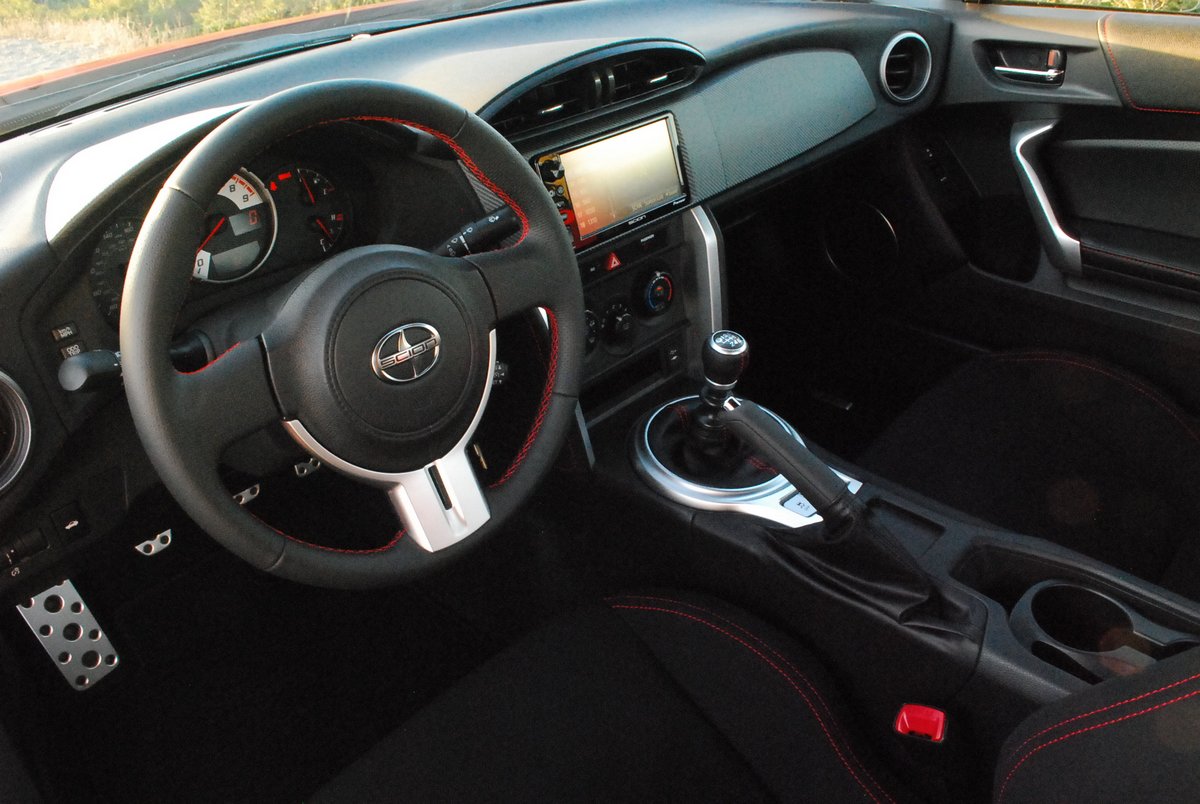 Inside the cockpit, a notable oversight is lack of a fold/slide lever on the upper surface of the front seats. This means that every time you try to toss something in the abbreviated back seat, you must lift the low mounted back angle latch first, then slide the seat forward if needed via a second control located under the seat. VW's GTI offers a single lift control near the headrest that both tilts and slides the front seats of its Golf, so Scion could do better here. However, they would be hard pressed to improve on the front seats themselves. These race style, form-fitting, high backed buckets will keep you happy for hours on the open road but still administer enough lateral support to facilitate track days or autocrosses. They offer the perfect compromise between support and practicality. But because the FR-S is so low slung, you will find it best to follow this prescription for climbing in: grab the steering wheel's fat leather wrapped rim, shift your inboard leg and butt into the high sided bucket seat, then yank the rest of you in with a tight grip on the wheel. Not pretty but effective.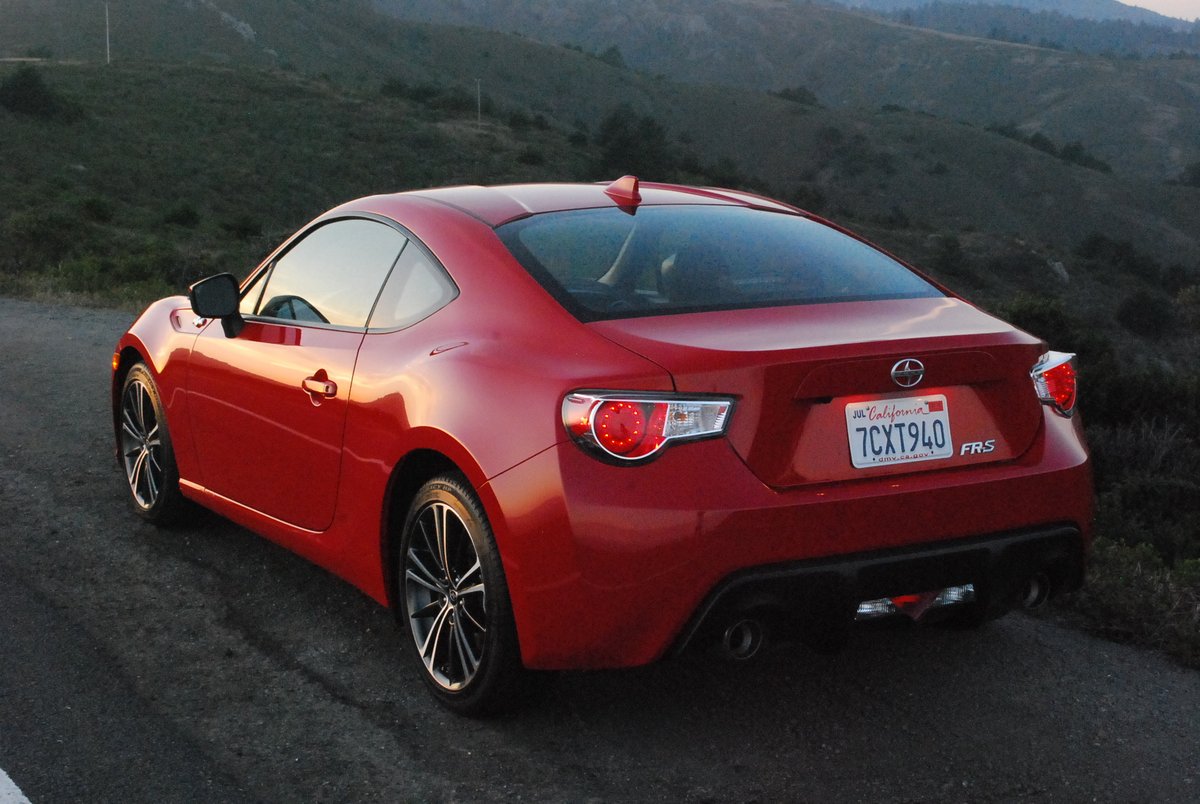 The fetching F-RS is both pretty and effective. If you can find a better sports car for the money, I'll be more than happy to evaluate it. Odds are, however, that you won't discover anything close to this ingeniously designed bargain Scion.
2016 Scion FR-S
Engine: 2.0 liter 4 cyl Boxer 16 valves, dual variable valve timing, direct and port inj.
Horsepower: 200hp
Torque: 151lb.-ft.
Fuel Consumption: 22 MPG City/30 MPG Highway
Price as Tested: $26,075
Star Rating: 10 out of 10 Stars
Related posts: