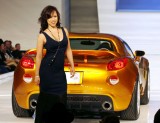 In year's past an unveiling of a company's new model has been nothing short of something right out of Team America. Flashy lights, lasers, busty booth babes, and heavy metal blaring, have all been components of a press extravaganza for a new model. Because of the state of current business conditions, there will be no flash for Honda at the North American International Auto Show in January. Honda will still be debuting its new Acura and the production version of its Insight hybrid, but it will go on with less fanfare than a flashlight and the uncorking of a bottle of sparkling Costco wine.
"Normally we have a great TV moment with special effects to reveal a new model," says Chris Martin, a spokesman for American Honda. "That's a very expensive prospect. Given the economic times, we just didn't see that as appropriate this year."
Other auto companies are going to have even less flash than Honda. Nissan North America, Mitsubishi, Suzuki, Land Rover, Rolls-Royce, and Porsche have also dropped out the NAIAS. I'm all one for an auto industry party, but it sounds like the NAIAS could be as festive as a wake.
Related posts: