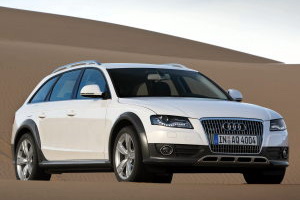 More word from Europe on engines and models that car companies should be bringing to these shores. Audi, maker of all things all wheel drive and quick, has just announced some new engines for the euro market that would be really nice to see here in America (along with a model we should see too).
The most interesting of the new mills is an entry-level diesel that will be available for both the Audi Q5 SUV and the A4 Allroad Quattro crossover. It's a 2.0-liter TDI with a nifty common rail high-pressure injection setup that cranks out 143 HP and a maximum of 236 lb-ft of torque between 1,750 and 2,500 rpm. Pretty impressive grunt for such a small engine. There's also a new base 2.0-liter gasoline fueled that puts out 180 HP and 236 lb-ft of torque from 1,500 to 3,900 rpm for the Q5 SUV. Both engines get a 6-speed manual gearbox.

The factory performance figures for the 2.0 TFSI equipped Q5 say that it sprints from 0 to 62 mph in 8.5 seconds and will get around 28.0 mpg US. With the 2.0 oil burner in the Q5, the 0 to 62 mph sprint drops to 11.4 seconds, but the fuel economy rises to an impressive 36.19 mpg U.S..
The factory figures for the lighter, smaller and more fun A4 Allroad Quattro are naturally much better. With the six-speed manual transmission the small crossover returns 37.94 mpg U.S. mileage figures and accelerates from 0 to 62 mph in 10.3.
So why don't we get either engine variant, or for that matter the A4 Allroad over here? It might have something to do with price. In the home country, the Audi Q5 starts at €36,500 for the 2.0 TDI diesel, and the base price for the A4 allroad quattro 2.0 TDI is €37,100. Both of which might not fit with what an "average American" would feel comfortable spending on a car the size of an A4.
Sad really, because an A4 Allroad looks like an interesting car.
Source: CarScoop
Related posts: