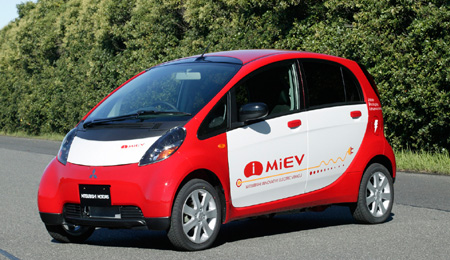 Electric cars from Mitsubishi are getting a test run in the United States.
The automaker has signed a deal with two California utility companies, Pacific Gas & Electric (PG&E) and Southern California Edison (SCE), to begin testing the i MiEV, an electric car based on the "i" mini cars Mitsubishi sells in Japan. Tests will start late this year.
According to Tohru Hashimoto, Corporate General Manager of the i MiEV Business Promotion Office of Mitsubishi Motors Corporation, "The small, four-passenger Mitsubishi i MiEVs will enter into SCE and PG&E's prototype testing and evaluation programs. This collaboration with two of the nation's leading utility supporters of electric vehicles will provide us technical feedback on i MiEV vehicle and battery performance, as well as vehicle connection and integration into the electrical system."
Extensive testing with the i MiEV has been occurring over the past two years with seven major utility companies in Japan. The success of these programs quickened the pace and prompted Mitsubishi Motors to begin selling the electric vehicle in the Japan market in summer of 2009.
Related posts: