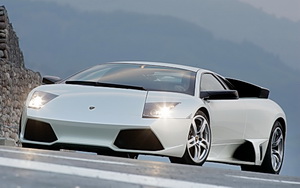 What this? Lamborghini is considering a Murcielago LP650-4 Roadster? Oh please-please-please-please-please-please. Any good car is even better as a convertible, and Lamborghini's Murcielago LP650-4 is a pretty good car to begin with.
Sure, the Murcielago, in LP650-4 or any other form, is about as subtle as anything every produced in Sant'Agata Bolognese, but why quibble at this point in time?
As reported by Left Lane News, "Lamborghini is readying a limited edition Murcielago drop top, believed to be called the Murcielago LP650-4 Roadster." Well OK then. Supposedly the new, limited run model will use the same 650 horsepower V12 found in the Reventon, and the power will go to all four wheels. Which should translate is a 0 – 62 mph sprint in a brief 3.4 seconds.
To make the special Murcielago distinctive, the LP650-4 Roadster will get a matte gray with orange accents paint job on the outside, and a matching color scheme on the inside. Yeah, that sounds distinctive all right. The Roadster's interior will also feature the extensive use of Alcantara and leather, and an asymmetric dashboard.
The car might just show up at the Geneva Motor Show, but since Lambo's other special, the Murcielago LP670-4 SV is already schedule to make an appearance, the roadsters debut might be at another auto show. Oh, and in case you're interested the price will be at least $380,000.
Source: LeftLaneNews
Related posts: