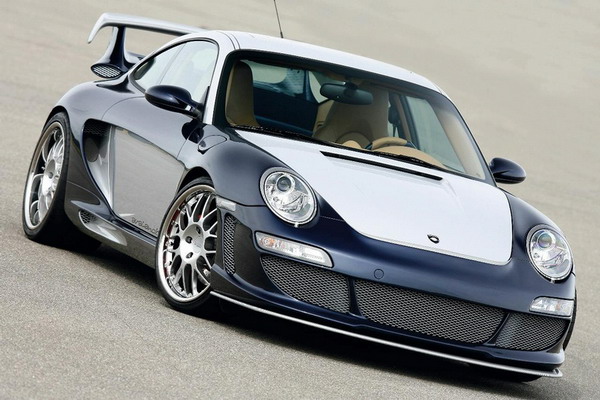 The German tuning firm, Gemballa, is offering a new kit for both the GT2 and the Porsche Turbo, in the form of the Avalanche 600 EVO. As the name implies, Gemballa has coaxed 600 hp (not to mention 619 lb.-ft. of torque) from Porsche's turbocharged flat-six through the use of a new intercooler, race exhaust and a retuned ECU. The race to 60 mph is accomplished within a few heartbeats or 3.5 seconds. The top speed has been increased to 199 mph.
The body kit consists of the Avalanche body kit, a GT hood, Avalanche front skirt with additional cooling openings, GT2 front spoiler lip, GTR EVO tailgate skirt with diffuser and hot air outlets and GT2 EVO rear spoiler.
Of course power is nothing without control dynamics, thus Gemballa also fits a variable ride height coilover suspension and a performance brake system with 380/350 mm or 405/380 discs. Inside you will find plenty of aluminum details, sports steering wheel (F1 shift paddles optional) and a leather interior overhaul if your donor vehicle didn't have it already.
Related posts: