By Adrienne Gruben
The 2010 North American International Auto Show began in Detroit today, and the fanfare is high, but how journalists, consumers, and the market itself will receive the cars once they emerge from those huge cloth covers is still a big mystery, one that I bet automakers wish could be solved in 45 minutes, like on "CSI: Miami." Instead, car makers have to wring their hands through a bunch of grouchy fiscal quarters. Since the NAIAS is already being covered like a Ferrari at a pig swap, I thought that looking at how one of last year's offerings weathered its post-unveiling hoopla might make us better prognosticators on the subject, but to make it fun in these bleak times, I chose the designer that most said, "international intrigue," that was most likely to end up in a high-speed chase, that most reminded me of "CSI: Miami." I chose Henrik Fisker.
Former BMW designer and now CEO and lead designer of his own firm, Fisker Automotive, Henrik Fisker is  just the kind of character on which they would base a murder victim on "CSI: Miami." In the plot, a greedy rival steals blueprints, and the fictional Fisker is found face-down in wet clay, smothered in a model based on his own imagination. The script writers would have found inspiration while procrastinating on websites for high-end cars and running across this quote from Fisker, ""I enjoy being hands-on. Designing, of course, but also working with the modeler, smelling the clay, getting clay under my fingernails." After reading Fisker's real-life quote aloud in the opening scene, Lt. Horatio Caine (David Caruso) might then say, "He smelled the clay alright." Cue: "Won't get fooled again."

The show would then flashback to last year's NAIAS where Fisker Automotive unveiled the 2-door convertible version of the Karma sedan called the Fisker Karma S Sunset Concept, which was designed and engineered by co-founder Quantum Technologies which employed the used of the clean Q-DRIVE® powertrain. I can see Horatio Caine running past the blonde car girls as they are about to demonstrate how the four-seater's retractable top folds into manageable pieces.
A key plot point for Horatio Caine and his nerdy, but hot lab techs might involve the fact that on a charge from its lithium ion battery, the two electric motors can make the Italian design-inspired coupe go 50 miles (just over 7 trips on Miami's 7 mile highway to Key West), and then once its GM 2.0L turbocharged and direct-injected EcoTec four-cylinder engine with 260 hp kicks in, another 250–perhaps a jaunt to Epcot to hide a corpse in the Haunted Mansion?
Even though Fisker described the Karma S as, "an extension of the Fisker Automotive product range of eco-
conscious automobiles which sets the tone for our future," the design is a little derivative – especially for a car priced at 90K – and the next-to-no backseat makes it difficult for even a size 0 blonde to fit back there comfortably, especially if she is trying to wiggle out of rope and duct tape. It would fit some blueprints though.
To solve the case, they would have to track Henrik Fisker and the Karma S' movements since last year's show, which is interesting in and of itself because sometimes the only thing you remember about the unveiling of a concept car – even by a good-looking, talented and energetic entrepreneur like Henrik Fisker, who in real-life refers to his inspirations, Maserati, Porsche and Jaguar, as "sexy" – is the fanfare itself. However, Fisker Automotive has had an eventful little year. (The actor playing Fisker made the fictionalized account even more eventful by pronouncing it "Zexy.")
To start off, some journalists voted the Karma S the best North American Concept Vehicle of the year, beating out – wait for it – seven other concept cars. The company then set the record straight on some mean gossip about its loan from the Department of Energy. (Horatio did NOT like being told that the DOE documents were classified, but it was all settled when he slammed his fist on the table.) The Karma S visited real-life auto shows in Washington, Geneva and Frankfurt. (The cast, hoping for a free trip abroad, was bummed to have to shoot the Geneva chase-scenes in Burbank.)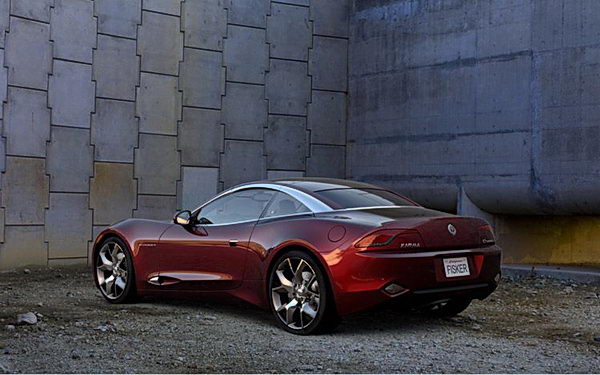 The company also signed a letter of intent to buy a plant in Delaware, though Horatio found that shifty; Delaware's where you can skirt all kinds of restrictive laws for corporations, but are you going to argue with 1,500 real-life customer deposits? And Fisker says by 2010′s third quarter, the Karma S will be available to selected retailers and distributors.
However, there was no bigger coup for the car since its NAIAS unveiling last January than this: the Karma S was escorted by the Crown Prince of Denmark, HRH Frederik, to the recent UN Climate Conference in Copenhagen. Fiiiiinally the "CSI: Miami" cast got its trip to Europe; they caught the fictional Fisker's killer; and the final chase scene through the conference re-enactment went off without a hitch. At least one version of the conference accomplished its goals. Too bad it was the fictional one.
Unfortunately, this fickle and depressed market isn't fictional, so despite its promising year, the Karma S is going to need to keep driving with its current winds to achieve success. Fisker Coachbuild, and companies like it, pepper their press materials with terms like, "cutting-edge," "eco-innovative" and "high end," but I couldn't help but think of an opinion piece I'd read on Fisker that posed this question, "Will Henrik Fisker follow in the footsteps of carmaking icons like Ford and Ferrari or end up in the Tucker/DeLorean category?" It's a mystery, perhaps best solved by Lt. Horatio Caine and his zexy team–if only they weren't fictional characters. Hopefully real-life character, Henrik Fisker, will not end up being a victim in his own story.
Related posts: