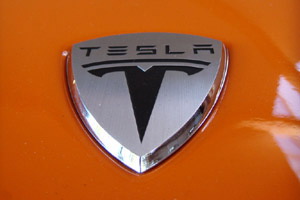 Do you already own a Tesla Roadster? Do any of your friends want to buy one? If so, then you're in luck. Turns out that Tesla has just started a customer referral program that can net you 500 dollars. The program even applies to those of you out there that are waiting to take delivery of your Roadster, or the upcoming Model S sedan as well.
All you have to do is talk one or more friends to purchase and take delivery of a Roadster, and Tesla will send you a $500 check. The catch is that the program ONLY applies to your friends that will by a Roadster not the Model S sedan, and you have to wait to get your 500 clams until after your buddy takes delivery of their roadster.
Tesla is being reserved about actual sales figures, but based on the most up to date information Tesla has released, the through-put has increased dramatically. Meaning your friends won't have to wait as long as you to get their all-electric Roadster. Supposedly, the Roadster is sold out through November, so an order placed now should (emphasis on should) get one in your driveway by this Christmas
On the face of it, this seems like a smart move on Tesla's part. Early adopters, as new Tesla owners are called by marketing folks, are bound to be good salesmen. Who else will sing the praises of your car better, yet also be seen as much more trustworthy than a car salesman?
The only question that I have is why are they limiting it only to the Roadster? It's just speculation, but the reasons cold be many. They could be trying to free up production capacity. Or, they could be trying to shift production capacity and company focus onto the Model S, which would likely make more moolah.
Who knows for sure? What is known is that if you already own and love your Tesla, and you got friends that are interested, now might be the time to give them a shove towards the dealership.
Source: AutoBlogGreen
Photo from Flickr user theregeneration
Related posts: