Hypes: Handsome Design, Livable Interior, 51 Cubic Feet of Space
Gripes: Lethargic Grunt, No Paddle Shifts, Rock Hard Rubber
Back in July, 2017 I road tested a 2017 Hyundai Elantra Sport with the new 201hp 2.0 liter turbocharged 4 cylinder engine. This engine drove 195lb.-ft. of torque through a 6 speed manual transmission and 18 inch alloy wheels. In concluding that review, I said "This is one sport sedan that lives up to its billing…the only real challenger to this car is the VW GTI, which is substantially more expensive and less reliable." Now along comes this 2018 version of the Elantra, in GT rather than Sport trim. It's a package that is notably less scintillating to drive. The main problem lies under the hood, where a naturally aspirated 2.0 liter engine produces just 161hp and 150 lb.-ft. of torque. Not only is this engine 40hp short of the Sport's turbo motor, but also 12hp and 4lb.-ft. short of the same 2.0 liter base motor for 2017. About the only thing that does improve for 2018 is fuel economy: you now get 24 MPG city/32 MPG highway (versus 22 city/30 highway for the turbo).
Instead of the slick 6 speed manual gearbox in the Sport, the GT makes do with a 6-speed automatic transmission without paddle shifts at the steering wheel. Although the automatic can be controlled manually by slotting the floor mounted stick into a separate gate, you never enjoy the kind of direct and predictable control that paddles contribute. The final differentiating factor in the Sport versus GT comparison occurs at the contact patch of the tires. The GT mounts 225/45R17 Nexen Npriz rubber at each corner. This is a mud and snow rated all season choice that eschews traction in favor of tread longevity. Push the GT hard into a tight apex and the Npriz front tires lose grip and start to squeal in protest. This behavior is just the opposite of the 18 inch Hankook Ventus tires on the much grippier Elantra Sport tested earlier.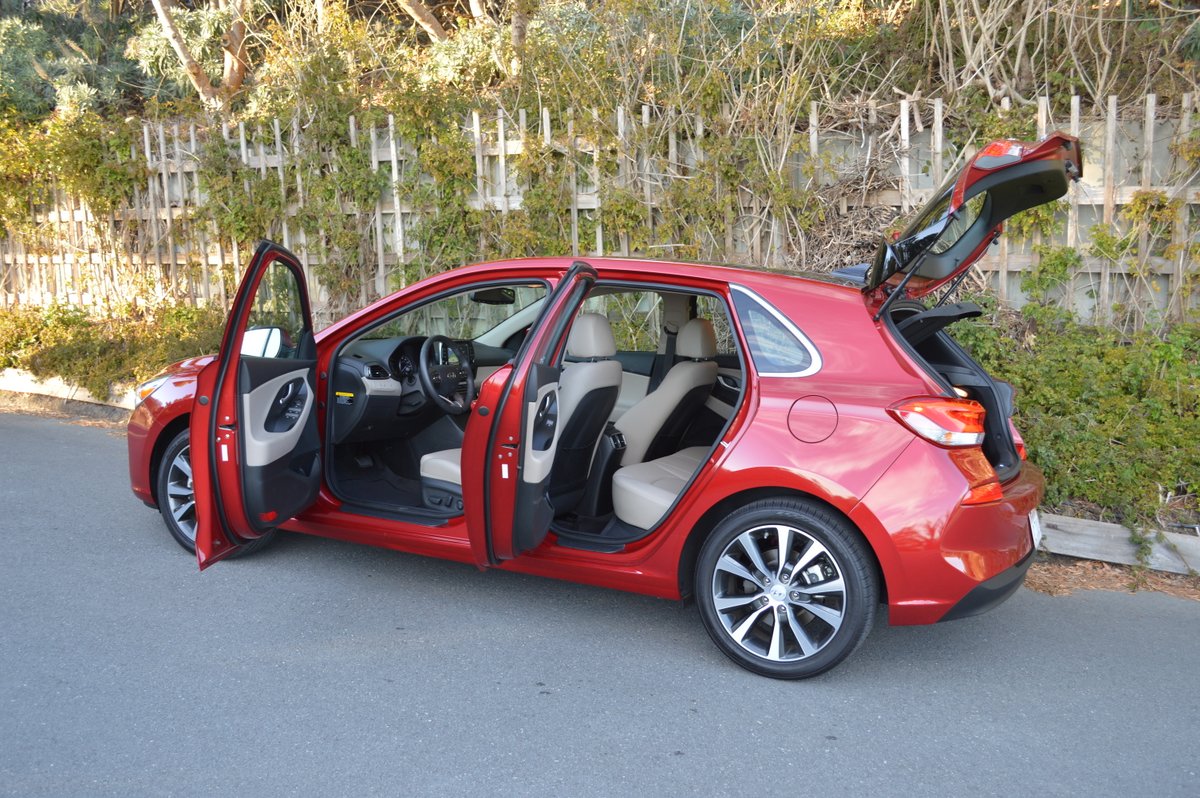 However, if you are not an enthusiast driver, but are searching for a reliable, sporty looking mode of transportation, none of the foregoing should dissuade you from buying a new Elantra GT. For starters, this Korean import looks great from any angle, even directly overhead, a flattering perspective I discovered when photographing the GT. From an aesthetic standpoint, there's not a single objectionable line marring this Hyundai. Overall design flows from stem to stern with grace and elegance. Not only does the GT look good, but the svelte contours belie its unexpected practicality. You can actually carry four or five full size adults in comfort thanks to doors that open wide front and rear, seats that provide cushioning as well as support, and windows that promote excellent vision to the front, sides and rear. On top of superior people packaging, the GT also provides hatchback utility thanks to its tailgate rear door. The 60/40 fold down rear seat allows you to store as much as 51 cubic feet of goods inside those trim contours, an abundance that exceeds the storage available in category competitors like the Ford Focus, Mazda3 and VW Golf.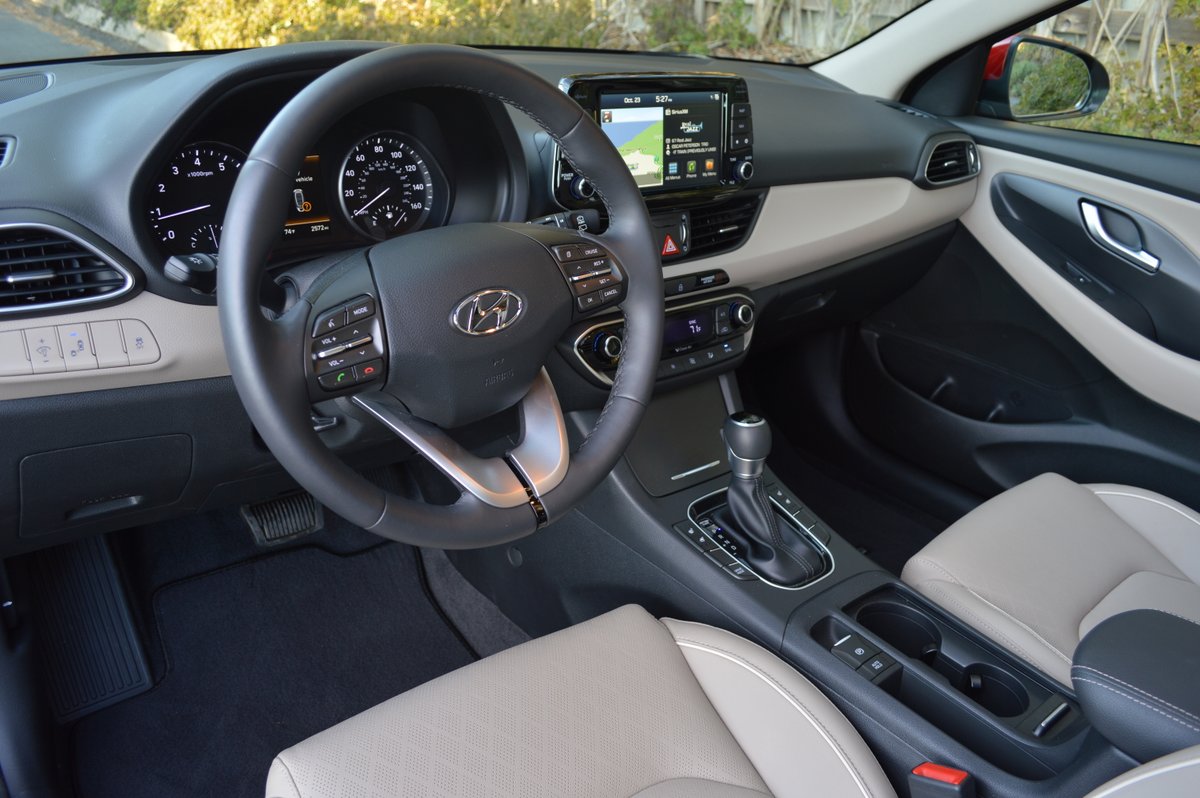 If you are lucky enough to find a stripper Elantra at your Hyundai dealer, you'll pay just $20,350 for this model, plus $885 for freight and handling. But as you might expect for a vehicle consigned to the press fleet, our test model was somewhat more lavishly equipped, with an $1,800 "Style Package" and a $4,300 "Tech Package" that brought the all-in cost of the GT to $27,460. Being a minimalist type, I could have definitely done without the Style Package's passive safety additions like Blind Spot/Rear Cross Traffic Alert and Side Mirror Turn Indicators. Since this is such a small car with such large windows, you ought to be able to take care of vision issues with your own eyes. Unfortunately, without the Style Package, you lose the nice leather wrapped steering wheel and shift knob of our test vehicle. The Tech Package, on the other hand, is probably worth the considerable extra investment because it gives you Leather Seats, Navigation System with 8 inch screen, Electric Parking Brake, Panoramic Sunroof, and active safety measures like LED head and tail lights.
Even at the fully equipped test car price of $27,460, the Hyundai Elantra GT remains a bargain in the bigger picture. If you have minimal interest in sporty driving, then this modest performer will fill the practicality bill to a GT.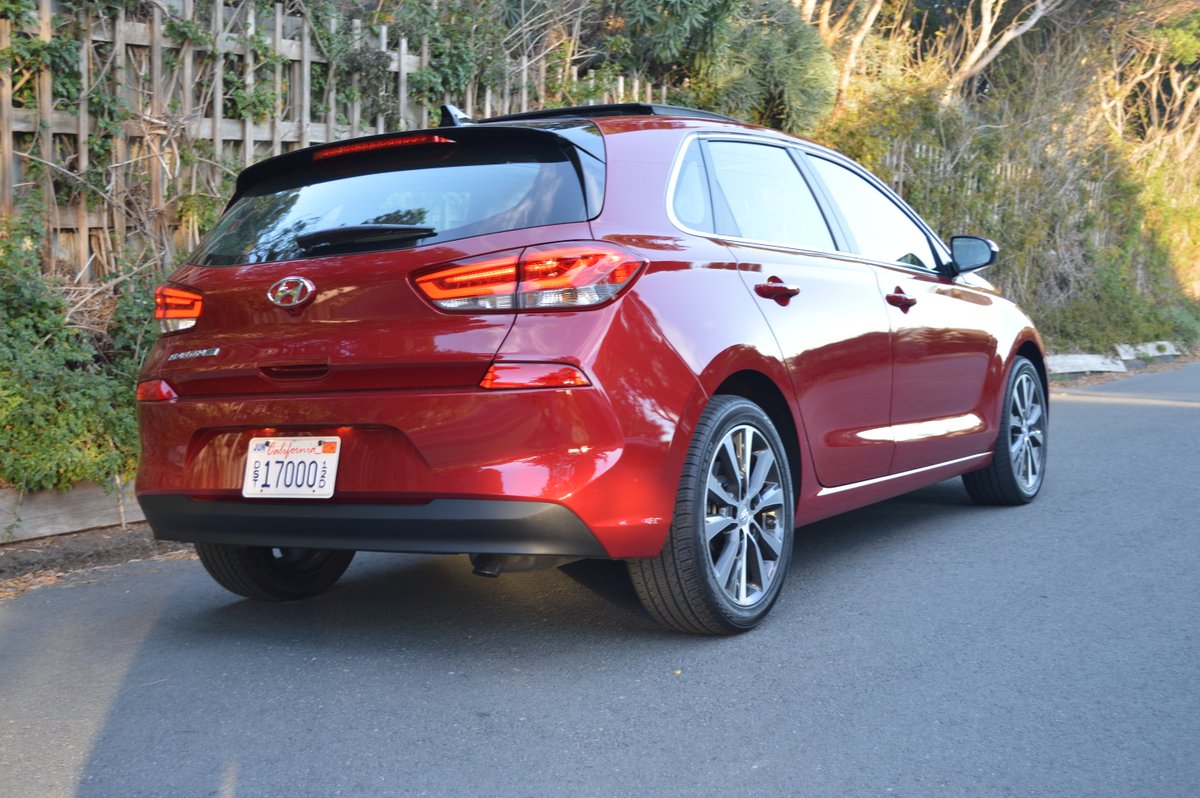 2018 Hyundai Elantra GT
Engine: 2.0 liter inline 4, DOHC
Horsepower: 161hp
Torque: 150lb.-ft.
Fuel Consumption: 24 MPG City/32 MPG Highway
Price as Tested: $27,460
Star Rating: 8 out of 10 Stars
Related posts: