By David Colman
Hypes: Very Healthy V6, 4DSC Handling
Gripes: Pastiche Styling
As long ago as 1992, Nissan positioned the Maxima sedan as their "four door sports car." They even went so far as to attach discreet notations reading "4DSC" to the rear windows of this ostensible family hauler. Back then the Maxima had a lot in common with the company's 300ZX sports car, in that both vehicles were nimble. fast and affordable. While today's Maxima looks nothing like the current 370Z, compelling similarities between the sedan and the sports car still justify Nissan's inclusion of the "4DSC" notation. Today, it's now located inside the tail light lenses.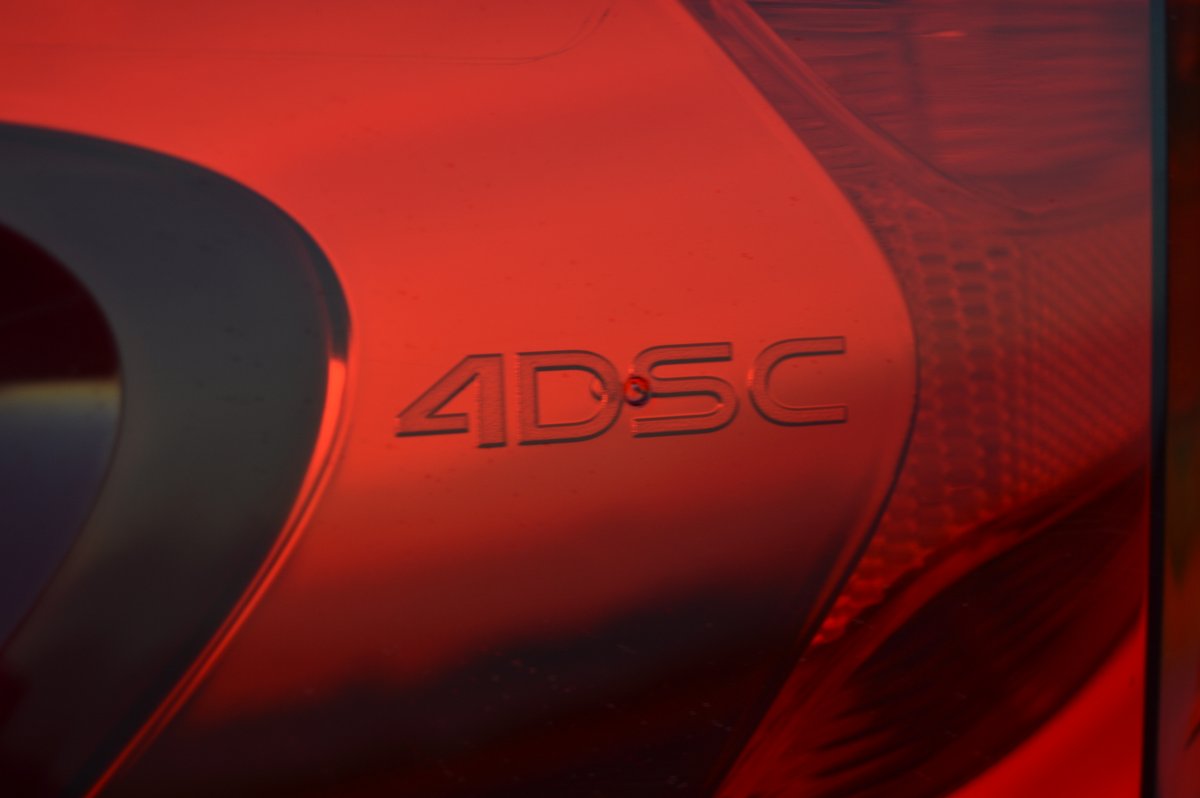 Although Nissan has introduced a hard sprung "SR" version of the Maxima this year for sports attuned drivers, the Platinum version we drove will certainly get the back road job done without the harsh ride discomfort of the SR model. The Maxima has grown substantially over the years, to the point that it now bridges the gap between midsize and large. One look at it will have you wondering how they could possibly append the "4DSC" label to such a behemoth with a straight face. After all, the Maxima now weighs 3,618lbs, with an unfavorable front/rear weight distribution ratio of 61% front/39% rear. On top of that, the Maxima measures 192 inches in length, with a wheelbase of 109 inches. In other words, this is a big, spacious sedan with lots of swoopy styling curves and fillips aimed at making it look smaller. What it is not, however, is small.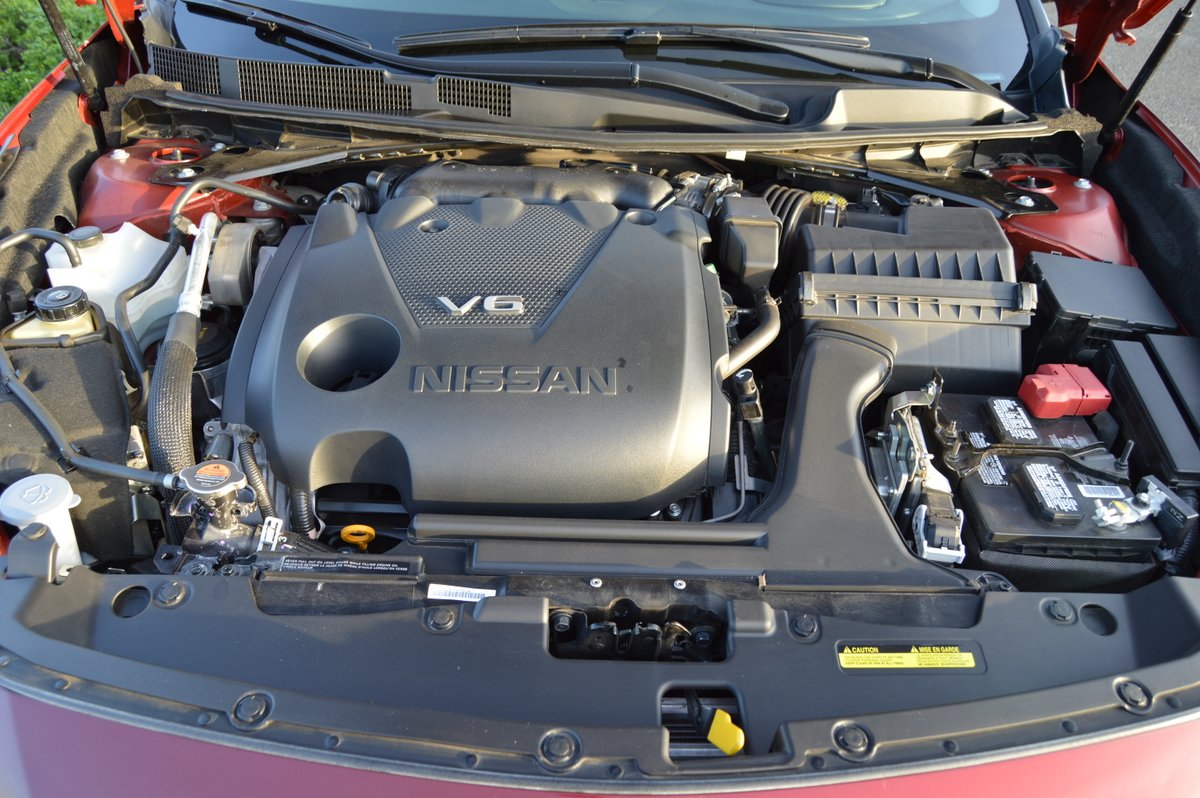 It takes a lot of motor to make this ponderous rig feel lively, but Nissan has managed the trick by supplying the engine bay with a lovely 370Z-based V6 making 300hp and 261lb.-ft. of torque. In proving ground tests, this 24 valve DOHC engine propelled the Maxima through the quarter mile in 14.2 seconds at 100mph, and cranked off 0-60mph runs of 5.7 seconds. In other words, the Maxima, despite its ungainly size, fires off the starting line faster than many "real" 2 seat sports cars. 4DSC indeed. It also emits a very satisfying howl at full throttle which actually sounds better than the current 370Z. The Xtronic gearbox in the Maxima is the very first continuously variable transmission (CVT) that I could live with. In fact it's so good at what it does that it took me three days before I realized that the Maxima's transmission did its job without conventional gears. Xtronic operates seamlessly, with none of the usual droning or range hunting characteristic of CVTs. It responds instantly to the bump stick shift lever on the center console, and about the only thing missing here is the surprising lack of paddle shifts for manual operation.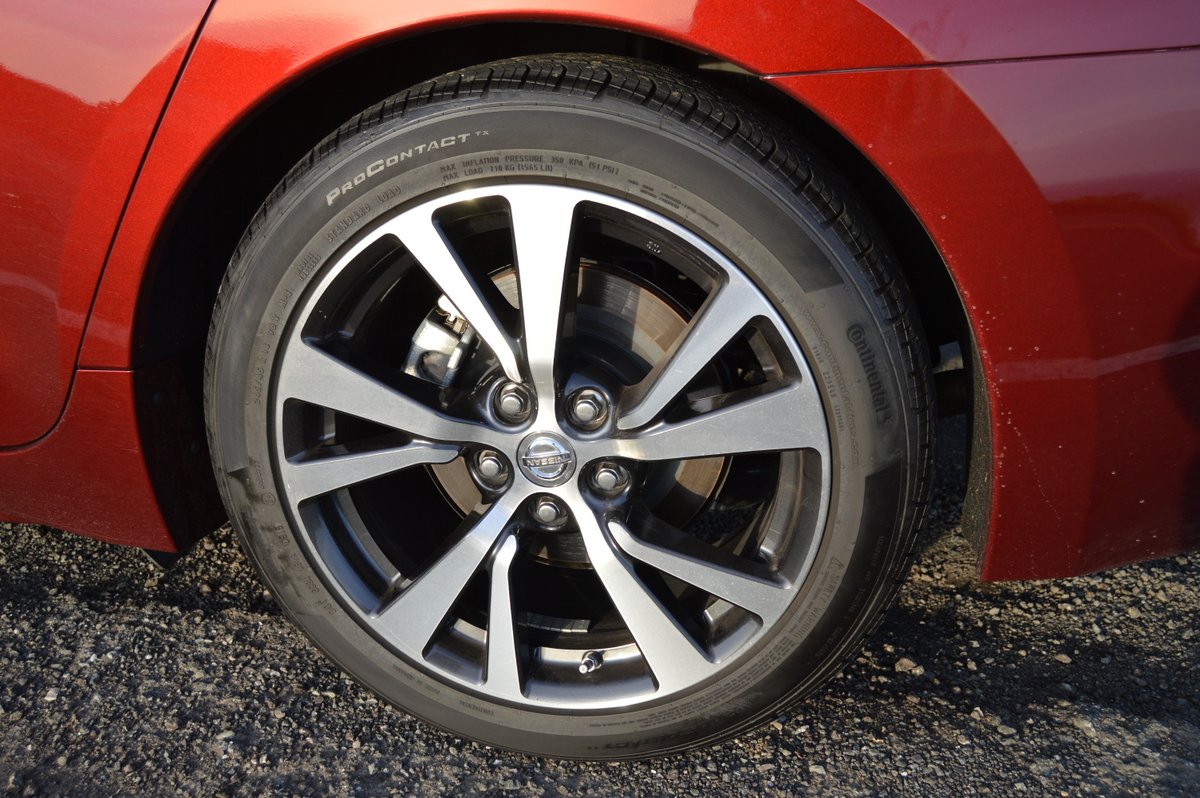 Even with comparatively soft spring rates, and middling all season tires (Continental Conti ProContact 245/45R18), the Maxima holds its own admirably on twisting back roads. A Drive Mode Selector puts at your disposal a couple of switches labeled "Normal" and "Sport" on the center console. These allow you to tailor the Maxima's handling to specific need. On back roads, "Sport" seems to calibrate the shock valving for hard driving. Unfortunately, it does little for the steering feedback, which remains over-assisted in both Normal and Sport modes. Nonetheless, the Maxima can be hustled through sections of curvy back roads with rewarding precision. If you want even more feedback, opt for the SR Maxima.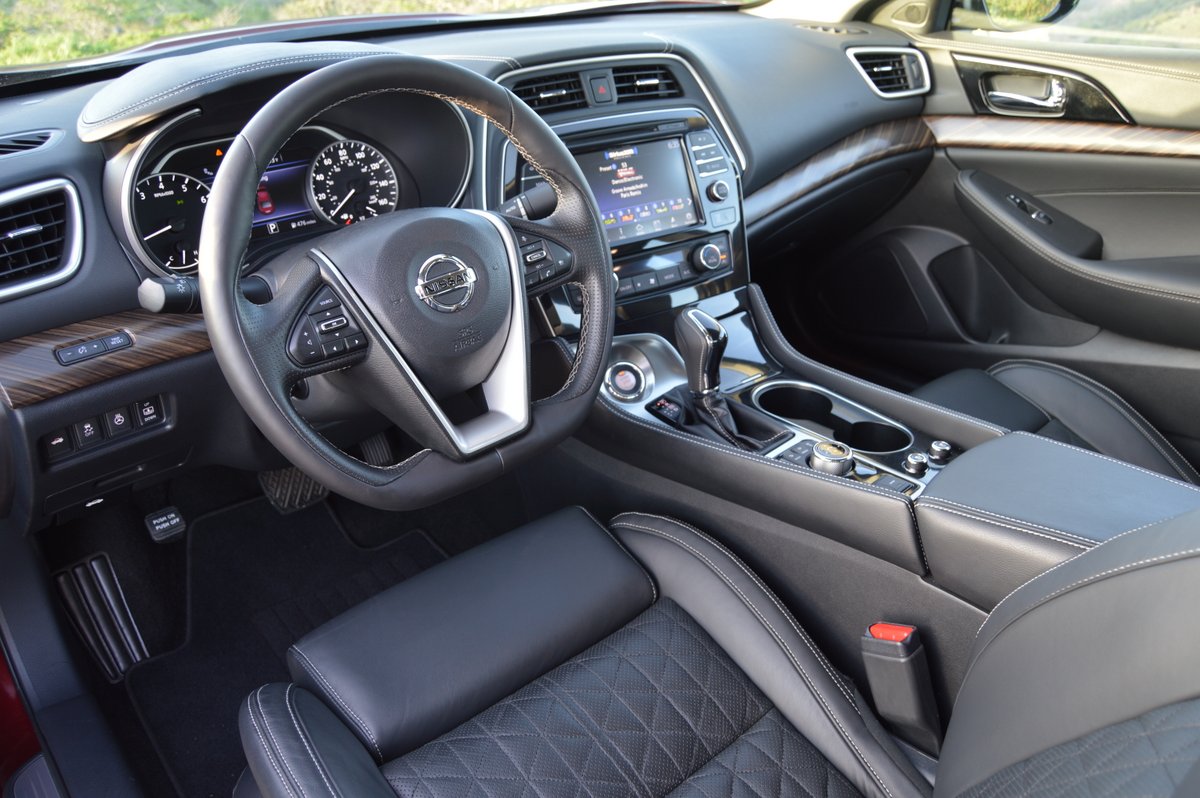 The interior treatment of the Maxima is both appealing and ergonomically sound. Especially comfortable and supportive are the Nissan's "Zero Gravity" seats which are upholstered in a diamond pattern usually reserved for much more expensive cars like Bentley and Audi. The dash layout of the Maxima is well thought out, with its array of proper tachometer, speedometer and temperature and fuel level monitors spread out under your nose. These analog gauges are separated by an easy to read 7 inch "Advanced Drive Assist Display" that posits – in your immediate sightline – every additional piece of information you could possibly need. With equl facility it displays tire pressures, distance to empty, or the name of the SiriusXM artist currently playing on the 11 speaker Bose sound system.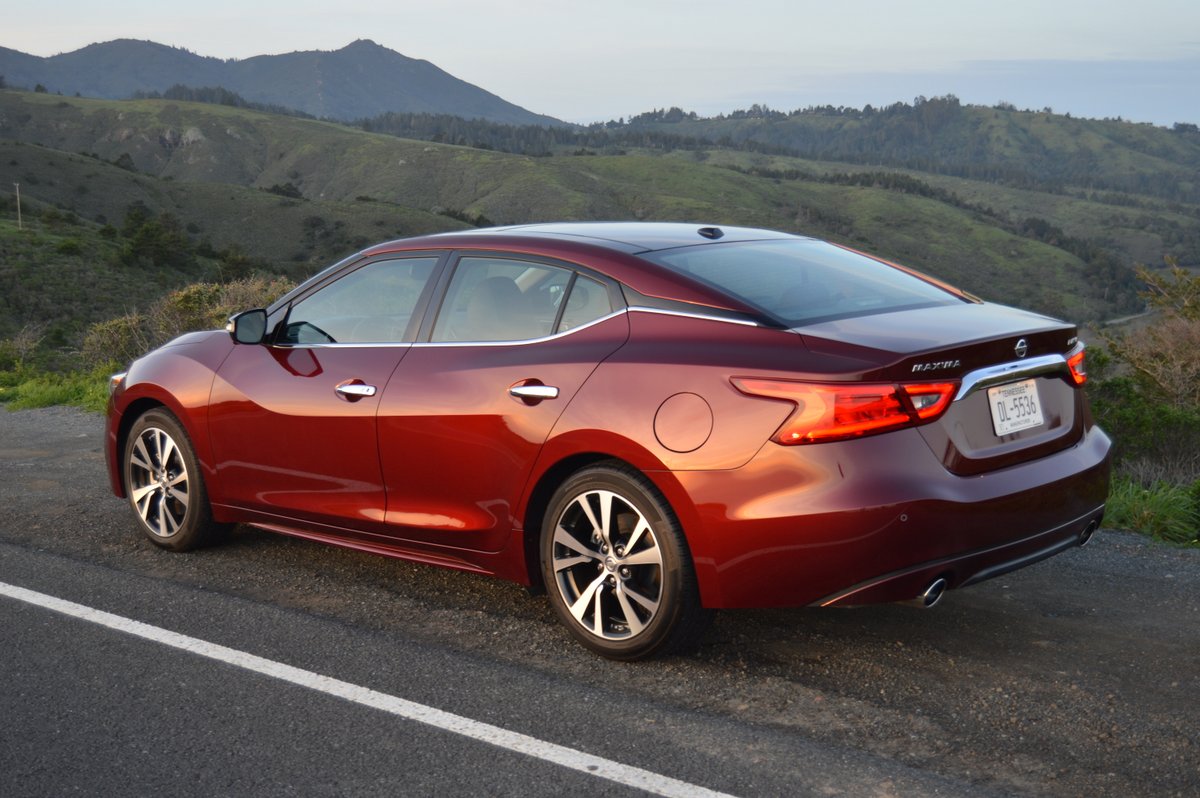 The flat bottom, heated steering wheel is an innovation for Nissan, one which lends the cockpit a distinctive sporting flavor. The "Mahogany Wood-Tone Faceted Finishers" on the dash and door panels carry a diamond pattern that complements the diagonally boxed seats. These finishers also look good enough to make you think they're made from wood, not plastic. In sum, the luxuriously fitted interior looks more expensive than you would expect from a sports sedan costing just $40,905.
2016 Nissan Maxima Platinum
Engine: 3.5 Liter DOHC, 24 Valve V6
Horsepower: 300hp
Torque: 261lb.-ft.
Fuel Consumption: 22MPG City/30MPG Highway
Price as Tested: $40,905
Star Rating: 8.5 out of 10 Stars
Related posts: