Update: August, 2012
Fiat, gave us the fabulous 500c Gucci Edition and we had a great time with it. The Gucci package is a $4000 addition on top of the $22,500 500c. It includes Gucci leather interior, Gucci paint and body kit and many upgrades like the shift knob, hand brake, etc.
Mechanically, it is the same as the 500c so it's really a glamorous facelift to a solid chassis. We had a ton of fun with it as the 500c charm was stepped up a couple of notches. Women loved it as they would stop in their tracks as we rolled slowly in downtown areas. The roof was awesome too as it gave the sensation of a convertible but none of the downsides like more weight and added chassis flex. We felt safer too as this Fiat 500c had a very secure structure with all the pillars still present.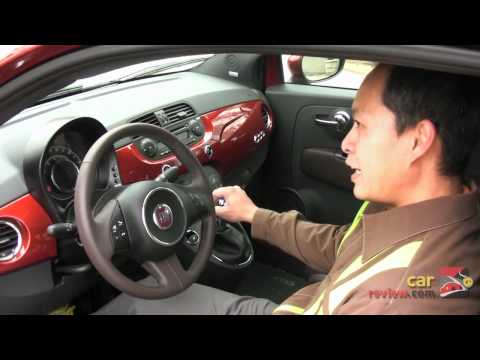 The 2012 Fiat 500 is a car that manages to deliver driving passion and excitement with 101 horsepower.  That is a new paradigm and that is an exciting development today. In this polarized nation of exciting V8s and gutless hybrid cars, the Fiat 500 stirs the pot and says: "Hey, I can be fun to drive, help the environment and not put you in debt all in one package."
The good news is we agree. This is the most fun per horsepower we've had in the history of Carreview.com. Allez!
The better news is more Fiats are coming and the The angry 500 known as the Fiat Abarth is coming too.  We can't wait!
REVIEWS
2012 Fiat 500C Convertible Review
Rating:
By David Colman
"There isn't another $25,000 car on the market today that will garner as much attention as this convrtible Fiat 500C. Paint it Giallo (yellow) like our test car, and the petit bumblebee's cynosure quotient jumps off the map."
 2012 Fiat 500 Lounge Review – Italian movie star on four wheelsRating:
By David Colman
"The 500 is so small and nimble that a pair of them could square dance in your living room."
2012 Fiat 500 Sport First Impressions Review
Rating:
By Danny Chang"I was super glad to see the manual gear shift when I got in the tester 500. It's so rare these days to see a car outfitted with a good old-fashioned 5-speed and clutch."
Specs:

The 2012 Fiat 500 is a 2-door, 4-passenger family coupe, available in 3 trims, ranging from the Pop to the Lounge.

The Fiat 500 is the new small car that marks the return of the Fiat brand to the U.S. market. On sale in early 2011 as a 2012 model, the Fiat 500 combines Italian styling with functionality, efficient design and innovative technology for a vehicle that is unique to the American market.

MSRP:

Standard Engine:

$15,500 – $19,500

1.4-liter, I4, 101-horsepower engine that achieves 30 city and 38 highway mpg. A 5-speed manual transmission with overdrive is standard on the Pop. A 6-speed automatic transmission with overdrive is standard on the Lounge

Average Consumer Rating:

Expert Rating:
Related posts: