Technology
As we recently reported, Audi has gone all-in when it comes to technology, partnering with Google Earth for the navigation system and including a 3G high speed cellular data connection to update the software and also provide wireless internet access. We won't rehash all the details here, but suffice it to say this is an impressive system that makes navigation and working while on the go that much more convenient.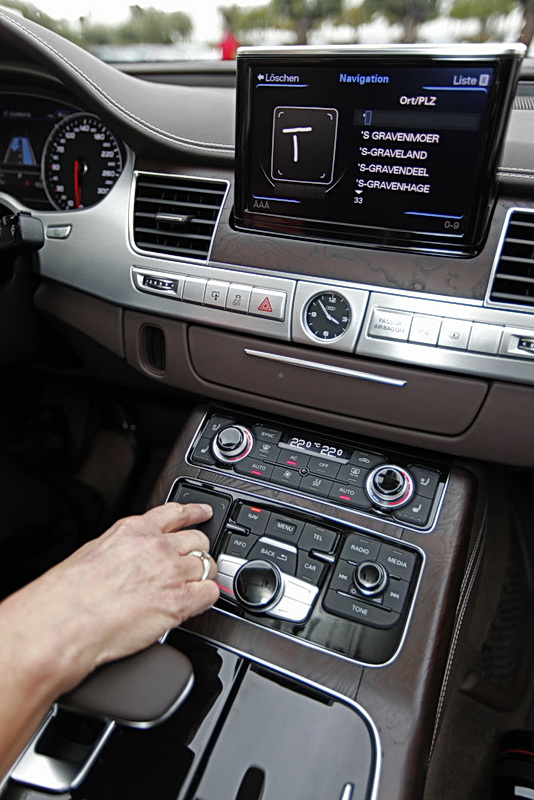 Managing all of this technology is the latest version of Audi's MMI controller, which features a touch pad interface that allows the driver to scribble letters and numbers to input information into the nav system. The handwriting recognition software works very well and the touchpad is perfectly positioned so that you can rest your wrist on the wide shift lever while writing. Although the learning curve is still a bit steep at first, and the graphical interface is a bit confusing and cluttered, with too many sub-menus, this is still one of the better control interfaces on the market today.
Audi has also upped the ante in terms of safety technology and equips the A8 with its pre-sense integrated system of active safety features. To help prevent collisions there is Audi side assist and Audi lane assist. Side assist uses LEDs mounted in the mirrors to let you know when cars are present or approaching in the lane next to you, while lane assist vibrates the steering wheel when it senses that you are drifting from your lane. If you are unable to avoid a collision, the system automatically adjusts the seats and headrests, and pretensions the seat belts to keep the occupants as secure as possible.
Even more impressive is the adaptive cruise control, which uses video cameras as well as radar to keep the A8 a driver-selected distance from the car in front. Although other manufacturers are now equipping their cars with similar systems, this system has to be among the best in terms of smoothly braking and accelerating to keep the car in the right place. It works so well that we wished the car could take over steering duties as well, so that we could take a nap.
Interior/Exterior
As we've come to expect from Audi, the interior is outstanding, featuring a blend of high quality leather, wood, and metal trim. Fit and finish is about as good as it gets and the design manages to combine the look of classic luxury with modern conveniences and technology. The elegant leather front seats are fully power adjustable and feature heating as well as cooling, and the A8L features an optional executive rear seating package that adds power rear single seats and integrated foot rests.
Our test car came equipped with optional massaging front seats, which if you've never had the pleasure of experiencing, are just plain divine. When combined with the cruise control, however, they almost pose a safety risk, since you'll find yourself getting a bit too relaxed. Add some cool jazz into the mix, courtesy of the standard Bose surround-sound audio system, and you have a rolling recipe for an afternoon siesta. A 1400-watt, 19-speaker Bang & Olufsen system is also available for those seeking to pamper their ears with the ultimate in sound quality.
The only misgivings we have are a few ergonomic missteps and a lack of rear legroom. The adaptive cruise control, for example, is accessed through a clumsy little lever sticking out of the steering column, almost like it's an after-market add-on. Additionally, although the long wheelbase A8L will feature an additional 5 inches of increased legroom, the normal length A8 comes up a bit short for rear seat passengers. Anyone well over 6 feet will find themselves rubbing their knees on the back of the front seats, which is surprising given that the A8 is a full-size sedan.
As previously mentioned, the exterior design of the A8 remains largely unchanged, which is somewhat unfortunate, since people will assume that the car is still the same. A few subtle touches do help accentuate the car's understated poise and grace, especially at the front of the car. Audi's signature Singleframe front grill now gets an extra helping of chrome and full-LED headlights are available, giving the car an unmistakable look, especially at night.
Verdict
It almost seems odd, given the continuing economic malaise, to have so many fine large luxury cars available. Whether from Germany, Japan, the United States, England, or now even Korea, someone looking for executive class transportation has many fine options to choose from. How the new A8 can find more of a niche in this crowded market remains to be seen. German rivals BMW and Mercedes have much more of a market presence in the full-size category in the US, and with competition like the striking new Jaguar XJ, it could be hard to convince buyers to purchase a car that from some angles just doesn't look very flashy or expensive.
Pricing in the US is still unavailable, but the A8 will likely start in the $80,000 range, making it hard to compete on value alone. Which means it will take people to realize that it is what is inside the car that counts most. The A8 offers a lot of features and performance for the money, even for a premium luxury sedan. And perhaps a more understated approach to luxury and driving performance is what is warranted in these tough times.
| | | | | | | | |
| --- | --- | --- | --- | --- | --- | --- | --- |
| | BUILD | INTERIOR | PERFORMANCE | HANDLING | STYLING | VALUE | OVERALL |
| RATING | 5.0 | 4.5 | 4.5 | 5.0 | 4.0 | 4.5 | 4.6/A |
---
Related posts: