Styling
I just got used to the quirky styling of the old xB, and it will probably take me another few years to get used to the new one. It's got a bulbous nose, a goofy-looking windowless C-pillar and just a general appearance that its trying really, really hard to be mainstream. It wants so badly to be run-of-the-mill like every other mini-box, but it can't escape its unique roots, which takes away from the exterior appearance. It's like this thing is pulling a reverse Pearl Jam; cool and anti-bandwagon at first, but now totally mainstream and sellout. Maybe some MG-inspired plaid seats like Eddie Vedder's flannel shirts would spice it up a bit?
Value
Undeniable. Crazy value. What other vehicle can offer Toyota reliability, 0-60 speeds of 8 seconds, 70 cubic feet of cargo space, A/C, power doorlocks and windows, a thumptastic stereo with iPod integration, anti-lock disc brakes and traction control all for a base of $16,270? I mean, the only thing that might be better would be to take the VVTi engine out of the new xB and swap it into the featherweight first generation model. Uh oh, did I just write that? I can already hear the gears turning inside the heads' of Scionites everywhere. Although it's gone the path of the sellout, motor swap or no, the new xB still a value unlike any other vehicle.
Who Should Buy It?
Well, if you asked me a few years ago, I would have said a blind man. But as time grew my appreciation, I retracted my crass sentiments. The original xB is the perfect first car for someone with an active lifestyle that carries a lot of gear with them and likes to stand out in a crowd. But with the new model, I'm not so sure anymore. I mean, it's still a great deal for a first car and carries even more gear than before, but the xB is far less flavorful. And really, for Scion's target market, that's one of their primary purchasing hot buttons. Now that it's more mainstream, the xB is really for anyone seeking a subcompact minivan. Ho hum.
Conclusion
Let me just state that I'm a big Toyota fan. A big one. But just like having a dog, sometimes the relationship between a car guy and his favorite brand can drive him to drink. Leave it to Toyota to boring up an otherwise edgy and controversial vehicle. People either loved or hated the xB. That was what made it a hit. Scion even admitted it with their recent print ad campaign that read, "Pros: Boxy, Ugly, People will Stare; Cons: Boxy, Ugly, People Will Stare". Well, I can assure you, people aren't going to stare as much as they used to.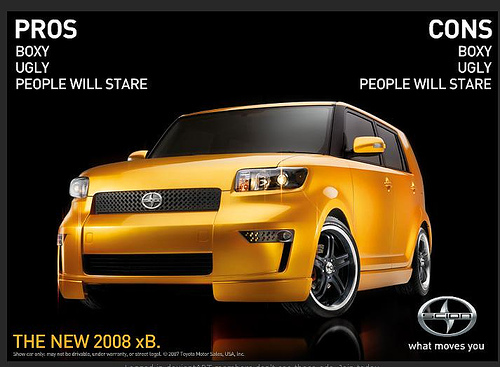 | | | | | | | | |
| --- | --- | --- | --- | --- | --- | --- | --- |
| | BUILD | INTERIOR | PERFORMANCE | HANDLING | STYLING | VALUE | OVERALL |
| RATING | 4.0 | 3.5 | 3.0 | 3.0 | 2.5 | 5.0 | 3.5/C |
###
---
An appreciative thank-you goes to Stevens Creek Scion for graciously providing the Scion xB demo car. This review would not have been possible without the support and help of Moris, Mike, and the team at Stevens Creek Scion.

Related posts: