So what is the skinny on Yokohama's new orange oil-based tire, the dB Super E-spec? Skinny being an appropriate term because tire sizes now available are appropriate for replacing the OE tires on Toyota Prius', Honda Civic Hybrids, and other compact fuel efficient passenger cars such as the Nissan Versa and VW Golf. OE tire size for the Toyota Camry will be available starting in November 2009. As Yokohama ramps up production of their SNPR compound and manufacturing capacity increases, the range of tire sizes will increase to accommodate a broader spectrum of passenger vehicles.
Tire Size
Treadwear Rating
Weight
Revs. Per Mile
Max. load at cold inflation pressure
185/65R15
460
17.5
848
1235@44
195/65R15
460
18.6
831
1356@44
195/55R16
460
19.1
850
1201@44
215/60R16
Data Not Available – scheduled for rollout in November 2009
Yokohama has made two major breakthroughs with their dB Super E-Spec tire. The first is their new Super Nano-Power Rubber tread compound which has an extremely low rolling resistance and made from renewable resources. The orange oil, extracted from orange peel, is also vital to the tire's wet and dry performance and safety. Orange oil has a similar molecular architecture to natural rubber, also used in the dB super E-spec, making the tread compound more compliant for better traction in braking and cornering.
The second big breakthrough was the Advanced Inner Liner that provides superior air retention and weighs a lot less than a conventional butyl liner. Lighter tires improve low rolling resistance and better air retention means the tires stay at their optimal pressure a lot longer which is good fuel economy practice. The dB Super E-Spec, according to Yokohama, has an 11% improved rolling resistance over the Michelin HydroEdge and 22% improvement over the Goodyear Integrity. Less rolling resistance translates to better fuel economy and for every gallon of gas saved means 20 pounds less CO2 pumped into the air. Consider this a win for you with less money being spent at the gas pump and a win for the environment with fewer hydrocarbons choking us to a slow death.
Below is a simple demonstration of Yokohama's new tire compound superior low rolling resistance. The rubber ball in the foreground is made of SNPR.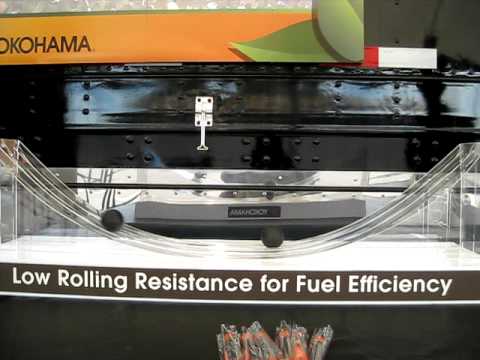 The most common question I hear whenever I bring up the topic of orange oil-infused tires is, "Do the tires smell like oranges when peeling out?" Although orange oil is used in the manufacturing process, there is no citrus scent or orange hue to the tires.  That said, the common phrase "burning rubber" may very well be a thing of the past!
Related posts: