Introduction by Francis Cebedo:
I took this Jeep to my daily grind of work and picking up the kids for a few days and it didn't do so well. On the freeway it is a bit rough and darty. Keeping it in the lane was a bit of a challenge as the vehicle was easily persuaded to move to adjacent lanes when hitting bumps and imperfections at speeds over 70 mph.
Picking up the kids,  they couldn't get in the back seat as they couldn't push the seats forward and the opening to get in back was tiny even for active youngsters.  I took this vehicle mountain biking but  there was hardly any space in the back to put my bike.  So I took the heavy rear eats out and it was better space-wise but only slightly. Finally, I took the front roof off to get some sun but then all the cold wind seemed to descend in to the cabin at highway speeds. Even the mighty heater and heated seats had a hard time of keeping me warm.
Off-roading in Hollister Hills, CA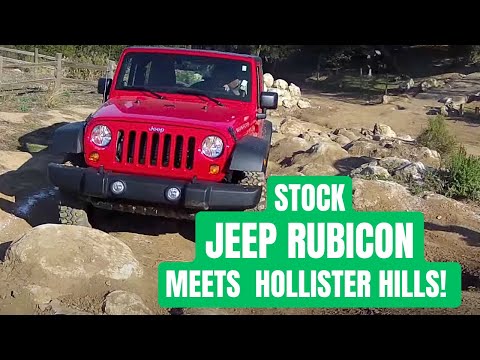 That's when I decided to take this car off-roading.  This is the Rubicon, 2-door so it should feel right at home on an off-road jamboree. It is 2-door so it is short wheelbase and ideal for keeping the tires in contact with the ground. The tires are massive 31 inch with meaty rubber. Other trail worthy features are:
High ground clearance
Heavy duty front and rear Dana axles
Rock rails for true underside protection, skid plates all around the under side
Electronic front sway bar disconnect – gives 20% more suspension articulation to keep the wheels on the ground.
Electronic locking front and rear differentials.
Removable roof, doors, rear seat to lighten up the vehicle