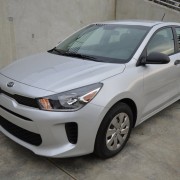 It's not often that a manufacturer has the courage to place a "stripper" model in the press evaluation fleet. But Kia's willingness to do so with the 5-door Rio we drove proves that you can still buy a perfectly adequate family sedan for a base price of just $15,290.
Read More »
After testing a 2011 Kia Optima last year, I found myself impressed with Kia's revised approach to the US market. They seem to have recognized their place in the market, understand their competition, and have done a good job in creating a great added value proposition verses the competition.
The 2012 Kia Rio was a welcome test candidate given my experience driving the Optima last year. The Kia's we've been able to experience have actually stood up well to other cars within their respective classes.
Read More »
The all-new, redesigned 2012 Kia Rio (Rio5 in North America) features a 1.6-liter, GDI 4-cylinder, 138-horsepower engine and a 6-speed manual or 6-speed automatic transmission, that both achieve 40-mpg on the highway and 30-mpg in the city. The Rio will come in 3 trims, the LX, EX and the SX and will also offer ISG […]
Read More »