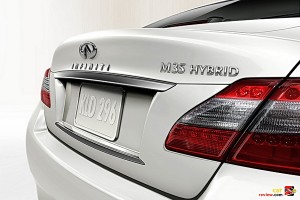 Nissan, Japan's number 3 automaker is due to launch a gasoline-electric Infiniti M sedan, lagging rivals Toyota Motor and Honda Motor by more than a decade in offering a proprietary hybrid model.
The Infiniti M35 Hybrid, known in the Japan-market as the Nissan Fuga, is not Nissan's first hybrid — that distinction goes to the Altima Hybrid. The M35 Hybrid is Nissan's first hybrid developed in-house. The Altima hybrid uses a customized version of Toyota's hybrid technology.
But unlike the Altima's system, Nissan claims its new setup is more technologically advanced and less complex at the same time. For example, Nissan's single electric motor arrangement is reportedly close to 70 pounds lighter than Toyota's double-motor system.
While admitting to the late start, Nissan said its one-motor, two-clutch system would achieve far better fuel economy, at a much lower technical cost compared with hybrid leader Toyota's complex, two-motor "series parallel" system.