Video from Top Gear (click '360p' to watch in HD)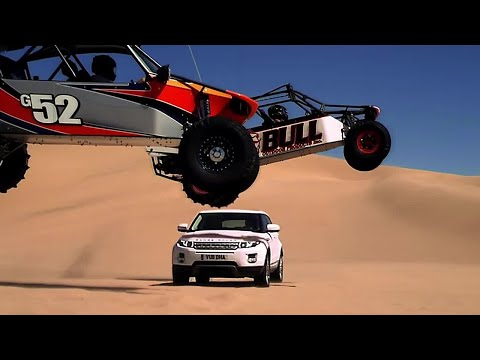 Pros:
Legendary Range Rover all-terrain capability
Same adaptive damping system as a Ferrari provides excellent ride quality
Buttery-soft leather seats for all-day comfort
Extensive list of customizable options
Roomy for a small SUV
Tiny 2.0 engine is efficient, powerful and torquey from 1750 rpm
Excellent driving position and fun to drive with great balance of on road and off road handling
Cons:
Oversized outside view mirrors
Small number available worldwide for its first year of production
visibility out of side rear windows is less than normal
The 2012 Range Rover Evoque is a compact, luxury crossover that offers premium levels of craftsmanship, luxury, performance and renowned Land Rover all-terrain capability. Available as a coupe or 5-door model, the Evoque will be in high demand as only 2200 units are being built and sold worldwide in its first year of production which begins this summer.
CarReview was invited to test drive the new Evoque on the city streets of San Francisco. Granted, the potholes and broken asphalt of a concrete jungle are not considered a true test of the Evoque's off-road capabilities, but it was a good proving ground to show off how well the Evoque can maintain a comfortable ride on roads that could qualify on the list of top ten worst maintained roads in the U.S.