By contributing editor David Colman
Vitals Statistics:
$19095      Focus 5dr HB SE
4-Door Front Wheel Drive , 160 bhp, 146 lb-ft, 5-sp Manual, 26/36 mpg
5 passengers, 2900 lb, 2-liter, 4-cylinder engine, 18.1 lb/bhp
Likes:
Euroslick styling
Gem-like interior fittings
Razor sharp handling
Eager engine that is happy to work hard
Hatchback model has added utility over sedan and looks great
Long list of upgrades and high-tech options
Dislikes:
Lack of paddle shifters for dual clutch automatic
HVAC dials where radio controls should be and vice versa
Driving concentration distracted by Ford Synch GUI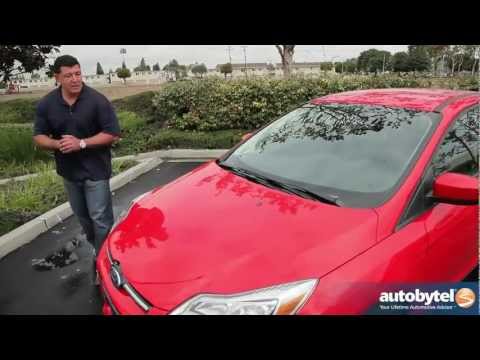 2012 Ford Focus Test Drive & Car Review. This video is brought to you by Autobytel
If you think of the Focus as Ford's VW Golf beater, you're aiming too low. Golf was just the low hanging fruit in Ford's quest to redefine the sport compact sedan. The real target was Audi's A3, a loftier goal indeed. Has Ford succeeded in outdoing the A3? Not quite, but close enough to give Audi reason to be concerned. If you want to build a better sport sedan than Audi, you'd best hire Germans to design it, and that's just what Ford has done. The Focus was conceived in Germany, and has been on sale across Europe for more than a year. It has already established a successful track record in World Rallye competition as well as World Touring Car track contests. While Focus may be new to the US, it is by no means an unproven entity abroad.