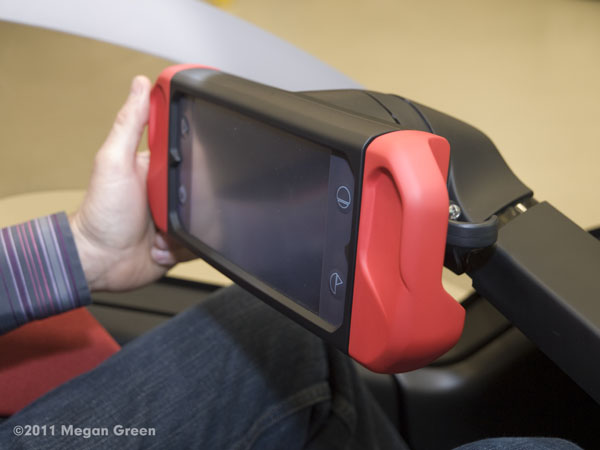 GM teamed with Segway to figure out the balance of the EN-V. Borroni-Bird pointed out that it "kneels" to admit passengers in landing mode – sort of like a camel kneeling down except much smoother, as if you were watching CGI. Once inside, it lifts to begin moving; you are seated comfortably, and when it turns and whirls in place, you stay firmly in the seat. There is no center of gravity, and it is continually balancing.
While we were in a large room, there wasn't enough space for even a microcar to drive around and turn, yet we were able to drive around into and out of small spaces at will. There is no traditional steering wheel – rather, it's a small console on an adjustable arm. Depending on which EN-V you drive, it adjusts to either left or right-side piloting, or you can rely on the aforementioned autonomous steering while you check Facebook , email, or your route. In essence, it is more like a moveable networking environment than a car. It's akin to sitting in a big bubble as visibility is not obscured by doors, dashboards, and A- and C-pillars.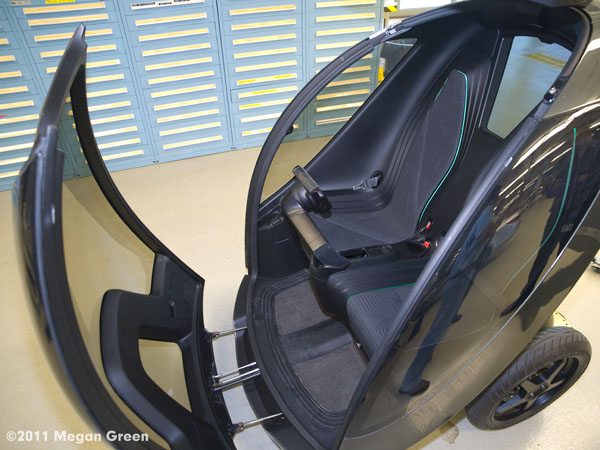 It was stressed that they don't think of this as a car at all – it is a vehicle. The EN-V can be easily personalized akin to buying skins to add bling to your smart phone – the designers envision different design options that can be added to the same basic chassis; different colors, shapes, LED accent lighting, making it easily marketable to wide range of people and uses.
I posed the problem that I noticed in NYC, particularly my neighborhood in Queens, that cars rarely mind the 30 mph speed limit and, in fact, routinely speed up and run red lights. Huge delivery trucks barrel down local roads even where pedestrian traffic is high. How can the EN-V survive that sort of threat, even with the collision-avoidance technology? Chris Borroni-Bird responded was that perhaps it's not the answer for a city such as New York – but its applications
are so flexible that it could be used in limited areas like the Times Square, or even along 42nd St if designs make it solely a pedestrian plaza ever come to fruition. In truth, the EN-V was designed with more densely populated areas in mind – cities in China, or European cities with very narrower streets than the relatively younger cities in the U.S. However, because of the ease of operation, it opens up mobility possibilities for the elderly or disabled wherever it is used.

Related posts: