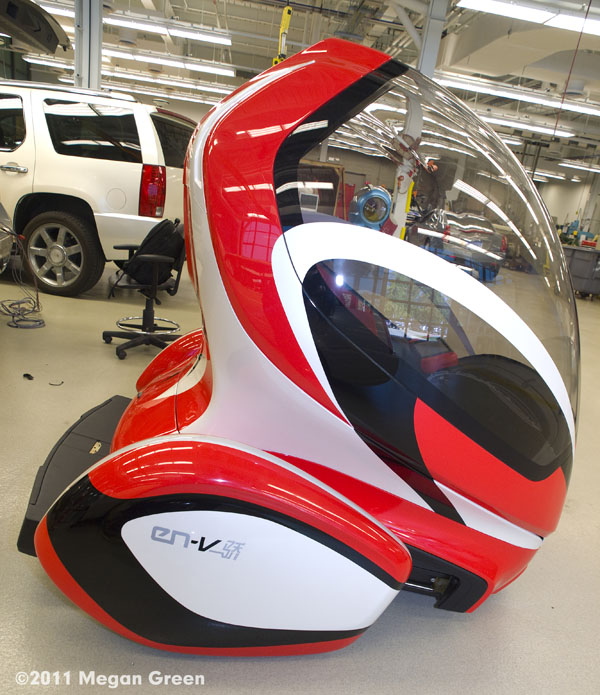 The nuts and bolts: the EN-V is a small, two seater, two-wheeled electric vehicle powered exclusively by a lithium-ion battery with regenerative braking, and is petroleum and emissions-free, thus reducing energy consumption and pollution. The small battery can be recharged using a regular household electric outlet.
There are three versions on the same 460 pound, magnesium-cast and stainless steel chassis- roughly half the length of a Smart car:
Red and black Jiao (Pride) [59" x 56" x 64.5"]
Blue and yellow Xiao (Laugh) [60.5" x 56" x 69.5]
Black Darth Vader mask-like Miao (Magic) [60" x 55" x 64.5"]
The small size is key to the idea that these drastically smaller vehicles reduce traffic congestion as well space needed for parking. The lightweight, painted carbon fiber body adds another 450 pounds maximum – it varies slightly from model to model, the heaviest weighing in at 910 pounds (about two thirds the weight of a Smart car.) Using such lightweight materials and not having to include crash structure – there are no airbags – potentially brings the cost of manufacturing down, making the EN-V to a broader range of people who otherwise might not have the financial ability to afford a car.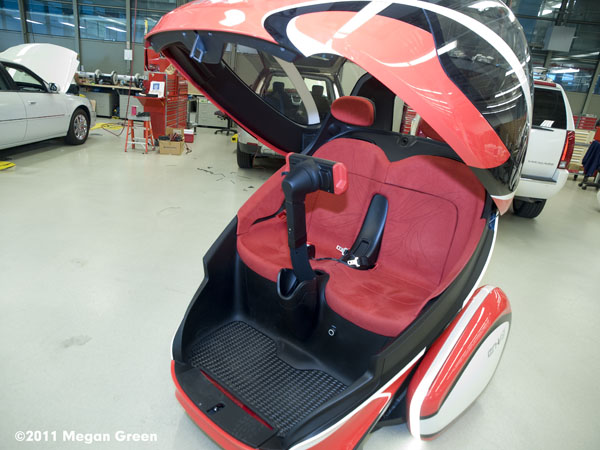 Access to two bucket seats is via a single, front-loading door. In keeping with urban driving habits, there is a 25 mile range on a charge with a top speed of 25 mph. Keeping in mind that the speed limit of most urban local roads is 30 mph, that's not an unreasonable maximum.
Electric power and small size are just the beginning, though. Connectivity is key to the EN-V communicating with other vehicles to avoid crashes, sensing pedestrians and slowing down to avoid an accident. You, the driver can remotely communicate with your vehicle via a smart phone app and have it pick you up at your door. Or go park itself after dropping you off at your destination. Curiosity piqued? Me too. I had seen the vehicles on display at the 2011 Detroit International Auto Show, and was eager to see them actually function. So I channeled my inner Jane Jetson, pushed scenes from "Wall-E" back into my subconscious, and headed to GM R&D in Warren, MI where it is engineered and built, to talk to Chris Borroni-Bird, GM's director of Advanced Technology Vehicle Concepts and experience the EN-V's for myself.

Related posts: