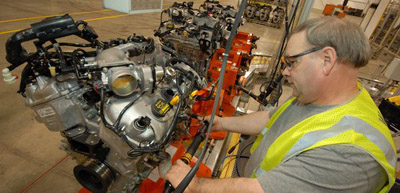 Good news is few and far between in the car world these days, but here's some from Ford.
Cleveland Engine Plant No.1, which had been idled since 2007, is now open for business and it has began production of the firm's new 3.5-liter EcoBoost V6 engines. The EcoBoost V6 will be optional on the 2010 Lincoln MKS, Lincoln MKT and Ford Flex and come standard on the 2010 Ford Taurus SHO.
Cleveland Engine Plant No. 1 has received some $55 million for tooling and equipment upgrades from Ford to build the EcoBoost engine. Even better news? The reopening of Cleveland Engine Plant No. 1 will see approximately 250 employees forming the shift to build the engine. So 250 people get to keep their jobs, which is great. According to Ford, the plant will be staffed by employees from the existing three plants at the site.
Source: CarScoop
Related posts: