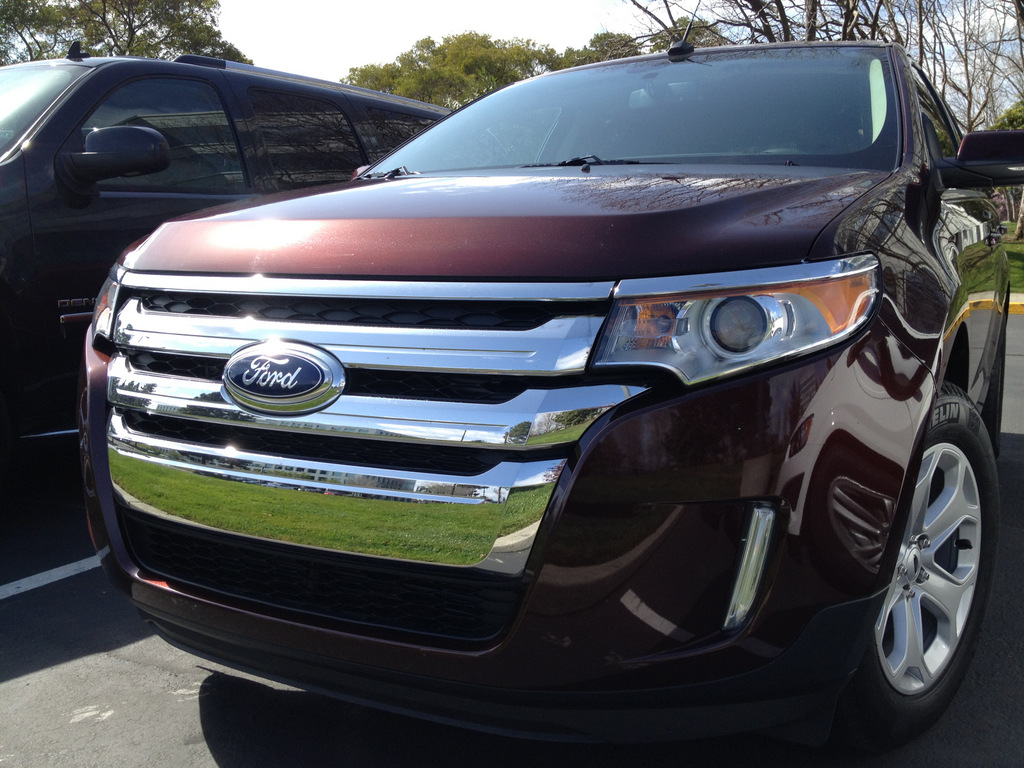 Likes:
High-output V6 engine
Well-balanced suspension
Solid build quality
User-friendly SYNC system
Dislikes:
Hefty 4,300 pound curb weight hampers handling, acceleration, and fuel efficiency
Huge wheels = lots of unsprung weight and road noise
Transmission lacks manual shift option
Edgy exterior styling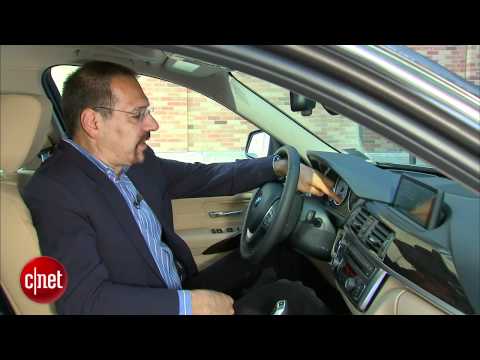 2012 Ford Edge EcoBoost Limited. This video is brought to you by CNET
Introduction
The mid-size SUV has finally come of age. More rugged than a minivan, more practical than a sedan, and without the fuel-efficiency penalty of a traditional truck-based SUV, the modern crossover appeals to a wide range of consumers looking for that do-all vehicle. Having sold millions of Explorers and Expeditions to the masses, Ford knows a thing or two about SUVs. Anticipating the switch to car-based crossovers, Ford introduced the Edge in 2007 and garnered generally positive reviews and solid sales figures.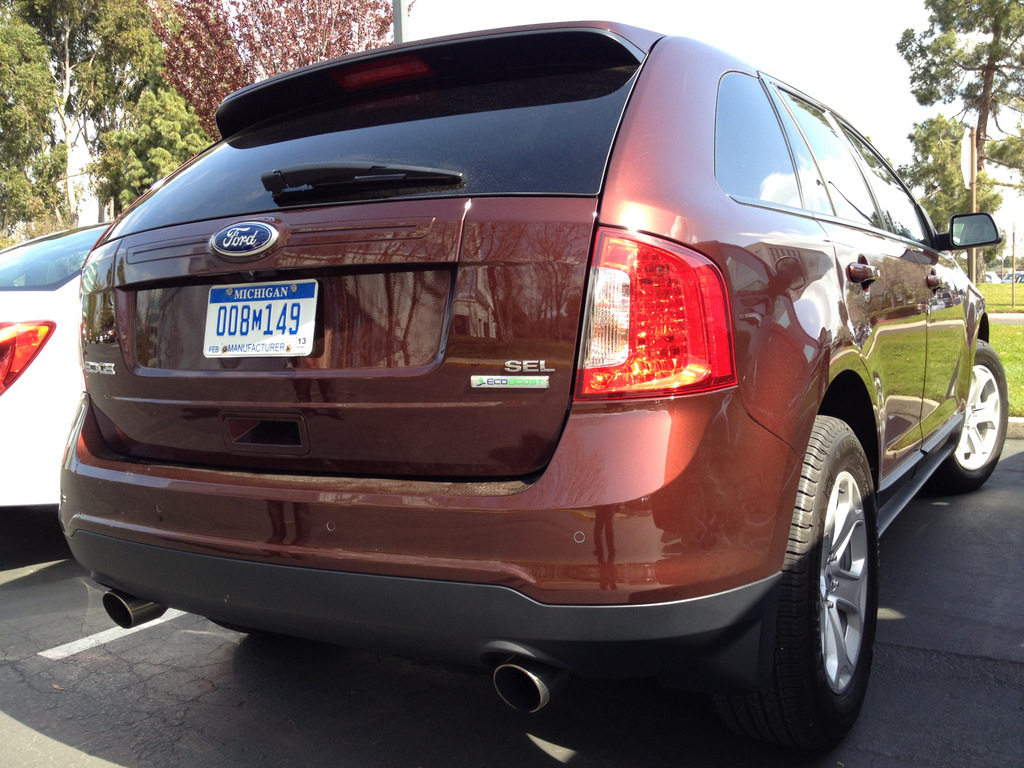 Driving Impressions
Walk up to the Edge Sport for the first time and you just can't take your eyes off of the huge chrome wheels and wide Pirelli Scorpion Zero tires. Although visually striking, all that unsprung weight must certainly take its toll on the driving experience, and it does, although not to the extent that you might think. The Edge Sport feels quite big on the road and the steering is less than nimble, but kudos to the Ford engineers for tuning the suspension just right. Despite the low-profile tires, the ride is quite smooth, yet also firm enough to keep the car firmly planted on the road.
Our test model featured all-wheel drive, but we could hardly say that we noticed, mainly due to sunny weather conditions and no excursions off the pavement. Only when accelerating hard through a turn did the lack of slip make us appreciate this added feature, although the huge tires hardly require assistance in the grip department. The Edge Sport handles fairly well and won't embarrass itself on a twisty road, but the car is simply too tall and heavy to really hustle through the turns. Similarly, although braking is adequate, simulating an emergency stop was less than confidence inspiring, and the pedal feel could be improved.
Powering the Edge is a capable 3.5 L V6 that produces 265 hp and 250 lb-ft torque. This engine provides more than adequate acceleration, but a hefty curb weight of 4,300 lbs, the power-robbing AWD, and the huge wheels prevent the Edge from really rocketing forward. Fuel economy is also sub-par; we averaged a mere 18 mpg over several hundred miles of mixed driving. Shifting duties are handled by a 6 speed automatic transmission, which also adequately does its job. Unfortunately, Ford forgot to throw in a manual shift feature, an odd omission for a car that proudly displays its Sport badges. Driving in the mountains is quite frustrating as a result, with the Edge constantly hunting for the right gear and shifting at the wrong moment.
Build
Ford has done a commendable job of improving the build quality of its cars over the past few years and the Edge is no exception. Materials and workmanship are first-rate, and the car feels very solidly bolted together. Road noise is quite high, especially over rough surfaces, but this is mostly due to the gargantuan rolling stock. The Edge comes with all the usual safety features, including the aforementioned AWD, stability control, anti-lock brakes, and a full complement of front and side airbags.
Interior/Exterior
Our Edge Sport would have made Johnny Cash smile. The interior is bathed in black plastic surfaces and the seats are upholstered in black leather, which combined with the black exterior paint make for quite the unifying look. Unfortunately for us, the weather turned very warm during our test period making for a sweltering experience that the AC could barely temper. Those living in the Southwest should definitely pick a different color.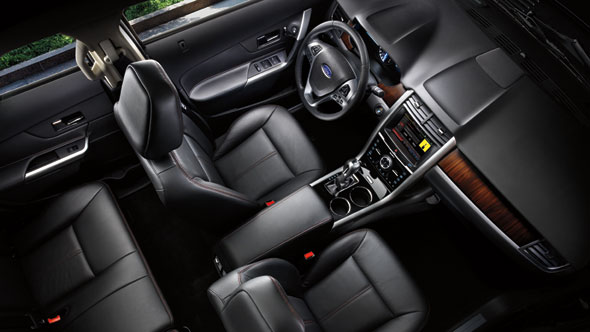 Unlike some other overachieving mid-size SUVs, the Edge only has room for five passengers. Although some might frown on the lack of extra seating, we would rather have two roomy rows of seats than three rows that have been crammed in and are cramped as a result. The Edge features a handy electro-mechanical rear seat back release button located near the rear hatch door, which quickly turns the rear into a spacious cargo area large enough for a bicycle or two, or that monthly Costco run.
Other standard interior features include a 6-way power driver's seat, leather wrapped steering wheel with audio controls, and Ford's acclaimed Sync system. Our tester also featured an optional touch-screen navigation system and audiophile sound system, both of which worked impressively well. Missing were automatic climate controls. Instead, Ford opted for three simple dials to adjust the fan and temperature settings, which seem out of place in this otherwise upscale car.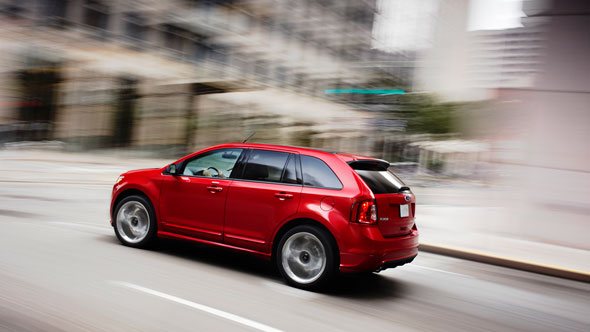 Although we applaud Ford for giving the Edge Sport unmistakable visual appeal, the combination of huge wheels, jet black paint, and more aggressive lower body styling has turned this generally mild-mannered crossover into something out of an action movie. You can easily imagine gun-toting agents in dark suits jumping out of the doors. Drive the Edge Sport around town and you will surely garner attention, whether you like it or not.
Verdict
With the Edge Sport, Ford has created an interesting niche vehicle. The bold visual style will certainly appeal to youngsters with an urban sensibility, but on the whole the car falls a bit short and lacks a cohesive identity. An MSRP of almost $40,000 doesn't help things, since that amount of coin will buy a lightly optioned luxury crossover or a fully-loaded regular one. The Edge Sport has some noticeable omissions at this price-point, including the lack of manual shifting and absence of automatic climate controls. For car-buyers who need the practicality of a mid-size crossover and desire the visual statement provided by a set of blingtastic chrome dubs, the Edge Sport will surely not disappoint. For the rest of us, we'll just keep staring at those enormous wheels.
| | | | | | | | |
| --- | --- | --- | --- | --- | --- | --- | --- |
| | Build | Interior | Performance | Handling | Styling | Value | Overall |
| Rating | 4.5 | 4.0 | 4.0 | 4.0 | 4.0 | 3.5 | 4.0/B |
---
Related posts: